No Comments
The Best Pumpkin Beers of 2016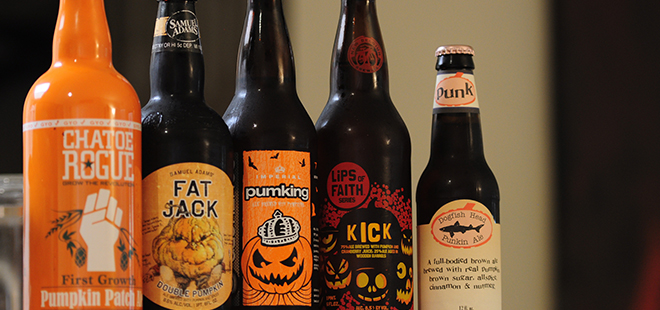 Featured image courtesy of: Adam Barhan (Flickr)

Ah, pumpkin; such a polarizing flavor. Love 'em or hate 'em, pumpkin beers are rearing their squashy, spicy heads for fall – but not all are created equal. From mildly-flavored to spice bombs, and from drinkable to over-the-top boozy, we've found a pumpkin-laced brew for almost everyone in this diverse list of the best pumpkin beers of 2016!
Barely-There Pumpkin Flavor
Sometimes, you're just looking for a touch of pumpkin with your beer. These brews have just enough gourdy goodness and spice levels to be festive.
https://www.instagram.com/p/BKzFWfjAp0m/?tagged=rogueales
Rogue Farms Pumpkin Patch Ale
5.6% ABV
Rogue Ales
Ashland, OR
More of an Oktoberfest-style beer, this one has a slight woody flavor with hints of cinnamon. Autumnal, spicy and smooth.
Kern River Pumpkin Ale
6.0% ABV
Kern River Brewing Co.
Kernville, CA
Pumpkin is a complementary flavor in this subtle ale. Light and crisp, yet also malty and filling.
Upslope Pumpkin Ale
7.7% ABV
Upslope Brewing Co.
Boulder, CO
Medium-bodied with a dry finish and a bit of bitterness, this is a very mild pumpkin ale. A great one to help convert your pumpkin-hater friends.
Fat Jack Double Pumpkin Ale
8.5% ABV
Samuel Adams Brewery
Boston, MA
More in the realm of a doppelbock, this sweet, smoky and malty beer has just a touch of pumpkin and spice in the background.
---
Balanced Pumpkin and Spice
These brews blend spice and pumpkin flavors in perfect harmony. Quintessential, easy-drinking beers that definitely scream "fall."
Vanilla Pumpkin
5.5% ABV
O'Fallon Brewery
Maryland Heights, MO
Cold-pressed Madagascar bourbon vanilla was added to O'Fallon's traditional pumpkin amber ale to create a drinkable pumpkin pie a la mode. Creamy and moderately sweet.
Punkin Ale
7.0% ABV
Dogfish Head Craft Brewery
Milton, DE
Sweet and roasty, with a pleasantly balanced spice bouquet and mild pumpkin flavor. A classic for a reason.
Pumpkin Ale
7.4% ABV
AleWerks Brewing Co.
Williamsburg, VA
Pumpkin flavor is very faint, but present. Cinnamon, malt, caramel and vanilla notes stand out. Smooth, creamy, well-balanced and not overwhelmingly spicy.
The Great PumpCan
7.9% ABV
MadTree Brewing
Cincinnati, OH
Muted notes of cinnamon and pumpkin spice make for a well-balanced beer that's pleasantly not too pumpkin-y.
https://www.instagram.com/p/BK_2WlhBg0L/?tagged=schlaflybeer
Schlafly Pumpkin Ale
8.0% ABV
Schlafly Beer
St. Louis, MO
Big malt and pumpkin flavor up front, spicy pumpkin pie notes in the back. Not too spicy; not too sweet and easily drinkable.
---
Sour/Vegetal
Pumpkins get funky in these off-the wall brews. Earthy and sour, with minimal spice.
Post Road Pumpkin Ale
5.0% ABV
Brooklyn Brewery
Brooklyn, NY
Blended with hundreds of pounds of pumpkin, the squash really shines through as the star of this brew. Mild spices and a pleasant malt flavor.
Bradford
5.6% ABV
Heritage Brewing Co.
Manassas, VA
Sour vegetal notes give way to mild spices and bourbony flavors in this twist on a pumpkin ale.
Smuttynose Pumpkin Ale
5.84% ABV
Smuttynose Brewing Co.
Hampton, NH
Toeing the line between sweet and bitter, there's no missing the earthy pumpkin flavor in this complex brew. Hoppy and drinkable; not a dessert beer.
https://www.instagram.com/p/BK_-HCLBRYf/?taken-by=uintabrewing
Funk'n Patch
8.0% ABV
Uinta Brewery
Salt Lake City, UT
Part of Uinta's new wild ale program, this Brett beer combines barnyard funkiness with pumpkin spices and sweet, malty goodness.
Pumpkin Sour
8.5% ABV
Almanac Beer Co.
San Francisco, CA
An American wild ale that's sour and bourbony with a clean vinegar and mild pumpkin smell. Minimal spice and well-balanced.
La Parcela
6.0% ABV
Jolly Pumpkin Artisan Ales
Dexter, MI
Citrusy, malty and acidic, this brew leads with sour farmhouse notes. More of a wild ale than a typical pumpkin ale.
---
On the Darker Side
Break away from the traditional pumpkin ale and pick a porter, instead. Roasty and bitter, these beers add an interesting dimension to the traditional pumpkin flavor.
Fluffy Pumpkin Vanilla Porter
5.4% ABV
Odyssey Beerwerks Brewery
Arvada, CO
Roasted malts, pumpkin spices and just a hint of pumpkin. Not pumpkin pie in a glass, but it's a very well-balanced porter with mild spiced notes.
Black O'Lantern
6.5% ABV
Wasatch Brewery
Park City, UT
Cloves, ginger and cinnamon mingle with dark and bitter coffee notes in this imperial stout. Full and rich.
He Said
Baltic Porter
8.2% ABV
21st Amendment Brewery
San Francisco, CA
Plum and cocoa notes dominate this beer, with a hint of pumpkin and spices. Roasty, smoky and a little earthy, pumpkin is not the key player here.
https://www.instagram.com/p/BKY9yiWjYzl/?taken-by=scorchedearthbrewing
Crypt Keeper Pumpkin Porter
8.3% ABV
Scorched Earth Brewing Co.
Algonquin, IL
Toasted pumpkin and brown sugar notes merge with bitter coffee in this roasty brew. Very malty, with pumpkin playing a supporting role.
Local Fields Gourdgeous
8.5% ABV
Hangar 24 Brewery
Redlands, CA
Using pumpkins grown just half a mile from the brewery, this bold porter is rich with flavors of pumpkin pie spice, molasses and bitter chocolate. Well-balanced and smooth.
Imperial Pumpkin Porter
8.6% ABV
Epic Brewing Company
Denver, CO
Earthy pumpkin and pie spices are rounded out with bittersweet cocoa and floral hops for a complex flavor. Definitely more of a stiff drink than a pumpkin latte.
---
Some Like It Spiced
Ever wanted to drink pumpkin pie in a glass? These flavor bombs are for you!
Pumpkick
6.0% ABV
New Belgium Brewing
Fort Collins, CO
Exploding with cinnamon, nutmeg, allspice and a hint of sour cranberry. Solid, well-balanced and easily drinkable.
Whole Hog Pumpkin Ale
7.5% ABV
Stevens Point Brewery
Stevens Point, WI
Creamy, sweet and delightfully spicy with notes of gingerbread, brown sugar, pie crust and cinnamon flavors.
Imperial Pumpkin Ale
8.0% ABV
Weyerbacher Brewing Co.
Easton, PA
Hearty, spicy and cinnamon-forward, this sweet brew almost smells like Big Red gum. Strong cinnamon and bitter flavors. Like boozy, not-too-sweet pumpkin pie.
Good Gourd Imperial Pumpkin Ale
8.5% ABV
Cigar City Brewing
Tampa, FL
Go big or go home–this ale is bursting with big cinnamon, nutmeg and raisiny flavors. Sweet and malty, with moderate bitterness; like pumpkin-spiced toast.
https://www.instagram.com/p/BK6iVNthyZ2/?taken-by=stbcbeer
Pumking
8.6% ABV
Southern Tier Brewing Co.
Lakewood, NY
Smells dead-on like pumpkin pie with big accents of graham cracker pie crust, vanilla and pie spices. A flavor bomb of spice at the front with a massive vanilla backbone. A classic.
Imperial Pumpkin Ale
9.0% ABV
Dry Dock Brewing Co.
Aurora, CO
Smells like a rich, smooth spice bomb. A blast of cinnamon, ginger, allspice and cloves with muted pumpkin in the background. The additional malt used in this imperial ale gives it a strong backbone to support and balance out the spices.
---
…And Some Like It Really, Really Boozy
At 10.0% ABV or higher, these heavy beers are definitely made for sipping on a chilly fall night.
Pumpkinator
10.0% ABV
St. Arnold Brewing Co.
Houston, TX
The bottle says it's an ale, but this thick brew is more of a stout. Has all the sweet, pumpkin-pie goodness of Southern Tier's Pumking with a darker, more burnt and boozier character.
Warlock
10.0% ABV
Southern Tier Brewing
Lakewood, NY
This imperial stout is Pumking's darker cousin. Big pumpkin spice, gingerbread, brown sugar and coffee aromas hit right off the bat, and the taste follows the nose. Complex, robust and dangerously sweet despite the high ABV. Dark as night and perfect for Halloween!
Oak Jacked Imperial Pumpkin Ale
10.31% ABV
Uinta Brewery
Salt Lake City, UT
Earthy, spice-dominant and oaky, this big beer is not too cloyingly sweet.
Pump[ky]n
Avery Brewing Co.
Boulder, CO
Aged in fresh bourbon barrels for 6 months, this beer drinks more like a liquor.
https://www.instagram.com/p/BJ03AScBRYI/?tagged=averyrumpkin
Rumpkin
17.5% ABV
Avery Brewing Co.
Boulder, CO
Another boozy bomb from Avery Brewing. Warm rum flavors and a rich molasses sweetness dominate this brew, along with extremely fragrant pumpkin pie spices. At an ABV in the whopping mid-teens, sip at your own risk!
---