No Comments
Ultimate 6er | President's Day: First Ladies' Edition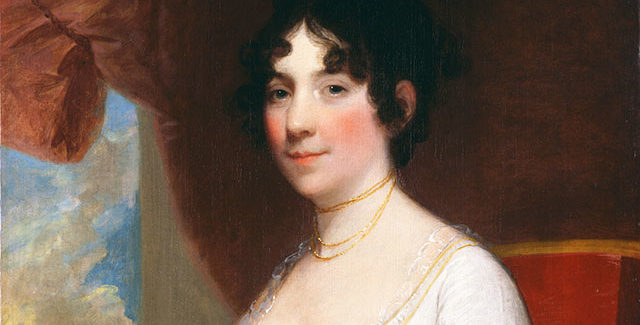 Feature Photo Credit: C-SPAN
First Ladies have done remarkable things throughout history, so it's time on this President's Day to give them their due. And, until this country finally leads a woman from the East Wing to the West Wing, we at PorchDrinking.com can only do what we do best — honor the First Ladies with beer!
Martha Washington
Our first, First Lady would surely love Anchor Brewing, a brewery largely considered to have lead the charge when the craft beer revolution commenced. What better beer to honor that pairing of first-ever First Lady and first-ever modern craft beer than Anchor Liberty Ale?
Martha is no stranger to ales, by the way. When her husband wasn't busy subduing the Whiskey Rebellion, he brewed ale in his Mount Vernon home. Martha developed recipes using the ale yeast (Check out, Martha Washington's Booke of Cookery and Booke of Sweetmeats).
In the spirit of old-time recipes, Anchor notes that the dry-hopped "Liberty Ale is made with the finest barley malt, fresh, whole hops, top fermenting yeast, pure water and the simple natural methods which reflect our exceptional respect for the ancient art of brewing."
https://www.instagram.com/p/BP-zL3-j_mL/?taken-by=anchorbrewing
---
Dolley Madison
Dolley Madison served as first lady to her husband James and she also performed hostess duties to family-friend and widower, Thomas Jefferson. However, as the National Women's History Museum explains, "Her most important contribution to American history…was during the War of 1812. Her husband and his Cabinet had fled when British troops set fire to Washington, DC, but she stayed and supervised the evacuation of important documents, [as well as] silver and art, including a large portrait of George Washington. Even though the British burned much of the city, Madison continued entertaining in her temporary quarters. This, she believed, symbolized the renewal and optimism of the city."
This brave First Lady deserves a strong, President's Day beer that's all-American-hopped, such as Dogfish 120 Minute IPA.
---
Mary (Todd) Lincoln
Schlafly Beer | Ibex Cellar Series: Kentucky Bourbon Barrel-Aged Stout
Few first ladies endured more personal drama and pain than she, but Mrs. Lincoln was far from a supporting character. As Honest Abe's chief political aide, she helped Lincoln's appearance, hosted parties, summarized newspaper articles for him and, as the National First Ladies Library explains, "Numerous abolitionists…attested to her core value of full emancipation of African-American slaves and her influence on the President to see this not only in political but human terms as well. She considered the Emancipation Proclamation of 1863 to be a personal victory."
In addition, she had a reputation for being quiet feisty — even temperamental. Of course, if she were a man, it might be labeled as driven, or passionate determination. Either way, Mary Todd stood her ground.
Being from the border state, it seems appropriate to honor Mary with a beer from Missouri. This Schlafly selection presents roasted barliness, dark chocolate, a bit of spiciness alongside a nice sweet vanilla character and then some BBA love from Mary's home-state; the Kentucky bourbon kicks-in and warms you from the inside-out.
https://www.instagram.com/p/BOQR96PjnOB/?taken-by=schlaflybeer
---
Eleanor Roosevelt
I suppose it would have been an easy choice to align Eleanor Roosevelt with 21st Amendment Brewery Fireside Chat, a can adorned by a picture of her husband. But, this is not about FDR, this is about Eleanor.
FDR may have given his chats on radio, but as noted by history.com, Elenor, "held hundreds of press conferences for female reporters at a time when women were typically barred from White House press conferences. Additionally, Roosevelt wrote a syndicated newspaper column entitled 'My Day' from December 1935 until shortly before her death in 1962." She also championed civil rights and served as FDR's eyes and errors on the pressing social issues of her day.
A New York beer for a New York First Lady, Brooklyn Brewery describes the beer the way most describe Eleanor's approachable personality,"Brooklyn American Ale is easy going, versatile, and dependable. It's a beer you and your friends can hang out with, no matter where you're from. Try it alongside pizza, burgers, spicy foods, sharp cheese, or just another bottle of American Ale."
https://www.instagram.com/p/BMj0i2vDO98/?taken-by=brooklynbrewery
---
Jacqueline Kennedy
Often criticized for her fashions choices, notably those made by French Designers, Jackie O not only served as first lady to her hubby, John (or JFK), but she also saw Attorney General Robert (RFK) roaming the White House. It only seems appropriate that Two Brothers Domaine DuPage French Ale (Bier De Garde) would fit the bill, The beer is a bit French, honors brotherhood, and embodies craft-brewing style.
Like Jackie O, who handled the position with a style and grace that few can match, the Two Brothers French Ale won the 2016 GABF Gold & World Beer Cup Bronze, 2014 World Beer Cup Gold, and the 2012, 2010 and 2007 GABF Bronze.
Two Brothers uses American-made products whenever possible, down to the uniforms worn by its staff. In that same spirit, "Onassis's first mission as first lady was to transform the White House into a museum of American history and culture that would inspire patriotism and public service in those who visited," according to Bio.com (Biography.com).
https://www.instagram.com/p/BPLk65PDaI1/?amp%3Bhl=en
---
Lady Bird Johnson
Sierra Nevada | A Trip in the Woods: Narwhal
A historian, a journalist and, most notably, an active conservationist and environmentalist. Lady Bird redefined the first lady roll, hiring staff and ostensibly making it an official position. Her most notorious work involved leading the movement to beautify America, notably by planting multitudes of flowers. She also was heavily involved with the National Park Service and movements to help protect our nation's forests.
Just as Lady Bird redefined the role of First Lady, Sierra Nevada redefined craft beer. And, just as Lady Bird was actively engaged in conservation and environmentalism. Sierra Nevada has been the leader in that category for a long time.
If there was ever a beer that honored Lady Bird, it's Sierra Nevad's Trip in the Woods Series: Narwhal. The beer is a rich, chocolatey imperial stout aged in bourbon barrels. The boozy Narwhal BBA is robust, yet, like the flowers Lady Bird planted, beautiful; The berry notes emerging from this beer meld seamlessly with the chocolate and bourbon flavors.
https://www.instagram.com/p/BOlQnaXgAKv/?taken-by=sierranevada&hl=en
---