No Comments
Public House Brewing Adds New Lager to Year-Round Beer List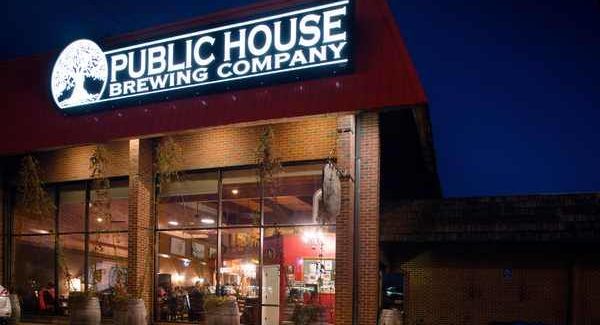 We've asked this question before – how far would you drive for really good beer? In the case of St. Louis beer lovers, we hope at least 1 hour and 48 minutes. That's about how long it will take you to drive from STL to Public House Brewing Company where you'll find Frisco 1501 Historic Lager, now part of Public House's year-round beer menu.
Frisco 1501 Historic Lager | Public House Brewing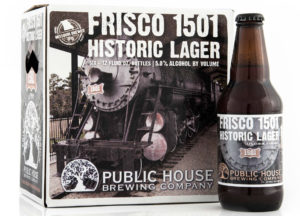 ABV: 5.0% | IBU: 44 | SRM: 15
Malt: Pale Ale, Caramunich, Caramel Malt
Hops: Northern Brewer, Cascade
This beer is named after Frisco 1501, a steam engine that rumbled down the Frisco Railroad line through Rolla, Mo., where the brewery was founded. "It's beer for those who work as hard as the steam engines and people who forged our nation," said brewer Josh Stacy.
This California Common style beer originated in San Francisco during the Gold Rush era. For this copper-colored beer, Stacy uses a lager yeast and ferments it at warmer ale temperatures to yield a unique flavor and mouthfeel. The taste you'll get will be fruity with toasty and caramel flavors, all while showcasing rustic, traditional American hop characteristics.
Public House Year-Rounders
Rod's Cream Ale
ABV: 5.4% | IBU: 16 | SRM: 2.5
Malt: Pilsen, Pale Ale, Flaked Maize | Hops: Magnum, Hersbrucker
While most modern styles of American craft beer originated elsewhere in the world, Cream Ale was born right here in Missouri.  You'll find a lot to like in this golden beer.
The beer is named in honor of its creator, former Public House brewer, Rod Murray. We think this beer can be summed up in three big words: American. Golden. Original.
Tasting Notes: Prominent malt notes complemented by a flaked maize aroma that bubbles up through the carbonation, elegantly balanced by noble hops.
Awards:
2016 – Bronze Medal, American Cream Ale – U.S. Open Beer Championship
2015 – Gold Medal – Best of Craft Beer Awards
2014 – Bronze Medal – Best of Craft Beer Awards
---
Hide and Seek Hefeweizen
ABV: 4.9% | IBU: 14 | SRM: 7
Malt: White Wheat, Pilsen, Crystal | Hops: Magnum
This is a serious Hefeweizen. Public House uses traditional ingredients, but their brewers use the traditional, multi-step infusion mash method (adding time and toil to the brew day) which gives the beer the appropriate body without cloying sweetness. Pale, spicy, and fruity, our Hefeweizen is medium-bodied with a fluffy, creamy fullness that comes directly from the wheat.
Tasting Notes: Subtle flavors and aromas of banana, clove, and even bubblegum – all naturally imparted by the yeast – are balanced by slightly tart and citrusy noble hops.
---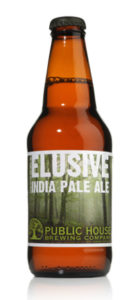 Elusive IPA
ABV: 6.8% | IBU: 65 | SRM: 7
Malt: Pale Ale, Munich, Victory | Hops: Centennial, Millennium, Falconer's Flight, Ahtanum, Crystal
In a world loaded with IPAs, it's rare to make one that stands out, but This one does for an unexpected reason.
Rather than create an IPA that mimics the flavor profile of so many other IPAs out there, Public House spent half a year brewing batches of beer with just a single hop in order to truly discover what each varietal lends to the flavor and aroma profiles of our beer.
After carefully selecting the most interesting and delightful, they crafted a recipe that blends six of these hops in just the right amounts and in just the right order. The end result is one of the smoothest tasting IPAs you will ever have.
---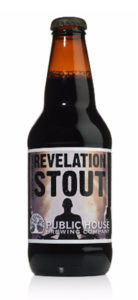 Revelation Stout
ABV: 5.4% | IBU: 43 | SRM: 40
Malt: Pale Ale, Crystal, Chocolate, Roasted Barley, Flaked Barley | Hops: Millennium, Magnum
Moments of revelation are rare indeed…
Lift a glass of this dry stout to your nose and breathe in the decadent aroma of dark chocolate emanating from the creamy off-white to tan-colored head. Take a sip and feel the familiar warmth of roasted coffee that goes down smooth. Notably, we don't add either of those to this beer.
The joy of discovery is unspeakable and often can only be appreciated by one's "other" senses–a third eye perhaps. Revelation Stout isn't just allegory. It's dry – with no coffee or chocolate. Just pure malt… it's a Revelation.
Awards:
2015 – Gold Medal – LA International
2014 – Silver Medal – Best of Craft Beer Awards
2012 – Bronze Medal – World Beer Cup
---