No Comments
Eating & Drinking | Heavy Riff Brewing Company
I've been noticing a new trend – how many of our best and up-in-coming city neighborhoods are being anchored and supported by the local beer community.
One I want to talk about today is Dogtown. Dogtown, bordered by Manchester in the South, Hampton on the East, McCausland in the West and Oakland in the North – has been a part of the fabric of the city for more than 100 years. And while the spiritual center of the neighborhood will always be St. James the Greater School, the beer epicenter is Heavy Riff Brewing Company (6413 Clayton Ave. Saint Louis, Missouri 63139).
Heavy Riff first opened its doors in the fall of 2013 as a Rock 'n Roll themed brewery and quietly made its own dent in the local brewing scene by crafting consistently good beer. Since then Heavy Riff has added a full menu featuring its own house smoked BBQ. Beer and BBQ. That, my friends, is how to live right.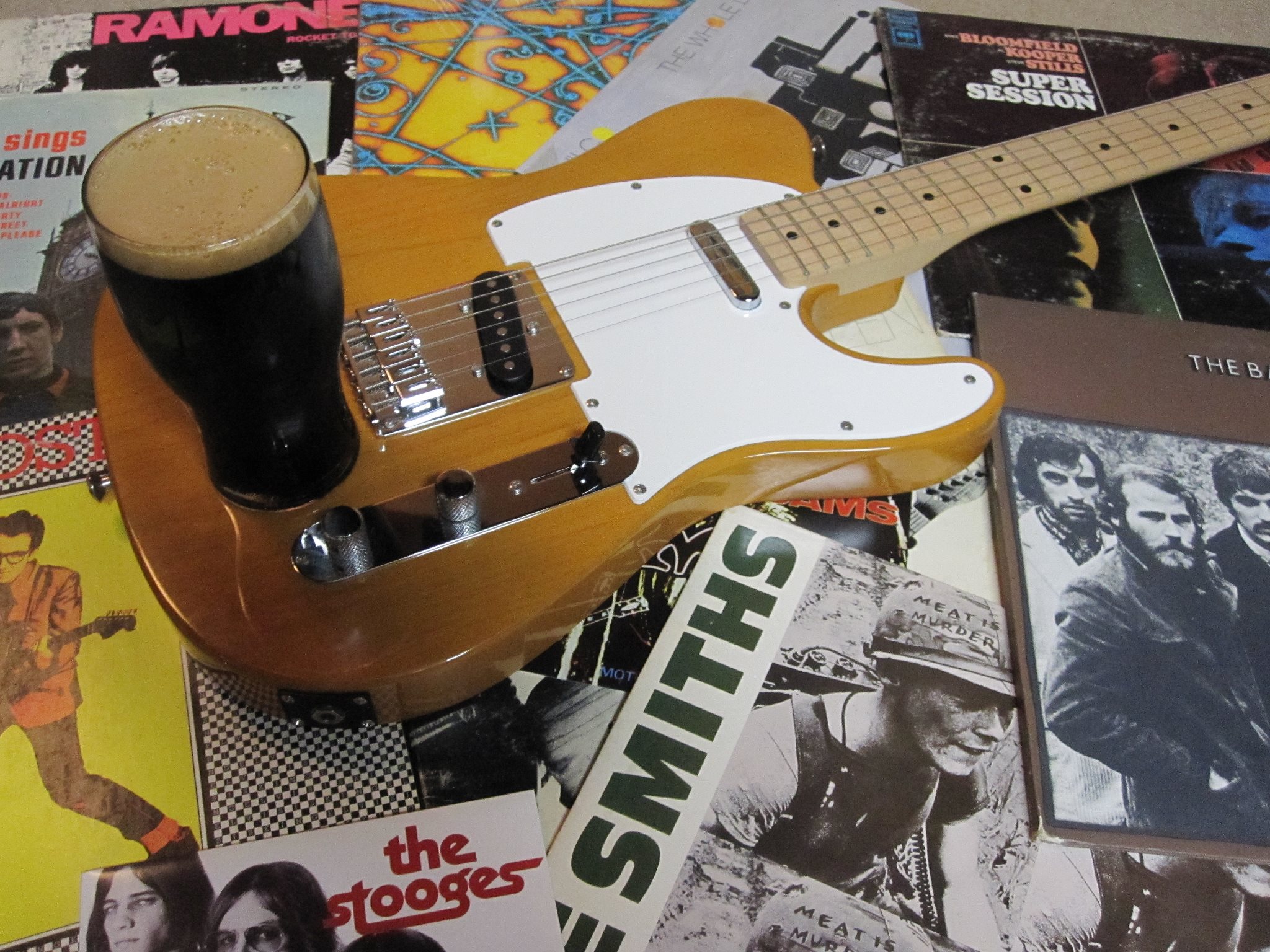 What to Drink
On our most recent visit on a cold December night, the brewery was packed. We found two nice spots on the corner of the bar and away we went. Heavy Riff features 15 beers on draft. I tried to vary what I was trying based on ABV strength. Here is what we tried:
Argonaut APA
ABV: 5.2% | IBU: 41
This one is an American Pale Ale bursting with grapefruit citrus flavor with just enough malt backbone to keep everything balanced. I found it light and refreshing. Slight hop taste but not overbearing.
Nine Tonight
ABV: 9 | IBU: 20
A strong pale Belgian inspired ale clocking in a 9% and showcasing a balance of malt and fruit from its unique Belgian yeast strain. I found it malty with a bit of fruit at the end. Very drinkable for such a high ABV.
Candy Floss Pomegranate Wheat
ABV: 4.4% | IBU: 18
Pomegranate abounds in this flavorful slightly tart wheat ale. This beer was not for me, too sweet for my palate. The name says it all. Very sweet like cotton candy. The pomegranate is right there.
Black Dog
ABV: 9% | IBU: 25
A complex and decadent Bourbon Oak Aged Imperial Porter. I found this to be one of the best bourbon aged beers I've tried in a long time. Thick and hearty yet swig-able. The bourbon aging was pronounced and lingered on my tongue for nice after effect. You'll like this one for sure.
Velvet Underbrown
ABV: 6.5% | IBU: 30
This beer is Heavy Riff's flagship brew and for good reason. An American Brown Ale, it prominently features lactose and roasted oats for a creamy velvety mouthfeel. Restrained hop character and a hint of dark chocolate on the finish. I just loved this beer. I'm becoming a huge Brown Ale fan and this one is now one of my favorites.
What To Eat
Like us, you may eat your meal at Heavy Riff's bar but the menu goes beyond stereotypical bar food.
For our opening act, we began with Spent Grain Beer Bread. This is what becomes of a brewery's spent grain.  Heavy Riff transforms it into bread and it goes well with its signature spreads, of which I recommend the roasted garlic green onion cream cheese.
We continued with two salads. I'm not one to rave about salads but I will do just that about the Blue Cheese Brisket Salad. A fresh mix of raw baby spinach and romaine lettuce tossed in a homemade bleu cheese vinaigrette dressing and homemade candied pecans topped with beef brisket, bleu cheese crumbles, and our ginger pickled onions. One of the best BBQ meat salads in town.
My wife tried the Hawaiian Pork Salad, a fresh mix of raw baby spinach and romaine lettuce tossed in our homemade pineapple vinaigrette dressing, and topped with our four cheese blend, smoked pulled pork and our homemade Hawaiian salsa.
The Experience
Unlike other local breweries with tasting rooms that also feature menus of varying sizes, Heavy Riff doesn't feel like a tasting room. It rather feels like a neighborhood bar that is inviting and welcoming. The theme is classic rock 'n roll and is revealed in some of the beer names and the decor, but Heavy Riff should not be confused with a Hard Rock Cafe. The theme is present but not in your face.
While its 15 tap system serves mostly Heavy Riff beers, the brewery also offers a nice mix of local and regional craft beers. A tremendous whiskey selection is available, too, as well as solid wine choices and a full bar. The place isn't huge – 98 seats, which is what makes it cozy. Heavy Riff also has four big-screen televisions, free steel tip darts, and free shuffleboard! The people at Heavy Riff are also very family friendly.
---