No Comments
The Weekly Buzz | January 13 – 19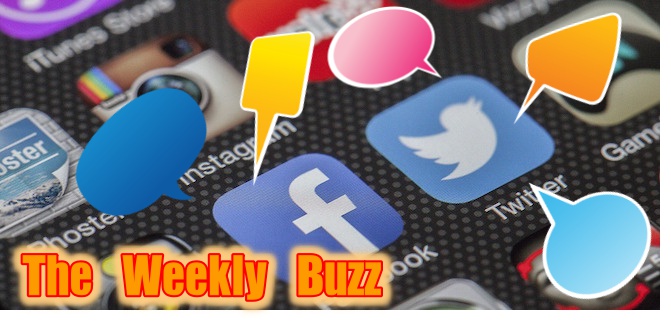 If you want to fill your calendar with beer events, you have hit the mother lode! There were tons of announcements this week. I, on the other hand, work most weekends and will have to drink alone in my free time. That's not sad, is it? I may be a sad sack, but you don't have to be! This is The Weekly Buzz.
That much money can do a lot of good. Nice job!
https://www.instagram.com/p/BPY4kzUDYHY/
---
It's like Thunderdome for homebrewers.
ATTENTION #HOMEBREWERS! Join us for the Battle of the Homebrewers on 4/23! Free to enter & supports a good cause:https://t.co/zA5jiDQOkK pic.twitter.com/RqixzKn6Pu

— Harrisburg Beer Week (@HBGBeerWeek) January 14, 2017
---
Now your kids will have something to do while you drink!
Need plans this weekend? Get in on the fun & color the underside of a #Yards 12pk tray! #ColorMeYards https://t.co/tfsvezeuAw pic.twitter.com/vcLOKbnNd7

— Yards Brewing Co. (@yardsbrew) January 13, 2017
---
This beer will probably poison you with an apple.
https://www.instagram.com/p/BPOP97EAQPq/
---
Beer jobs! Get those applications in!
We have two job openings at Ninkasi! Packaging Operator & East and South Bay Market Manager!
Apply now:https://t.co/MsRqohGJdi pic.twitter.com/verR1FN4QK

— Ninkasi Brewing (@NinkasiBrewing) January 13, 2017
---
Meteorologists should do a better job programming the climate controls.
So……..:which weatherperson do I send our weekend sales deficit to? #restaurantweek #icepocolypse #loveyou pic.twitter.com/fRph5QRyr2

— Martin City Brewery (@martincitybrew) January 13, 2017
---
Let's go to brunch.
A Brewer's Brunch returns feat. brewer Jon Eager! Join us Feb 12 for beer brunch catered by @PinstripesBBB. RSVP: https://t.co/tQC5W25gqD pic.twitter.com/DkInsWE7sa

— Indeed Brewing Co. (@indeedbrewing) January 13, 2017
---
Mark those calendars!
Mark you calendars: The 21st Annual #BoonvilleBeerFest is Sat 4/29/17, theme is "We're Legal!" #bahlhornin pic.twitter.com/DkrKGXdIUF

— Anderson Valley Brew (@avbc) January 13, 2017
---
Do they get liver-flavored beer?
https://twitter.com/duclawnews/status/820390434253971462
---
It was a nice show of support, but the Steelers "kicked" their butts.
It's almost time! Show us your view of #ChiefsKingdom pic.twitter.com/ky9HJp23KH

— Boulevard Brewing Co (@Boulevard_Beer) January 16, 2017
---
These guys can barely contain themselves.
Obviously we are very excited about #NationalHatDay. pic.twitter.com/8qZrSTYK3i

— Goose Island Beer Co (@GooseIsland) January 15, 2017
---
Home brewing dogs are also welcome.
STLPivo is looking for HomeBrewers to pour at Ales for Tails Homebrew Festival 3/25 register for free at https://t.co/RboquNOUWu @stlbrews

— Stlpivo.com (@stlpivo) January 16, 2017
---
It's time to polish that resume!
Looking for a taproom shift leader (part-time) & Chicago sales rep (part-time). For more info and how to apply go to https://t.co/Z9CxymKKcP pic.twitter.com/oPAxgXF4nt

— ScorchedEarthBrewing (@ScorchedEarthBr) January 17, 2017
---
Get those tickets!
We are proud to present the Winter Wonderland of Beer on Sat., Feb. 18 at @MBParkRosemont Tickets go on sale Wed., 1/18! #ILWinterFest pic.twitter.com/vTV5eUMiyz

— IL Brewers Guild (@IllinoisBeer) January 17, 2017
---
A collaboration is brewing… Get it? Brewing?
Mashing in "Salty Dawg" our collaboration Imperial IPA with Hawaiian pink sea salt brewed with @FieldworkBrewCo for #strongbeermonth pic.twitter.com/pHMotHkAr6

— 21st Amendment (@21stAmendment) January 16, 2017
---
Beer videos don't always go as planned!
---
You already live in a cellar. You may as well work in one.
Our cellar team is a critical piece of our brewery, and we're looking for a Cellar Operator to join us. Is it you? https://t.co/jMS4dXXoeM pic.twitter.com/jKB4nGRkSy

— The Bruery® (@TheBruery) January 16, 2017
---
Coming soon to a shelf near you!
Introducing our new year-round can offering, Citra Pale Ale, hitting store shelves in February!

Stay tuned for release events near you! pic.twitter.com/FkEnQlSMT4

— Upslope (@upslope) January 16, 2017
---
Opening Day is fast approaching!
Hey #Pittsburgh… We're officially pouring off the taps at @stbcbeer_pgh & we're thiiiiis close to sharing a pint with you! pic.twitter.com/5PBmGZPVKk

— Southern Tier Beer (@stbcbeer) January 17, 2017
---
Sounds like a good time.
Here it is – the full @420fest 2017 lineup. Score tix now at: https://t.co/rdTAlALr3X pic.twitter.com/Bf4uVcZZb4

— SweetWater Brewery (@sweetwaterbrew) January 18, 2017
---
Is there an age limit for these classes?
Did'ya know we work w/ #Brevard Ballet to provide free ballet, jaz and hip hop classes for children in the community? pic.twitter.com/9vXdhtbYIU

— CAN'd Aid Foundation (@CANdAid) January 18, 2017
---
Get it while it lasts!
We have a very limited amount of Barrel-Aged Here Be Monsters on tap. It's not on the menu and it won't last long. 8oz pours only. pic.twitter.com/yXdqqlcUM7

— Cerebral Brewing (@CerebralBrewing) January 18, 2017
---
Another great event!
Prepare yourselves … the Weekend of Compelling Ales & Whatnot is coming! It all goes down March 25 … tickets on sale Feb. 2! #WOCAAW pic.twitter.com/UuQcK672Gb

— Dogfish Head Brewery (@dogfishbeer) January 18, 2017
---
I could use a cup of coffee…
https://www.instagram.com/p/BPa5cHqjsNA/
---
I hope they stocked up on Gatorade for the next day…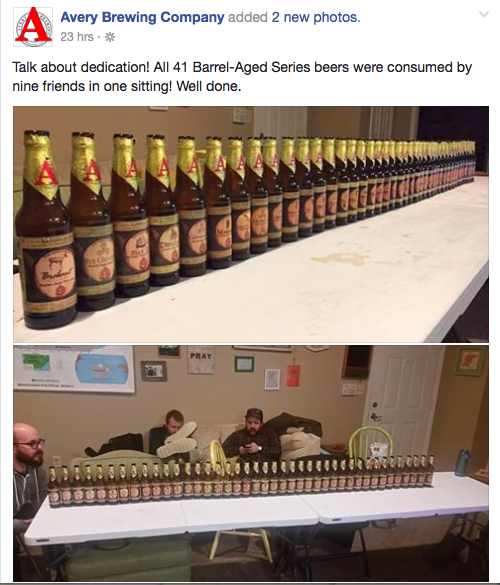 ---
Beer should always be shot in slow-mo.
---