No Comments
Brewery Showcase | Main & Mill Brewing Company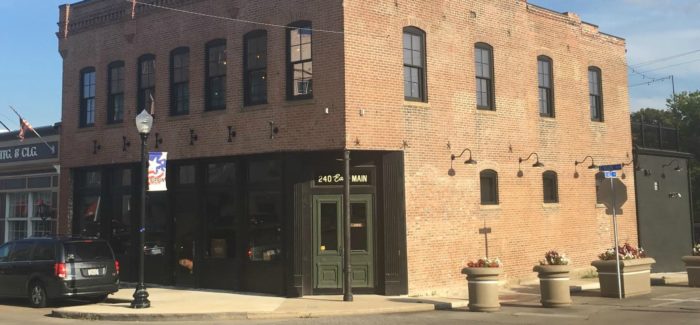 A straight shot south down Interstate 55 from St. Louis is where you'll find a brewing company — Main & Mill Brewing Company — that, while just three years in operation, is carrying forth a rich brewing tradition that began 120 years ago.
Main & Mill Brewing Company is located on Main Street in Festus, Missouri, a town built on beer.
Legend tells us Festus was actually created as a place for people to drink after a long day of work at the nearby Crystal City PPG plant that made high quality glass. Due to some regulations in Crystal City at the time, beer was only available in taverns outside of the city limits.  The most popular place in Festus was the West End Tavern, which opened in the late 1800's and served beer and liquor. It later became a huge seller of St. Louis brewed Lemp beer.
The building that housed the historic West End Tavern is where Main & Mill continues providing beer to thirsty patrons.
Main & Mill opened in 2013, a product of love for beer and community. Brewmaster Denny Foster was born and raised in Festus and specifically chose to open his brewery on Main Street to help the downtown's redevelopment. The West End Tavern building was close to being demolished when Foster, and his father Barry, bought the building, built their brewery and opened to an enthusiastic local and regional drinking clientele.
We love corner bars and breweries, and this epitomizes that concept.
The first floor welcomes you immediately with a gorgeous all-wood center bar just in front of the glass window partitions, which allow you to view the entire brewing operation. Upstairs you'll find more seating and a second full bar loaded with taps. The place is fun, inviting, and a great atmosphere for locals and visitors dropping in to sample the brew on tap.
What To Drink | Our Ultimate Main & Mill 6er
For an IPA, we'll say this brew is citrus forward.  Aptly described on Untappd as "packed with galaxy, citra, and Columbus hops. Pretty far from regular."  We agree.
This beer was created after Foster and co-brewer Brandon Bischoff worked with a variety of IPAs.  "We realized that we'd done a couple of DIPAs, a session IPA, even a Triple-IPA, but not a normal ABV/IBU version of the style. We quickly planned to make that change and with that came the "Regular IPA."
This particular IPA, like many of the others they've done, is more juicy than super bitter. Foster and Bischoff's recipes let the hops do most of the talking while remaining very drinkable.
---
Session Brown Ale
ABV: 4.2% | IBU: 16

This is one Main and Mill's newest beers and one that was crafted for the brewer to enjoy while brewing.  "We realized how bad we wanted a brown ale back on tap, but one that we could drink during a brew day without it affecting the ability to work or do what we need to do." From that came this 4% brown ale and the base for another beer, the Caramel Coffee Brown.
It drinks with light roasty flavors almost more resembling toast with hints of caramel.
---
English Pale Ale
ABV: 4.6% | IBU: 30
After making their name on super hoppy IPA's and dark stouts, Foster and Bischoff began thinking of creating a pale ale.  After a few solid bottles of some local and national Pale Ales, they decided to put one on tap here.  They didn't miss with their first attempt.
Brewed with a traditional English style grain bill and English yeast as well as American hops: Centennial, Cascade, and Amarillo to offer an American take on this standard English style.
English Pale Ale differs from American Pale Ale in that it's less hoppy, less bitter, and isn't dry-hopped (hops added after fermentation to give strong hop aroma).  This version is a malt forward pale ale that is balanced, making it easy to drink and refreshing.  It has light caramel flavors mixed with a bit of citrus and pine from the American hops.
---
Lemon Shandy
ABV: 4% | IBU: 4
As of this writing, Lemon Shandy is no longer on tap, but bookmark this story till next summer friends, and you will be rewarded.
Main & Mill had a few previous Berliner Weisse beers on tap this year that have been released to incredible reception.  They also received suggestions from guests asking them to try a shandy of some sort. Challenge accepted.
This shandy isn't nearly as sweet as many others you may have tried. It isn't mixed with lemonade as many others are. Rather they made a beer that starts slightly tart but finishes with a strong lemon flavor and aroma while remaining very refreshing for the hot weather.
---
American Blonde
ABV: 4% | IBU: 6

The credit for American Blonde goes to Foster's wife Rachel who, while married to a brewer, isn't much a beer fan.  "She's always liked macro light lagers and not much else," said Foster.  So he wanted to have a go at turning the biggest macro brewery lover into a craft beer beginner. To do that, he crafted something that she could enjoy for an entire evening. After maybe eight different iterations, which included many sour faces from Rachel as she tasted the versions that didn't make the cut, Foster found one that she loved.
"We knew we had this particular brew locked down. Since then, the recipe has stayed the same and luckily has opened the eyes of many macro beer lovers, which is part of our goal here at Main & Mill," said Foster.
It is a very light beer that is easy to drink year-round. There is little to no perceivable bitterness with light malty flavors. It's super light and crisp.
---
Chocolate Milk Peanut Butter Porter
ABV: 4.5% | IBU: 20 IBU
Arguably Main & Mill's most popular recent beer.  We love peanut butter in about every way and it clearly goes perfectly with chocolate.  But while other versions of the beer that you've tried probably focus on the chocolate, this beer is more focused on the peanut butter while still clearly having some of the chocolate characteristics of a porter. Foster says they're also dabbling with an Imperial version. Like a Reese's Peanut Butter cup in a glass with a bit more real peanut butter flavor, Foster and Bischoff learned how messy powdered peanut butter can really get, how hard it can be to truly get it into solution. Lactose, which they add to the boil, can be a sticky mess as well.
---