No Comments
Public House Brewing Celebrates 5th Anniversary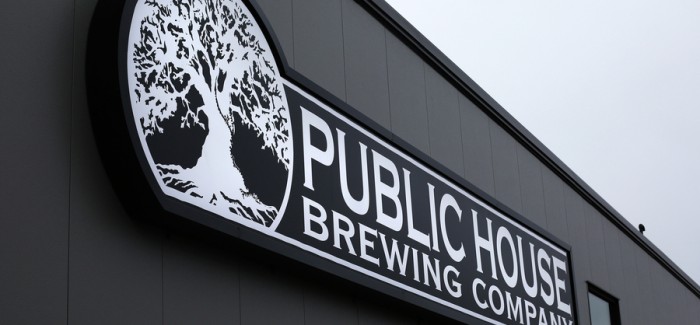 In 2010, Josh & Beth Stacy and Josh & Trisha Goodridge — longtime friends — opened Rolla's first brewpub. But it was a long, long time in the works. Like any business, there were big ups and downs on the road to the first pour.
The "Josh's" have known each other since junior high and after creating a lifetime of memories the two found another bond in beer. What started out as a hobby, soon became a dream for both. Rolla needed fresh craft beer and they were just the guys for the job.
But to do it, they needed help from their wives to make this dream happen. Thankfully, Beth and Trisha agreed to take the plunge and the four embarked on the treacherous journey together to bring fresh craft beer to Rolla. Many trials and triumphs later, Public House Brewing Company opened its doors on December 16th, 2010, to a very thirsty populous.
Five years later, it's time celebrate their Ale-iversary. This weekend, January 22nd-23rd the "Josh's" will be celebrating their "Wooden" anniversary by releasing two special beers, both born from the wood.

Wine Barrel-Aged Rod's Cream Ale
This award winning member of the the Public House's core lineup is getting the wine barrel treatment.While most modern styles of American craft beer originated elsewhere in the world, Cream Ale was born right here at home. We've found a lot to like in this golden little beauty: prominent malt notes complimented by a flaked maize aroma that bubbles up through the carbonation, elegantly balanced by noble hops.
ABV: 5.4% | IBU: 16 | SRM: 2.5
Named in honor of its creator — Public House Brewer Rod Murray — we think this beer can be summed up in three big words: American. Golden. Original.
---
Wine Barrel-Aged Revelation Stout
Another award winner, this dry stout gives off a decadent aroma of dark chocolate emanating from the creamy off-white to tan-colored head. Take a sip and feel the familiar warmth of roasted coffee that goes down smooth. It's dry–with no coffee or chocolate. Just pure malt… it's a Revelation.
ABV: 5.4% | IBU: 43 | SRM: 40
These special beer releases will be tapped @ 2pm on Friday, Jan. 22nd, and will be available ONLY on the Anniversary weekend and ONLY at Rolla. Live music and plenty of grub will be on hand both nights, with Limited Addition on Friday night and The Meanwells on Saturday night.
---
Address
600 North Rolla Street, Rolla, MO 65401
Hours
Monday – Thursday: 4 p.m. to 11 p.m.
Friday: 2 p.m. to 12 a.m.
Saturday:  12 p.m. to 12 a.m.
Sunday:    12 p.m. to 5 p.m.
Food / Food truck availability
The second Thursday of every month is Burger Night, with food provided the local Moondance Farms. Get here early, the burgers are limited and they go fast!
---