No Comments
Perrin Triangulation To See Limited Distribution in Colorado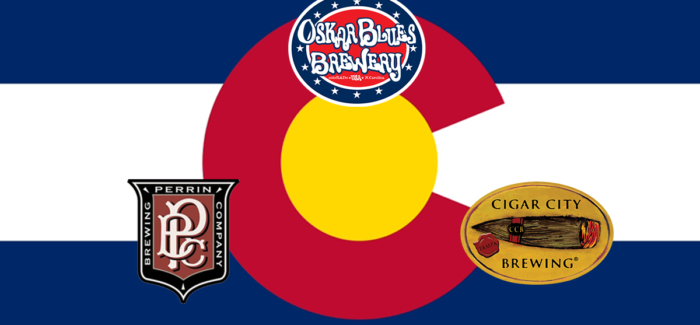 The Perrin Brewing (Comstock Park, MI) collaboration with Oskar Blues (Longmont, CO) and Cigar City (Tampa Bay, FL) – called Triangulation – is making its way into Denver distribution soon. The Imperial Oatmeal stout boasts great malt complexity and body, and carries its 9% abv very well.
John Stewart of Perrin, Tim Matthews of Oskar Blues and Wayne Wambles of Cigar City crafted their interpretation an Imperial Oatmeal Stout, "Triangulation," late last year. From the minds of these three brewers "Triangulation" is a big bodied, robust Oatmeal Stout brewed with a wide-spectrum of malts from around the globe, experimental hops, and a special London ale yeast strain. "Triangulation" is a beer that showcases the strength and unity through the sum of all parts.
John Stewart, Director of Brewing Operations at Perrin Brewing stated, "This opportunity is a great privilege to deliberately push the boundaries with this collaboration brew by layering numerous specialty malts and a multitude of experimental hops from all over the world with the specific intention of creating a complex and nuanced twist on the style."
The end result of the Imperial Oatmeal Stout is 9% ABV and 60 IBUs. Perrin Brewing is eagerly using this collaboration beer as a launching tool into distribution of the Florida craft beer scene and reported back in November that this 4-pack beer would only be made available in Michigan and Florida markets. But alas, they have brought that delicious good-good to Colorado too!
"We decided to create a rich but approachable strong stout. It will have dark caramel components. We are using experimental hop HBC 472 which can provide vanilla, macaroon, and even barrel notes," stated Wayne Wambles of Cigar Cigar Brewing.
The combination of three brewery cultures, communities, and creativity into one collaboration is what makes this beer and relationship unique. Perrin Brewing is honored to collaborate and have the privilege to craft along side Oskar Blues Brewing and Cigar City Brewing.
"Being a craft brewer means brewing with a personality and collaboration gives different perspectives and experiences an opportunity to mash up something new and creative. Coming together with Cigar City and Perrin, we all scrutinized every ingredient of a big, dark, malty Imperial Stout and twisted each slightly," quoted Tim Matthews of Oskar Blues Brewery. "The culmination will be the sum of these subtle twists and bring new perspective on what an Imperial Oatmeal Stout can be."
Look for very limited draft/kegs heading to accounts and 4 pack cans in market soon.
---