No Comments
The Weekly Buzz | October 14 – October 20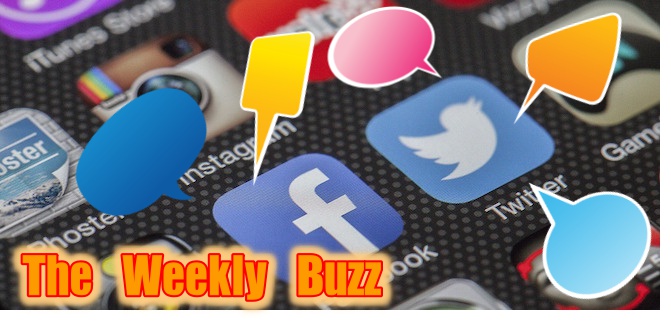 Halloween is a week away, the leaves are falling from the trees, and the sun is setting earlier each day. Whether you are mourning the end of summer or celebrating the approaching winter, fall is a great season for beer drinking. Pour yourself a Märzen or Pumpkin Ale and prepare yourself for the latest in news and nonsense. This is The Weekly Buzz.
Job Opportunities!
Our pubs are both hiring! View current jobs available & apply online to join the crew in Holland or Grand Rapids: https://t.co/hlN0ejhXyO pic.twitter.com/umwO1ev9JO

— New Holland Brewing (@newhollandbrew) October 14, 2016
---
Which Dogfish Head beer would you most like to see canned?
So we've been working on a little something … CAN you guess what it is? #offcentered pic.twitter.com/cloij1Sdsu

— Dogfish Head Brewery (@dogfishbeer) October 14, 2016
---
Another collaboration in the works!
Justin, Doug, and Phil visited our friends at @FirestoneWalker this week. A collaboration beer is coming your way in 2017! Stay tuned! pic.twitter.com/Y0f0T2k8Ig

— Brewery Ommegang (@BreweryOmmegang) October 14, 2016
---
Way to help out, Oskar Blues!
54k cans of fresh #water headed to the coast for Hurricane Matthew relief! @CANdAid @BallCorpHQ #EffMatthew pic.twitter.com/tydoJe5bXo

— Oskar Blues Brevard (@oskarblueswnc) October 14, 2016
---
NoDa is doing their part, too. Good on ya!
5,800 cans of clean filtered water heading to Lumberton today for the flood victims. #ShowYourCans pic.twitter.com/2xPDqDkjcw

— NoDa Brewing Company (@NoDaBrewing) October 16, 2016
---
Personally, I think they taste like beer mixed with soda.
The most positive reviews and the most negative reviews of radlers are identical:
"Tastes like beer mixed with soda."

— Jeremy Danner (@Jeremy_Danner) October 16, 2016
---
When did you first say "juicy"?
Juicy beer? Historically, when did this enter our beer vernacular?

— Hill Farmstead (@HillFarmstead) October 16, 2016
---
I'm already in line for this.
Step mashing a Doppelbock that will be destined for some Heaven Hill and Woodford Reserve barrels. Look for a late 2017 release. pic.twitter.com/yw0hhs6gT8

— Rip Current Brewing (@RipCurrentBeer) October 16, 2016
---
He's the OG of craft beer MCs.
Kicking off the #under30summit like only Jim can – with a #beer ? pic.twitter.com/MLYQaqpPdr

— Samuel Adams Beer (@SamuelAdamsBeer) October 16, 2016
---
Here's to Flying Dog for pitching in to #KickAlzintheBallz!
A toast to @FlyingDog for helping us get turnt at #HFCHalloween and for supporting our efforts to #KickAlzInTheBallz pic.twitter.com/HdjafQ3dCx

— Hilarity for Charity (@Hilar4Charity) October 16, 2016
---
My dog is already bugging me for these!
First batch of spent grain dog treats in the oven! #homebrew #spentgrains @AllGrainBeer pic.twitter.com/29nqF5jfav

— Ian Meinert (@marinesct) October 14, 2016
---
Prepare for crowds of German villagers in the Night Shift tap room!
The people of #Pfaffenheck, Germany featured us in their local paper! Coincidentally, we're canning Pfaff today – come drink like a local! pic.twitter.com/9qyrOuoIrR

— Night Shift Brewing (@NightShiftBeer) October 17, 2016
---
Water is arguably one of beer's most important ingredients. We need to protect it!
Beer is 90% water. 50% of our water comes from forests…let's protect our forests!! https://t.co/QFrFbcpnSI #OktoberForest @jerseyfreshale pic.twitter.com/gMOznpJbqW

— NatureConservancy NJ (@nature_NJ) October 15, 2016
---
Stock up on these soon to be discontinued brews!
All good things must come to an end, wait, what the heck is going on here?! Are the rumors true? Read more: https://t.co/ULRzmAUvXz pic.twitter.com/izShZNYBld

— Firestone Walker (@FirestoneWalker) October 14, 2016
---
This is probably the best campaign ad of 2016!
Our CMO @FlyingDogSavage knows that walking down a hallway in slow motion makes him look distinguished. #SavageNotForPresident pic.twitter.com/DLQkNWVkn2

— Flying Dog Brewery (@FlyingDog) October 18, 2016
---
That's more than enough wort to fill an above-ground swimming pool!
From 3:15 am this morning through 10:30 pm tonight, our brewhouse crew will transfer 37,200 gallons of Pale Ale wort to fermenters. pic.twitter.com/F7u4rMHdV7

— Boulevard Brewing Co (@Boulevard_Beer) October 18, 2016
---
Mark your calendars! Java Cask Rye is coming soon!
November 23rd. 10 am. Mark your calendars!! #DarkWednesday #JavaCask #JavaCaskRye @1villagecoffee https://t.co/Xy8eQyCLnB pic.twitter.com/AbbEPvv8Pz

— Victory Brewing Co. (@VictoryBeer) October 18, 2016
---
This is way better than my fire pit! Enter to win!
Win your own Ninkasi fire pit by entering our costume contest! Post your best costume & tag #DawnoftheRed! https://t.co/U9ogsBgrye pic.twitter.com/eyEPqeYZSH

— Ninkasi Brewing (@NinkasiBrewing) October 19, 2016
---
Nice work, Urban Chestnut. 4-Legged friends everywhere thank you!
The @TUTreatTruck & @SeoulTaco truck are here @urbanchestnut & ready 2 party w/pooches at #soldout #Barktoberfest! pic.twitter.com/NtjlBP81IU

— Humane Society of MO (@hsmo) October 18, 2016
---
What is it? Is it good? It's probably good…
Working on something new in our historic, open-top Michigan fermenters … pic.twitter.com/iJOQi8qQPB

— Bell's Brewery (@BellsBrewery) October 19, 2016
---
That beer is black like my soul…
Video: Brewer Pete Stacy & his new Unchained 23 #DarkInfusión. Release party at Summit Beer Hall Sat 6-10pm.https://t.co/5IqCeJbvr4

— Summit Brewery (@summitbeer) October 19, 2016
---
If you still haven't gotten your Oktoberfest fix, head to Easton, PA!
OKTOBERFEST – SATURDAY at The Tap Room https://t.co/q2cs5d0yW2

— Weyerbacher Brewing (@Weyerbacher) October 19, 2016
---
Yup. AB Bought Northern Brewer (and Midwest Brewer) Homebrew Supply.
Big beer is getting in to homebrew now. https://t.co/mY81OeTyu2

— Hop Hill Beer (@Hop_Hill_Beer) October 19, 2016
---
Sure. This perpetuates craft beer stereotypes, but that makes it no less hilarious.
Too fun to pass up. Would U buy & pin up this calendar? https://t.co/fTkv5mAOQL #BreweryBellies #BeerGuts… https://t.co/9cJgBIutn9

— StrangeCraft Beer Co (@StrangeCraftCo) October 19, 2016
---
No headstone for Northern Brewer?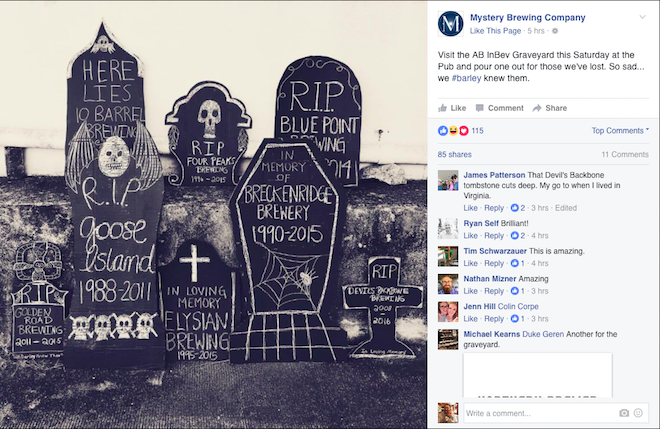 ---
Remember that baseball bet between Brewery Ommegang and Anchor Brewing?
The other week we won a #MLB bet with our friends at @BreweryOmmegang so they're serving #AnchorSteam in their taproom this Saturday! ⚓️?

— Anchor Brewing (@AnchorBrewing) October 19, 2016
---
There's nothing about this that doesn't sound delicious.
Coming soon. Stay tuned…..? pic.twitter.com/b33LegLnXJ

— Evil Twin Brewing (@EvilTwinBrewing) October 20, 2016
---
Some delicious news for Florida!
Our all-star lineup is now available in bars, restaurants, and retailers throughout the Sunshine State! Can't find it? Demand it! #cbcrbd pic.twitter.com/h0NaXidVgR

— DuClaw Brewing News (@DuClawNews) October 19, 2016
---