No Comments
The Weekly Buzz | June 2 – 8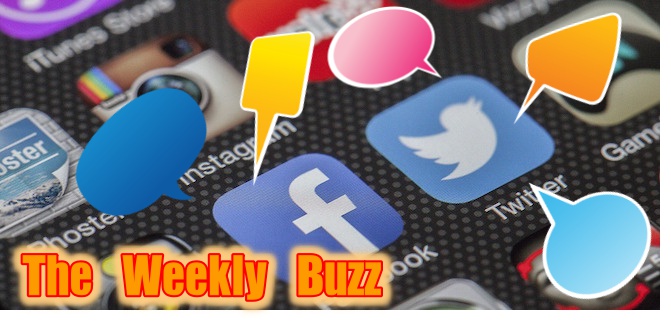 This week had so much fun beer stuff going on that it was hard to keep track. There was SAVOR in DC, Philly Beer Week, the Firestone Walker International Beer Fest… Lions and tigers and bears, oh my! There were also a few interesting announcements and (unfortunately) a little more shady intrigue from AB-InBev. Drag your laptop out to the porch and prepare to discover The Weekly Buzz.
Just be careful. These mules can kick!
Sun & Good Juju Moscow Mules, weekend perfection! Jazz up your drinkware w these copper mugs https://t.co/EueXWn7Ufj☀️ pic.twitter.com/JZUEeioCBX

— Left Hand Brewing Co (@LeftHandBrewing) June 4, 2017
---
Get your tickets now!
On Sat., 6/17 at @Blvdia, join us for a private beer dinner featuring @Boulevard_Beer & @FreeStateBeer at Voltaire! https://t.co/UFCi2fex6r pic.twitter.com/oIl5MgXYMv

— Boulevardia (@Blvdia) June 2, 2017
---
I need to hang out with this dog.
Pretty much all of our favorite things in one photo. Thanks for the 📷@samsonthedood! pic.twitter.com/SX273fXWd1

— Allagash Brewing Co (@AllagashBrewing) June 2, 2017
---
Looks like I should have gone to FWIBF!
Ok @firestonewalker #fwibf17 Fest-goers, here's our lineup for tomorrow! pic.twitter.com/B96Iuvkvc3

— Side Project Brewing (@SideProjectBrew) June 2, 2017
---
I bet they'll bring it back even if they don't get 1,000 retweets…
1,000 retweets and we'll bring back #WhiteMonkey. pic.twitter.com/zMZkF1Q1ma

— Victory Brewing Co. (@VictoryBeer) June 2, 2017
---
Beer friends are the best friends!
Brewed two collabs! One with @rarbrew and a second with @InterboroNYC – look for them in the coming months. Cheers to new friends! pic.twitter.com/ijqffVhDsT

— Night Shift Brewing (@NightShiftBeer) June 3, 2017
---
Did you make it to DC for Savor?
We've been having a blast at #Savor2017 serving up Flesh & Blood and SeaQuench Ale! Ready for night number two! 🍻 pic.twitter.com/IFldhGShYI

— Dogfish Head Brewery (@dogfishbeer) June 3, 2017
We brewed Ugly & Stoned for #Savor2017 w/ @MOMsOrganicMrkt @ewg & @plateoftheunion Learn the cause behind the beer: https://t.co/2N1ZxpDRAv

— Atlas Brew Works (@AtlasBrewWorks) June 1, 2017
https://instagram.com/p/BU5xh4dlspS/
https://instagram.com/p/BU23CBIDSL_/
Great weekend in DC at #Savor2017 w/ @BrewersAssoc – amazing craft beers and food pairings. @ThreeWeavers already looking forward to 2018! pic.twitter.com/KgM9CW6RJQ

— Three Weavers (@ThreeWeavers) June 4, 2017
---
In search of a summer read?
There's 11 Trappist #breweries & @TrappistTravels book includes interviews, photos, & tasting notes from them all! 🍺 https://t.co/O52PFwrlHL pic.twitter.com/bT6xtKTBA1

— Big World Small Girl (@bigwrldsmallgrl) June 2, 2017
---
Let every child proclaim: It's Philly Beer Week!
https://instagram.com/p/BU76hWNDhow/
https://instagram.com/p/BU7vy2tBrkY/
I love Philly Beer Week, but damn. I'm going to be 1/3 of a human being by Sunday.

— Danielle. (@ramblephl) June 8, 2017
High Fives & Hugs is back @theindustrybar Thurs 6/8 Costumes are encouraged but not required. #PhillyBeerWeek https://t.co/4rKXHlBJyy pic.twitter.com/Hx0I2zDpR0

— Yards Brewing Co. (@yardsbrew) June 8, 2017
Philly Beer Week Pick: Tonight, enjoy kayaking and a cold brew at @BartramsGarden https://t.co/Wefvpu4hUC pic.twitter.com/XWQsYHJnDs

— Uwishunu Philly (@uwishunu) June 8, 2017
---
Hooray for collaborations!
Partner Ships series 2nd collab of 2017 is an India Pale Lager brewed w/ @CigarCityBeer of Tampa, FL. Coming soon in July – stay tuned! 🍻 pic.twitter.com/qjmZILc3Xu

— Heavy Seas Beer (@HeavySeasBeer) June 5, 2017
---
Haven't found this in PA yet… Looking at you Half Acre…
Today, wrap your paws around Beer Hates Astronauts IPA. A tangerine swear word sundae, pulped and sticky. pic.twitter.com/JlpL6aY2ij

— Half Acre Beer (@HalfAcreBeer) June 2, 2017
---
Did you ever know that you're my hero? You're everything I wish I could be…
There is no way he will let terror attack stop him from enjoying his beer. #LondonAttackshttps://t.co/5WtOFGYxRp

— MensXP (@MensXP) June 5, 2017
---
Does this pair well with Special Dark?
Check out our project w @Hersheys available at select location! Berry Nice to Wheat You! pic.twitter.com/QuiD9ho6cB

— Evil Genius Beer Co. (@EvilGeniusBeer) June 5, 2017
---
This looks much roomier than the original space. Nice!
https://instagram.com/p/BU_6jhXFKUG/
---
Someone call Danny Ocean. We have a heist to plan.
https://instagram.com/p/BVAD0oRBOYg/
---
Wanna go enjoy a few cask ales?
Get tickets asap! @eventbrite has them. #caskale from the best.! #realale #Denver #beerfestival pic.twitter.com/bpwhihGAba

— Hogshead Brewery (@hogsheadbrewery) June 6, 2017
---
The name of this event is giving me acid flashbacks… LACTIC acid flashbacks!
Learn about wild beers from @FirestoneWalker at Jeffers Drops Acid…Knowledge on Friday at @the_upper_lip Info: https://t.co/w91FlEtKta pic.twitter.com/6Zy8NyCUOj

— BREWPUBLIC (@BREWPUBLIC) June 6, 2017
---
Did someone do a collab with Mr. Feeney?
Beer Meets Wood – Save The Date (09/23) & Get Your Tickets Now!! https://t.co/aWxg8rdU3i #Portland #Maine #beermeetswood @AllagashBrewing pic.twitter.com/8vAKLOGsSP

— BeerAdvocate (@BeerAdvocate) June 8, 2017
---
 Craft malt and ice cream? Yes, please!
Do @phillylovesbeer week right with some malted milk chocolate ice cream made with our Sweet Liberty malt at @FranklinFtn and @ShanesCandies pic.twitter.com/gTboaN6fvW

— Deer Creek Malthouse (@DeerCreekMalt) June 8, 2017
---
This is the only good kind of math.
https://www.instagram.com/p/BVAn5e2lfV4/
---
Congratulations!
Proud to share #TheLove Wheat Beer took home a Gold Medal today at VA Craft Brewers Awards🥇Cheers to #VAbeer & our brew bros who medaled 🍻 pic.twitter.com/Ze9uumzPFX

— Starr Hill Brewery (@StarrHill) June 5, 2017
---
Almost let this one slip through the cracks!
Big news: @3floyds & @MikkellerBeer launch WarPigs Brewing in Chicago. Will a brewpub follow? "It could happen." https://t.co/jldqIxhc6f pic.twitter.com/MJTd9RpQAF

— Josh Noel (@joshbnoel) June 4, 2017
---
Sam's thoughts on ABI and RateBeer
We've received quite a few inquires about the RateBeer changes, so Sam is taking a moment to share some thoughts… https://t.co/5slH9LNGQR pic.twitter.com/DOIBDTtgtq

— Dogfish Head Brewery (@dogfishbeer) June 5, 2017
---