No Comments
Ultimate 6er | Mardi Gras Beers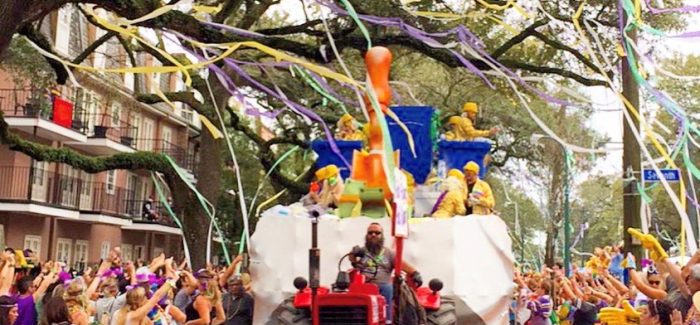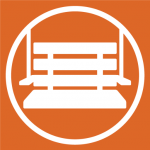 Fat Tuesday is right around the corner so it is time for the Ultimate 6er of Mardi Gras beers! Mardi Gras is a celebration that is dear to my heart after living in New Orleans for five years, so I am very excited to share my Mardi Gras beer recommendations with you!
These 6 beers are perfect for parade season. Whether you're celebrating in New Orleans, Mobile, or on your couch, crack one of these and you're ready to catch some beads.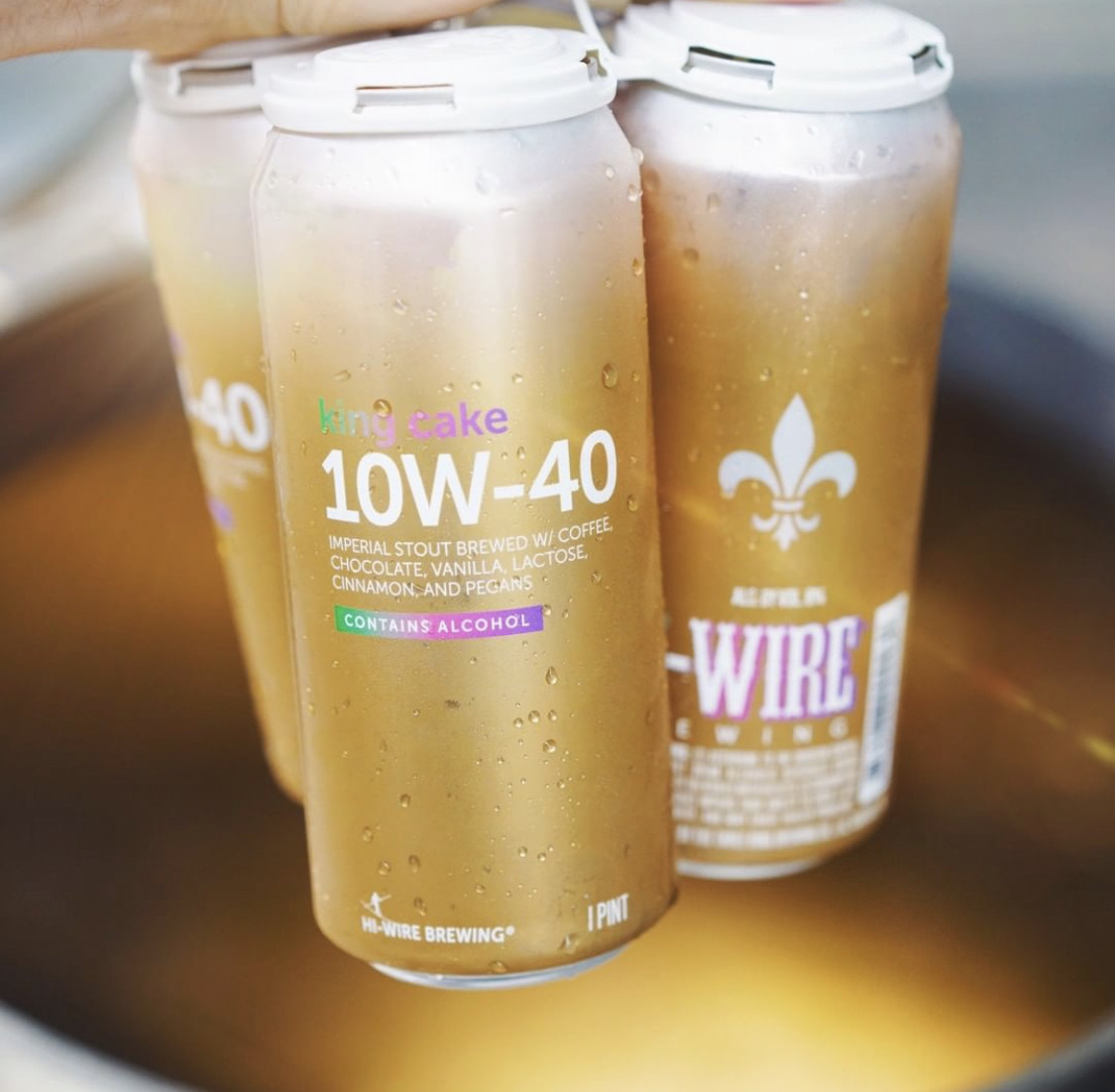 It's not Mardi Gras without king cake! This Imperial Stout brewed with coffee, chocolate, vanilla, lactose, cinnamon, and pecans from Hi-Wire mirrors the taste of the classic Carnival Season treat. It is a sweeter dessert-style beer, just as the cake is–the perfect beer for the end of the day.
The King Cake 10W-40 is part of their Imperial Stout specialty series. Other variants have included Salted Maple, Horchata, Mexican Hot Chocolate, Jelly Donut, German Chocolate Cupcake, and more! This is my personal favorite series from Hi-Wire.
Neutral Ground IPA and Side Walk Double IPA | Urban South Brewery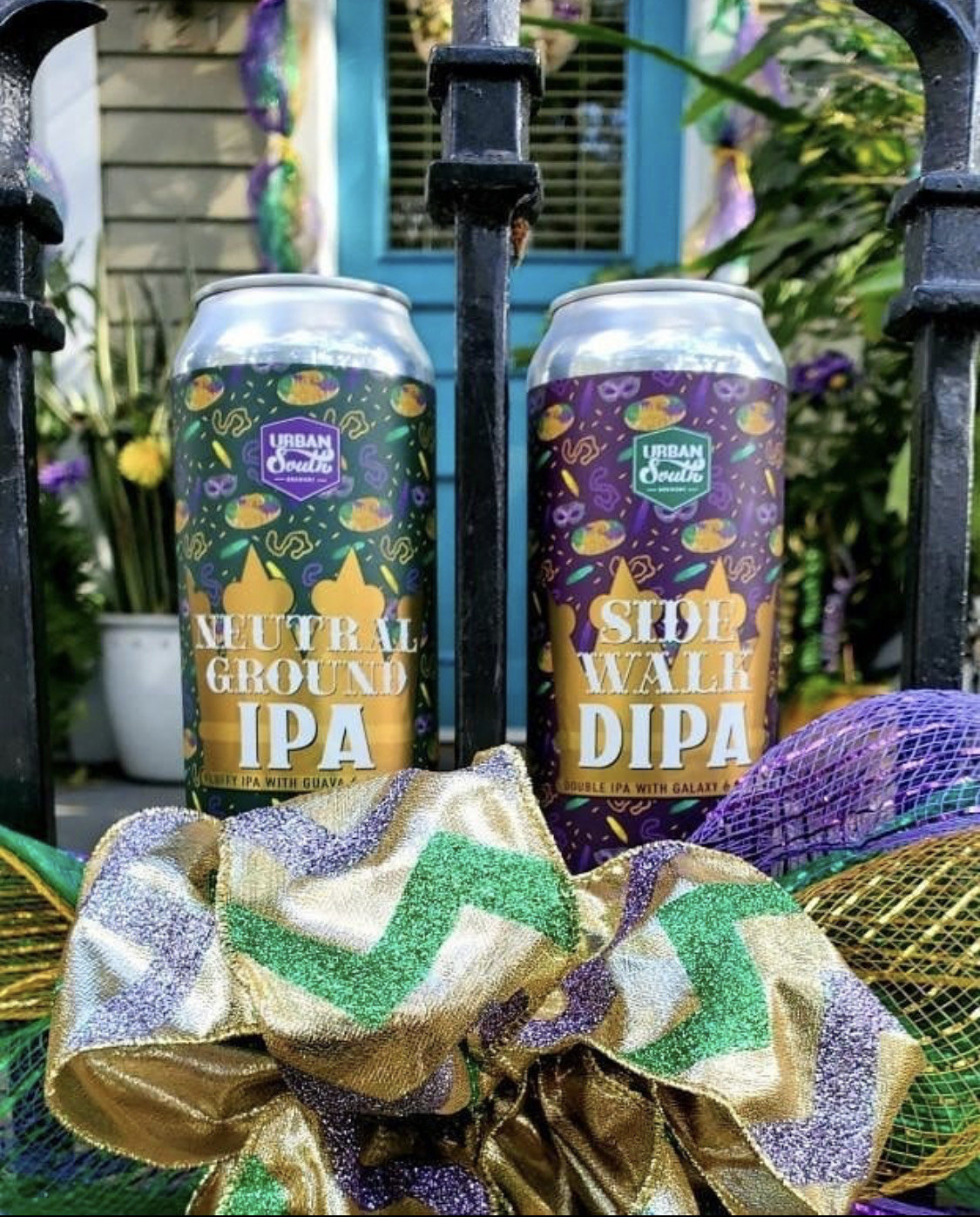 In New Orleans you can tell a lot about a person by whether they prefer sidewalk side or neutral ground side for parades. The neutral ground is the area where the street cars run in the middle of the street dividing each set of lanes. The sidewalk side is as it sounds, the sidewalk and surrounding area.
For Mardi Gras, the neutral ground is more of the 'camp out all day and tailgate' side, while sidewalk side tends to be less sought after by most. In the case of these two beers from Urban South, I would choose the opposite and go for a Double IPA all day!
Neutral Ground New England-Style IPA is brewed with Idaho 7 and Citra hops and finished on guava and coconut milk. It is a bright and smooth juicy IPA perfect for those warmer days on the parade route. Side Walk Double New England-Style IPA is brewed with Galaxy and Citra hops, a unique yeast strain Sacch Trois, and then dry-hopped with Cashmere and El Dorado hops. This one is perfect for when you wish were at Mardi Gras but you're not, so you're drinking a bigger beer.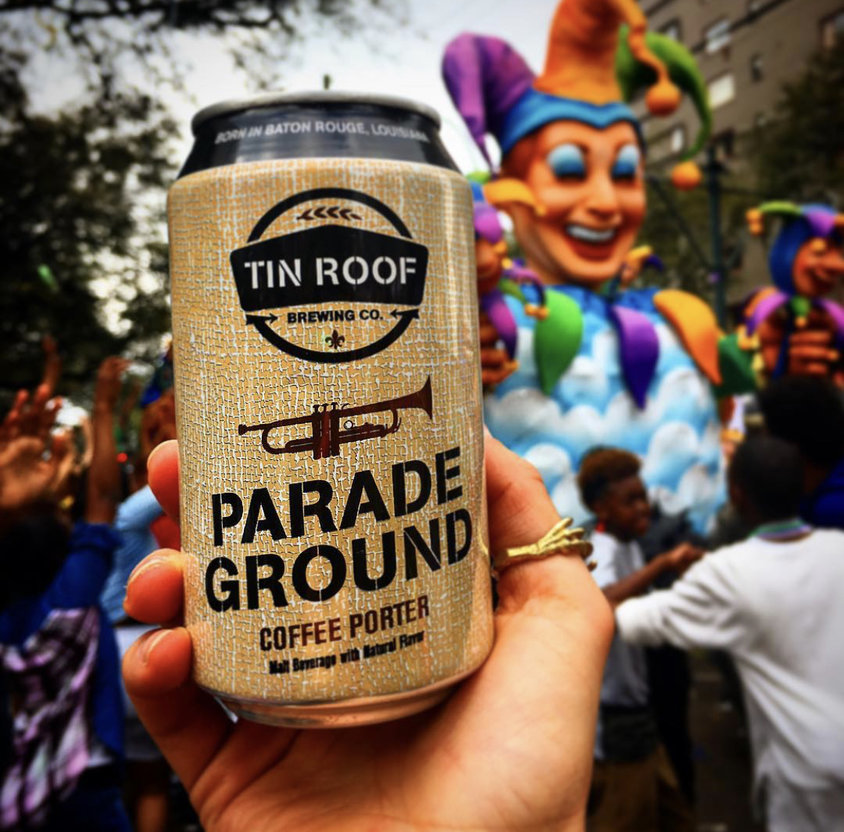 Anyone who has been to Mardi Gras knows that it is a marathon of a celebration! It is not just Fat Tuesday, it is weeks of parades. It's weeks of camping out bright and early to get the best spot on the route. There's no better way to start your drinking for the day than with a coffee beer and this Parade Ground Porter from Tin Roof is a classic!
Brewed with the Italian/Espresso Roast Coffee from Garden District Coffee in Baton Rouge, Louisiana, where Tin Roof is located, it has a nice a nice smooth coffee and chocolate flavor.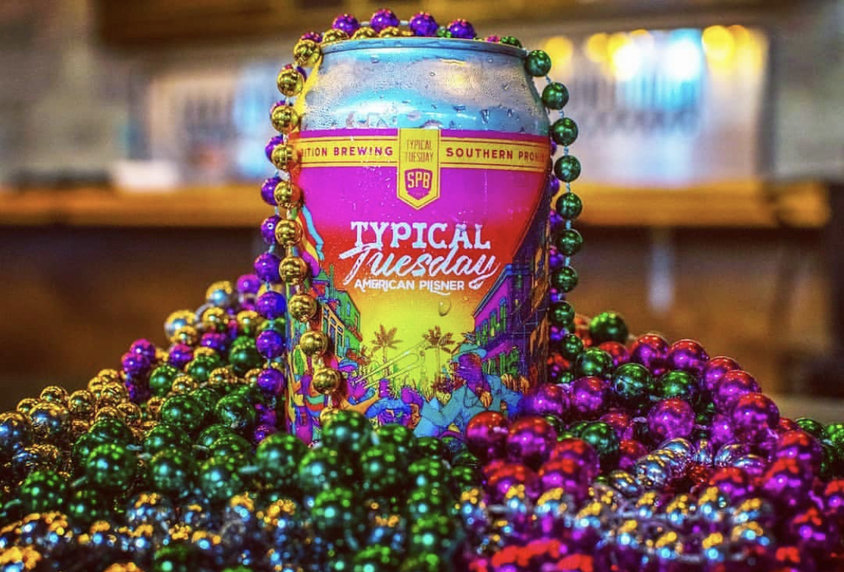 "Everywhere else it's just Tuesday" is one of the common phrases amongst Mardi Gras attendees to lavish in how special Fat Tuesday and Mardi Gras is compared to the rest of the country and world. Typical Tuesday is a classic crushable Pilsner from Southern Prohibition. At 4.3% ABV it is the perfect beer to drink all day long.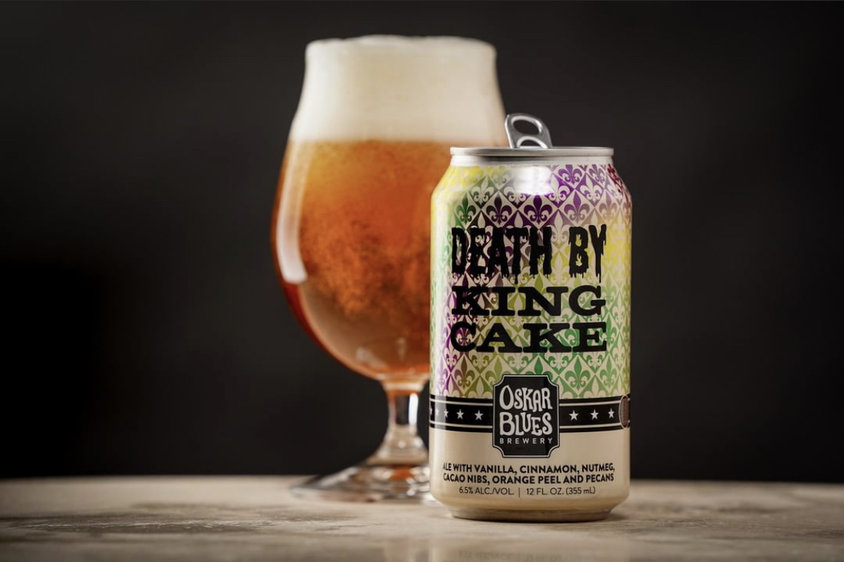 Oskar Blues has a near-cult following for the special fall release of their chocolate and coconut Porter, aptly named Death By Coconut. This year they introduced a new beer in the series for Mardi Gras, Death By King Cake. It will be followed by other special releases in the Death By series throughout the year.
Death By King Cake is a White Porter with vanilla, cinnamon, nutmeg, cacao nibs, orange peel, and pecans. Coming in at 6.5% ABV and pouring a light blonde color, this Porter is another great dessert beer option for your Carnival season.
Muses Belgian Pale Ale | NOLA Brewing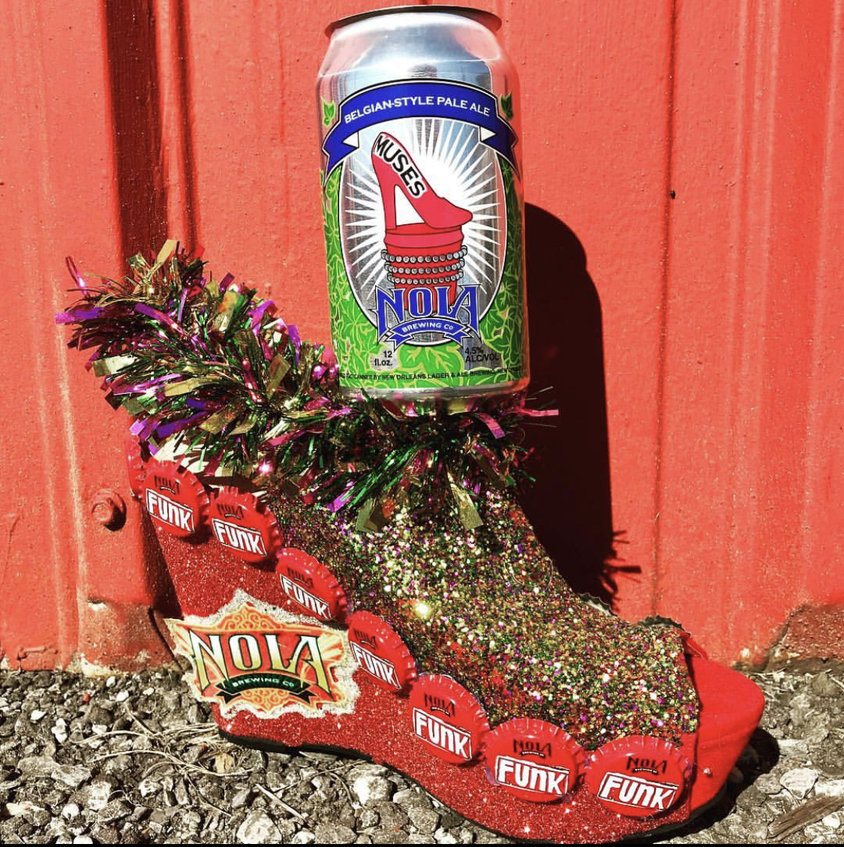 The Krewe of Muses is one of the most popular Mardi Gras parades. Since beginning in 2001, the all-female crew has been known for their impressive shoe decorating each year. People go crazy trying to get one of the famed shoes every year on the Thursday before Fat Tuesday!
NOLA Brewing partners with the Krewe of Muses every year to make this 4.4% ABV Belgian-Style Pale Ale. This ale is brewed with Centennial and Citra hops. It is low in bitterness, especially for having Centennial hops, ensuring you can drink it all day long. The brewery donates a portion of the sales from Muses to support the Krewe's philanthropy of choice each year.
What would you put in your Ultimate 6er of Mardi Gras beers? Let us know in the comments!
---