No Comments
Event Preview | 4th Annual Firkin Fest: Headquarters Beercade, Chicago (Apr 2)
Firkin Fest: April 2, 12pm to 4pm | Tickets: $42 GA / $57 All-Access  
The litany of festivals these days is almost overwhelming, which is why it behooves beer drinkers to pick and choose festivals that provide something unique. That's just what Chicago's Headquarters (HQ) Beercade is doing with its 4th Annual Firkin Fest — 40 Breweries bringing unique selections, only available for festival goers. For those willing to pay a little extra, food will be served, too. And the best part? Ticket proceeds will support the Chicago Food Depository.
The Firkin Fest Beer & Food
For those new to beer, a firkin is a cask-conditioned beer that is both unfiltered and unpasteurized, served directly from the cask without any added pressure from nitrogen or carbon dioxide. Niko Jaramillo a HQ Beverage Manager explained, "A real ale is a dying art form, and it's a way for brewers to push the boundaries of beer in general, and bring the public more flavorful beers. These beers have a quick expiration date, so they will only ever be available to try at Firkin Fest."
Niko added, "We will also have representatives from each of the breweries pouring and educating guests on the firkins. Regardless of our year round beer program, this is a one-time event that features rare ales that are not available any other day outside of Firkin Fest. Once they are gone, they are gone forever. "
Guests of Firkin Fest have two ticket options: a $42 general admission pass, which includes a custom tasting glass and access to all Firkins; and a $57 all-access pass, which includes food throughout the event. Portions of sales benefit the Greater Chicago Food Depository.
https://www.instagram.com/p/BSCdBOBAzD9/
Now, even if someone takes some home, forty beers from forty breweries is a lot of beer to consume. So, obviously, call Uber or Lyft — be safe. And, while there, It would be best to order some food. Or, for those purchasing the All Access ticket, enjoy the chef-driven Firkin Fest buffet that will include nachos, chili, wings, mac & cheese, Italian beef sandwiches and shrimp dishes. Said Niko," We will keep the food flowing all day."
And, after all that food and all that beer, if you want to take home your Firkin Fest  favorite, you have the option to purchase a special-event growler for $30.
---
About Headquarters BeerCade
Headquarters Beercade destroys any concept of age-appropriate behavior. Your inner teenanger will appreciate the wall-to-wall pinball and arcade games, bar games and pajama parties. The young adult in you will dig the awesome music and cool DJs. The mature adult will appreciate the craft beer, food, and sports on T.V. Then again, people of any age can appreciate Japanese game shows on T.V., too. Basically, HQ doesn't care what age you are, the place just wants you to have fun.  The bar just happens also to be a mecca of good beer, and that is taken seriously at HQ.
"All of the servers are level 1 Cicerone certified beer servers who are very knowledgeable about craft beer. "
In other words, HQ takes beer seriously. But, it doesn't take life too seriously. In addition to Firkin Fest, the events coming later this year speak to the HQ experience:
Three-year Goose Island Bourbon County Stout Vertical Tasting
Cinco De Mayo Luchador Thumb Wrestling
4/20 Beer Event.
https://www.instagram.com/p/BROrEjrhelB/
---
Breweries Attending 4th Annual Firkin Fest
Breweries providing those unique brews include:
3 Floyds Brewing Co.
4 Hands Brewing Co.
3 Sheeps Brewing
5 Rabbit Brewery
Alarmist Brewing
Aleman Brewing Company
Around the Bend Beer Company
Ballast Point Brewing Company
Buckle Down Brewing
Coronado Brewing Company
Empirical Brewery
Finch Beer Co.
Goose Island Beer Company
Greenbush Brewing Co.
Lagunitas Brewing Company
Maplewood Brewery
Metropolitan Brewing Co.
Odell Brewing Co.
Revolution Brewing
Saugatuck Brewing Company
Schmaltz Brewing Company
Shorts Brewing Company
Solemn Oath Brewery
Surly Brewing Co.
Temperance Beer Company
Upland Brewing Co.
Two Brothers Brewing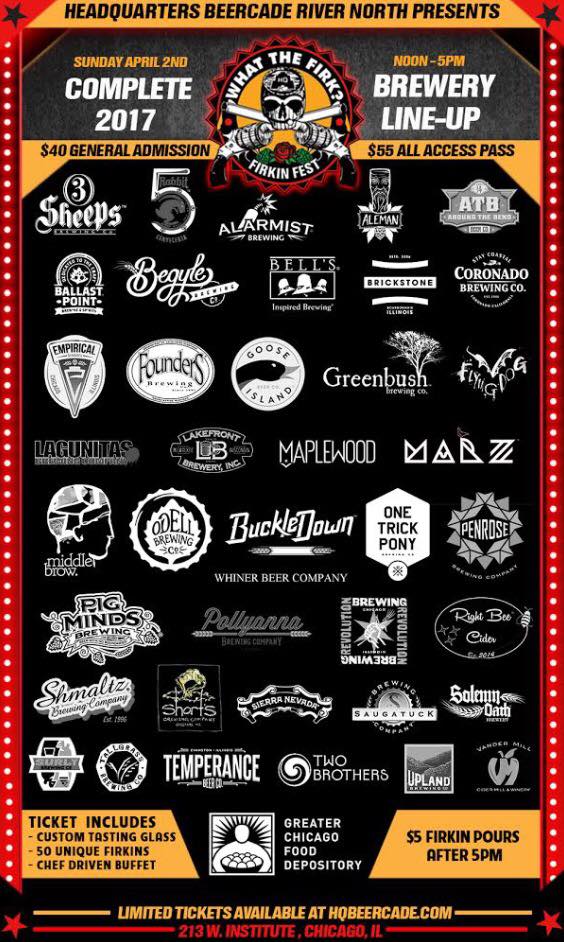 ---