No Comments
Founders Brewing | Lizard of Koz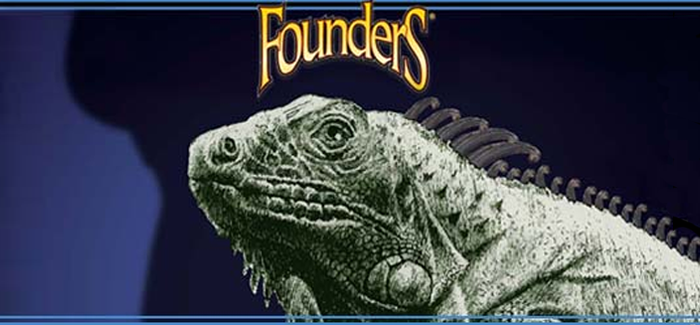 Sometimes what you crave is the combination of sweet treat and delicious beer. Founders Brewing's Lizard of Koz is the perfect intersection of just that. Released last year, the Imperial Blueberry Stout comes from the brilliant mind of Jeremey Kosmicki. Founders' Brewmaster, Kosmicki created this sweet concoction for someone very dear to him. This imperial stout was made special for his little sister's birthday. He included all her favorite ingredients: fresh Michigan blueberries, rich chocolate and vanilla aged in bourbon barrels. Needless to say, Kosmicki's little sister, Liz, loved her brother's creation.
Straight out of the tap, I was immediately struck with how sweet and rich it was. To someone like me who has a massive sweet tooth, I found it to be quite enjoyable. It reminded me of those long car rides where my sister and I would be eating chocolate covered blueberries in the back seat. It brought back such fond memories. And I'm sure, your special craft beer lover in your life would enjoy this in place of chocolates. However, the sweetness may be a little too much for some. I'd advise letting it sit to warm a bit before drinking to get more of those bourbon notes and cut that sweetness. Both ways of drinking satisfy the palate as you taste the different layers of sweetness that are reminiscent of Pipework's Raspberry Abduction, but perhaps not as strong.
https://www.instagram.com/p/BNfyWZkA_Ed
The Lizard of Koz totes that fine line of having that right level of sweetness and richness where it's not overpowering your taste buds and still very enjoyable to drink. However, this is not a beer you can expect to crush. I recommend having Lizard of Koz with a nice slice of tiramisu cake. The sweetness of Lizard of Koz compliments the subtle notes of the tiramisu cake, creating a very satisfying dessert to conclude any meal.
So whether you just want to spoil yourself with something sweet or celebrate a special occasion, Founders' Lizard of Koz is exactly what you need to set the right mood. And unlike most beers I've tried, I'm willing to bet that even if your partner is not too keen on beer, they may like Lizard of Koz because of how similar it is to a very rich port wine.
---