No Comments
BREAKING | Anheuser-Busch Monopolizes South African Hop Supply from Craft Breweries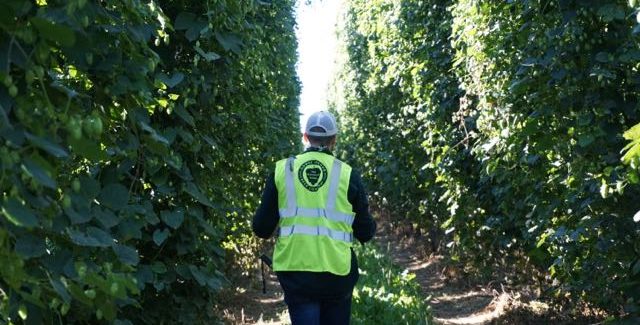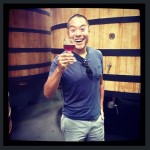 In the wake of last week's Anheuser-Busch InBev (ABI) acquisition of Wicked Weed Brewing, many casual and die hard craft beer fans have been left debating the objectives, intent and repercussions ABI's growing empire would have on the craft industry.
Today multiple breweries including Rhode Island's Proclamation Ale Company, California's Modern Times Beer and Cellarmaker Beer have shared correspondence from hop brokers announcing that Anheuser-Busch InBev has seized all allocations for South African hops that were previously allocated for distribution to American craft brewers.
ABI's acquisition of SAB Miller International includes SAB Hop Farms located in South Africa, which distributed the entirety of South Africa's hop supply to American breweries. Those breweries were notified earlier today that ABI has commandeered the entire allocation with plans to sell internally to their cache of brands within The High End division, which now includes Wicked Weed.
This leaves multiple brewers without the resources needed to produce several beers that have already been released to the market including as Modern Times notes, their Southern Passion, J-17 and countless more from other breweries.
If there were ever any question about Anheuser-Busch In-Bev's motives, this move is a clear demonstration of the beer behemoth's ability to monopolize of resources and eliminate the competition.
Below are posts from Proclamation Ale Company, Modern Times Beer and Cellarmaker Beer.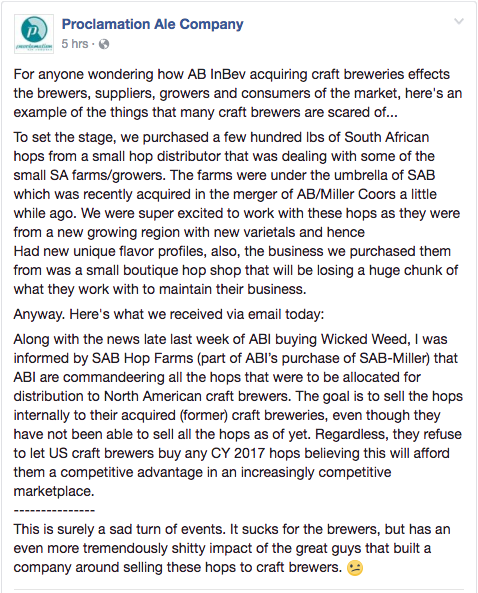 Modern Times
Don't think macro brew acquisitions matters? Today we learned AB InBev is cutting-off all indie breweries from buying South African hops

— Modern Times Beer (@ModernTimesBeer) May 10, 2017
When AB InBev merged w/ SABMiller, they took over the SAB hops farms in South Africa. Now, those hops will only go to acquired breweries

— Modern Times Beer (@ModernTimesBeer) May 10, 2017
So we hope you enjoyed the beers you had w/ Southern Passion, J-17, etc…Some of the best hoppy breweries in the country were using these

— Modern Times Beer (@ModernTimesBeer) May 10, 2017
Next time you consider buying beer from AB InBev & their zombie breweries, we hope you'll take this extreme dickishness into consideration

— Modern Times Beer (@ModernTimesBeer) May 10, 2017
Values matter. And the values of craft–transparency, collaboration, independence, quality–are worth supporting every time you drink a beer

— Modern Times Beer (@ModernTimesBeer) May 10, 2017
Cellarmaker Beer

Think AB Inbev purchases don't matter for the craft beer industry? All South African Hops have been allocated to AB InBev "High End" brands.

— Cellarmaker (@CellarmakerBeer) May 10, 2017
We've got a full pallet of South African hops left. Should still be in beers for about a year or so. Enjoy em' while they last I suppose.

— Cellarmaker (@CellarmakerBeer) May 10, 2017
---