No Comments
Event Preview | Saucony Creek Brewing Company's Beer Tasting Train Ride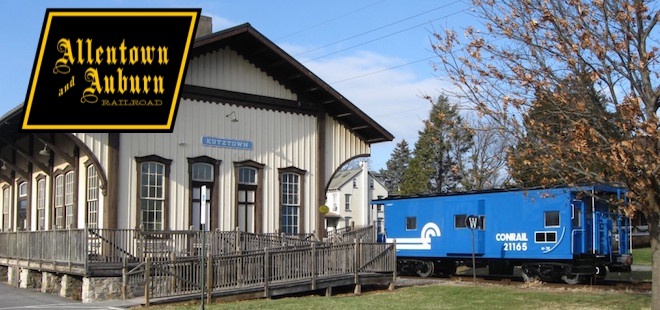 Featured Image Credit: Allentown & Auburn Railroad
Are you a fan of craft beer AND chugging down the tracks? If so, this event is probably for you! Saucony Creek Brewing Company in Kutztown, PA is partnering with the Allentown & Auburn Railroad to bring you a unique Beer Tasting Train Ride on Saturday, June 17.
The Allentown & Auburn Railroad was founded in 2014 and prides itself on its collection of heritage railroad equipment. The railroad's 4.5-mile section of track boasts scenic views of the surrounding farmland. When they're not taking passengers out for rides, the members of the Allentown & Auburn Railroad are hard at work restoring their unique equipment.
The Beer Tasting Train Ride will be diesel-powered by Allentown & Auburn's Engine #206 and will ride the rails to a local picnic grove. After a little relaxation at the grove, the train will then return to the station. The total round trip time will be around one hour and 45 minutes.
https://www.instagram.com/p/BVIhlgjlyXz/?taken-by=sauconybeer
On board the train, Saucony Creek will be pouring samples of their core brands, including Stonefly IPA, Hop Suplex Imperial IPA, and Kutztown Lager. At the grove, passengers will have the option to purchase more beer (for on-premise consumption or to take home). Additionally, Saucony Creek will be offering one of their Brewpub Exclusive beers at the grove. Leroy's Rockin' Chair is a generously hopped American Pale Ale, which is brewed with toasted wheat and Pilsner malt.
The train will depart from the old train station in Kutztown, PA at 11:00a, 1:00p, 3:00p, and 5:00p. Tickets can be purchased here and cost $28 per person. Passengers will also have the option of renting a private caboose for a fee of $100 (plus the cost of tickets). More information can be found on the Saucony Creek and Allentown & Auburn websites.
This event is 21+ ONLY, so please leave the kids at home!
---