No Comments
The Weekly Buzz | May 4 – 10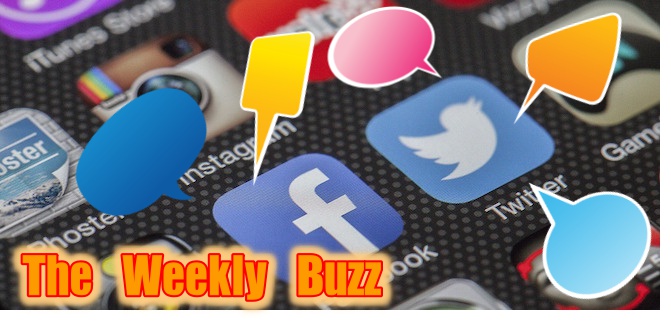 I need to wake up at 4 A.M. to go to the gym. I'm not sure that this is the best way to live my life. I should be staying up late, drinking beer and waking up for work at the last possible second. What's happening to me?! Anyway, here's a bunch of stuff I found on Twitter and Instagram. Just because I'm not drinking, doesn't mean you can't have your own Weekly Buzz!

Live from the Netflix studios (Duh Dum)!
---
Did you celebrate National Homebrew Day?
Happy Big Brew for National #Homebrew Day! We got our start homebrewing and still love it today. Get more info on how to culture our yeast and clone tips for some of our beers. #HomebrewRoots https://t.co/HfpUF1XKAH

— Bell's Brewery (@BellsBrewery) May 5, 2018
First brew at the new home on national #homebrew day! Cheers! pic.twitter.com/OtGiyo3wSC

— Dan Sikorski (@TallDan) May 5, 2018
---
The Kentucky Derby of craft beer!
---
Comin' your way, South Dakota!
---
Take me out to the ballgame!
Heads-up, baseball fans. Tröegs is now on draft or in cans (or both!) at the stadiums of the @Phillies, @Pirates, @Indians, @HbgSenators, @yorkrevolution, @Lanbarnstormers, @ironpigs and the @ReadingFightins. #homerun #troegstrip pic.twitter.com/fZ7voEyQdR

— Tröegs Brewing (@TroegsBeer) May 9, 2018
---
Go read this whole thread!
Pete, the tone in your open letter to the @BrewersAssoc was appreciated. https://t.co/JaPsqAgUSE

Sure, we could take exception to several of your word choices, but we won't. Seriously. Instead, we'll accept it as a sincere desire to be cooperative in the broader beer industry.

— Stone Brewing (@StoneBrewing) May 9, 2018
---
Mama mia!
---
Thanks to all the teachers out there!
---
Don't forget to do something nice for your mom!
Don't forget #mothersday2018 is this Sunday! #CelebrateMom #MothersDay Call today for reservations. 412-688-8200. pic.twitter.com/Z3pYGWkw17

— Church Brew Works (@ChurchBrewWorks) May 10, 2018
Still time to make #MothersDay reservations for brunch or dinner! 🍻🍾💞 pic.twitter.com/Q4nvs3au43

— Emmett's Brewing Co. (@EmmettsBeer) May 9, 2018
Minnesota's fishing opener is this weekend. You probably have a ton of things to do before you head out, but remember the following two things:

1. Call your mom on Sunday.
2. Fill the cooler with Surly. pic.twitter.com/KprW6mPgDQ

— surlybrewing (@surlybrewing) May 10, 2018
---
Time to hit the road!
On June 9, we're throwing a Bikes & Beer party at our Hershey brewery. There are two options: a 15-mile ride and a 30-mile ride, both beginning and ending at Tröegs. Don't miss the beer, food trucks, music, raffles and more afterward at Tröegs! https://t.co/zX3TkjnqfO pic.twitter.com/cZlU8mrACZ

— Tröegs Brewing (@TroegsBeer) May 10, 2018
---
Gonna celebrate your graduation with a craft beer?
Congrats to all of the University of Colorado grads today! pic.twitter.com/PR6bcQy4mc

— Avery Brewing Co (@AveryBrewingCo) May 10, 2018
Congratulations to all the college grads. Welcome to our demographic! Be sure to swing by the taproom & celebrate! #marketing #YARDS #BrewUntoOthers pic.twitter.com/841vBLAO1Y

— Yards Brewing Co. (@yardsbrew) May 10, 2018
---
This beer list is insane!
The full beer list for Stone Sour Fest (June 10, Escondido) has been posted!

We know we say this every year, but this really might be the most ridiculous lineup yet: https://t.co/aei2qEy9Sd

— Stone Brewing (@StoneBrewing) May 10, 2018
---
Looking for work?
Think you're weird enough to work here? Prove it. https://t.co/rVtWsy8BA3 pic.twitter.com/jP51ndjDU6

— Flying Dog Brewery (@FlyingDog) May 10, 2018
---