No Comments
Banded Oak Brewing | Atomga Barrel-Aged Brazilian Stout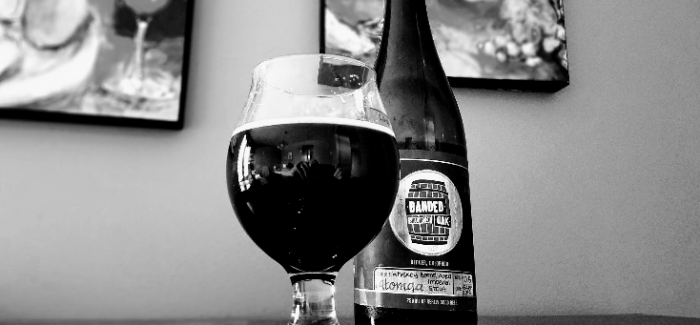 Banded Oak Brewing Barrel-Aged Atomga comes with an intriguing backstory: it was brewed to celebrate the release of the band Atomga's album, "AGA" and the recipe resulted from a collaboration with Bodebrown, a Brazilian brewery.
But, a great story means nothing if the beer is subpar. So, rather than provide an article filled with interviews and storytelling, I decided as a writer to concentrate solely on the beer.
ABV: 10.5%
Aged nine months in whiskey barrels before Banded Oak bottled it for GABF 2017 (and aged slightly at my home), Atomga personifies the idea of "craft" beer; born of imagination and skillful execution.
Though not a coffee beer, one discovers the Brazilian connection immediately because the initial aroma and taste present lovely roasted character. To achieve that result, the brewers masterfully produced a whiskey-barrel-infused beer that refrained from emerging so boozy that it prevented the drinker from enjoying the beer's other components.
Don't be mistaken; Banded Oak didn't hide the whiskey. In fact, one will notice the whiskey flavor build with each drink, especially as the beer warms. Alongside those whiskey and roasted notes are hints of oak, dark chocolate, coffee and what can be perceived as marshmallows roasted on a fire. Sure, I doubt they brewed this at a campsite, but if the mind takes you there while drinking Atomga, why argue?
Meanwhile, the underlying stout sweetness remains fairly consistent from first sip to the final drop of the bottle, providing a great base to a beer oozing with complexity.
It behooves beer drinkers occasionally to examine special-release beers worthy of bottle shares, except one thing – I might have a tough time sharing this particular beer. I might run away with my bottle as I yell, "Mine, Mine, Mine!"
Banded Oak Brewing Whiskey-Barrel-Aged Brazilian Stout is profoundly enjoyable. More to the point, sampling Atomga allowed me to ascertain that Banded Oak Brewery is worth exploring further. Any brewery that can execute a complex beer this well almost certainly has many more memorable beers in its portfolio. And that is why this Chicago writer has placed a visit to Banded Oak on the itinerary for next year's GABF week festivities.
---