No Comments
Deschutes Brings Hops Freshness With Its Fresh Family Lineup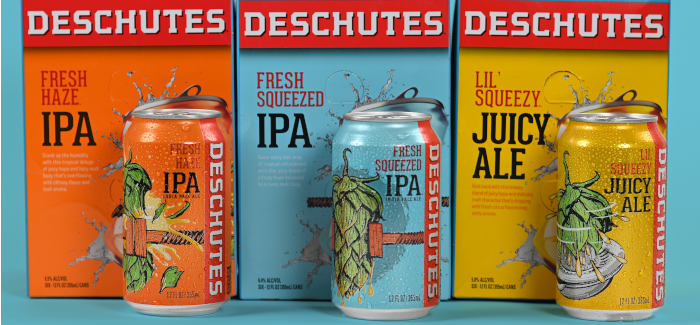 The newest hop-centric release from Deschutes Brewery, Squeezy Rider West Coast IPA, is high in fruity hop flavor but low in IBU.
"We really mean it when we say our Fresh Family beers are about hop flavor with balanced bitterness as a supporting star," said Product Development Director Veronica Vega. Other beers in the Fresh Family include Fresh Squeezed IPA, Fresh Haze IPA, Lil' Squeezy Juicy Ale and Royal Fresh Imperial IPA.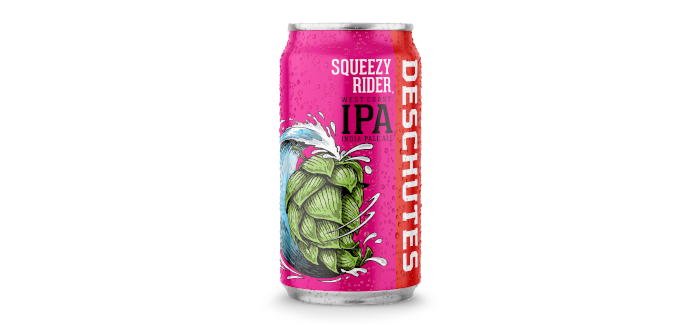 Bend, OR-based Deschutes Brewery is one of craft beer's earliest pioneers meaning they have a long, intimate relationship with hops. Being just a four-hour drive from Yakima Valley, WA doesn't hurt either. Veronica Vega, a 15-year craft beer veteran and the first Latina to hold the role of Brewmaster, combines her academic background in biology with her deep knowledge of hop flavors to lead the selection of the freshest Yakima Valley hops.
"We select hop varieties based on sensory attributes between different lots," she said. "We are able to easily access most of the suppliers we work with and can return several times during hop selection to ensure we capture all the harvest windows."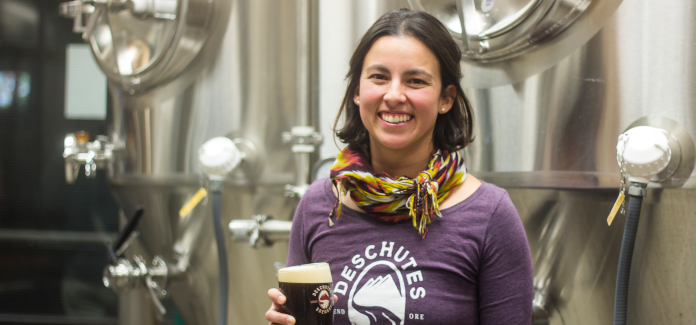 With hop-heavy beers continuing to be a massive consumer favorite, this can make sourcing fresh hops challenging, but not insurmountable.
"It is getting more and more tough to plan for the future with product life cycles shortening to satisfy the customers desire for 'new'," Vega said. "We have a core set of hops that are easily moveable from one project to another and others that we consider more of a 'special spice' so we contract less and are conservative in planning for those…We [Deschutes and hops growers] are both adapting to this new norm together. It's a dance for sure."
In some recent virtual tastings featuring Fresh Family beers, Vega led participants through her vast knowledge of hop sensory analysis, biotransformation (the interaction of active yeast with hop oils) in the brewing process and recipe development for achieving specific hop flavors. Brewers can derive a vast amount of flavors from hops depending on factors such as yeast and malt selection and whether hops are used on the hot side (during the boil and flame-out) or the cold side (during fermentation and post-fermentation, i.e. "dry hopping").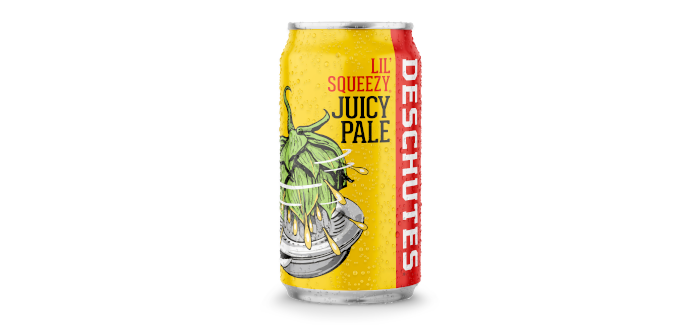 When building a recipe for a Deschutes beer for testing in their pilot system, brewers begin with a malt base and experiment with different single hops to figure out what each combination offers.
"We arrive at the malt pretty quickly," Vega said, "especially these days when lighter color and light malt flavor is what customers are gravitating towards. In Hazies, we explore different oat or wheat malts in order to build up the mouthfeel, body and protein. In hop-forward beers we consider that malt to be a balancer and don't want to take anything away from the hop show."
Squeezy Rider, the newest member of the Fresh Family, is being selectively distributed across the Pacific Northwest and other select markets in May 2021. From there, it will become available throughout the rest of Deschutes' 36-state network, both in six-packs and with the rest of its family in the new Variety 12-pack.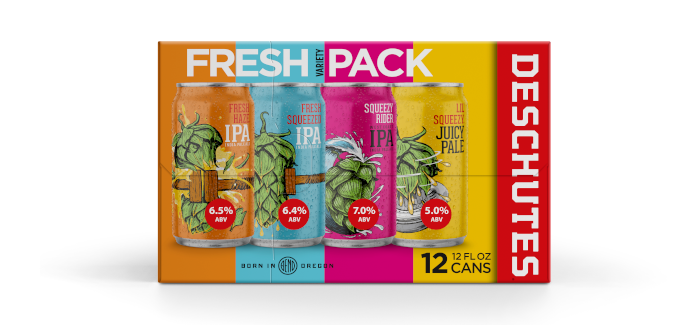 All photos provided by Deschutes Brewing.
---