No Comments
Event Preview | Meeting of the Malts 2018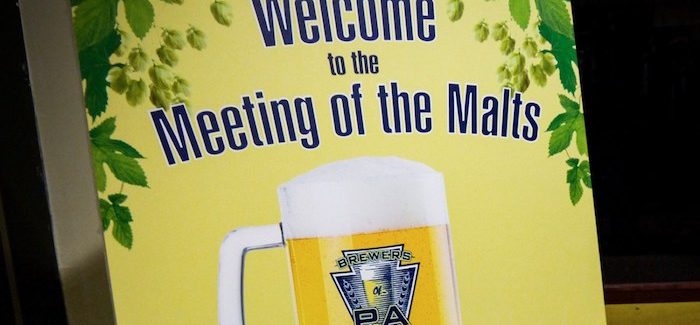 Heads up, Pennsylvania beer enthusiasts! The Brewers of Pennsylvania (BOP), the state's official brewers guild, has released the details about the 2018 Meeting of the Malts. As usual, it promises to be one of the premier events of the Keystone State's craft beer scene.

Presented by Gold Sponsor Micro Matic USA, Meeting of the Malts VII will take place Thursday, August 23, 2018 at 6 p.m. at the Artsquest Center in Bethlehem, Pa.'s SteelStacks venue and will feature a powerhouse panel including Bill Covaleski (Victory Brewing Company), Tom Kehoe (Yards Brewing Company), Wendy Yuengling (D. G. Yuengling & Son), Mike Stevens (Founders Brewing Company), and Joey Redner (Cigar City Brewing). The panel discussion, which will run from 6–7 p.m., will be emceed by industry icon, Bump Williams. Dick Yuengling and Jim Koch (Samuel Adams) will provide the opening remarks.
"Craft beer is thriving in Pennsylvania and Meeting of the Malts, now in its seventh year, continues to serve as the state's primary meeting place to discuss the industry's important successes and challenges from legislative issues to craft beer trends," said Dan LaBert, executive director of the Brewers of Pennsylvania. "If you are a brewer or simply a fan of the craft beer scene, Meeting of the Malts is a must-attend event. We expect as strong a turnout as last year, which welcomed hundreds of attendees who listened to, and learned from, our industry's most successful brewers as well as promising peers who are in the trenches producing the very best craft beer in the United States."
https://www.instagram.com/p/BkymEE5Fujn/?taken-by=brewersofpa
"Founders has been a part of the industry now for 21 years; when I first got into the business breweries like Sam Adams and Yuengling inspired me to follow my passion," said Founders Brewing Company's Mike Stevens. "I'm truly honored to be a part of this event and share the stage with such accomplished brewers and I look forward to a spirited conversation."
Following the panel discussion will be a four-course dinner from 7:15 – 9:30 p.m. Each course will be paired with a beer from a select panelist's brewery. During the meal, the BOP will host a Beer Silent Auction, an opportunity to bid on unique and collectible items from a variety of breweries including autographed, one-of-a-kind items from the country's finest breweries.
After the dinner comes the Pennsylvania BrewPub Festival from 9:30–11:30 p.m. Participating BOP members include:
For the second consecutive year, Meeting of the Malts will also include the Legislative Growler Awards, an honor that recognizes a person or organization the BOP considers a partner in the industry, one who continually strives to promote and protect Pennsylvania's craft beer industry.
Artsquest Center at SteelStacks is located at 711 First St., Bethlehem, Pa. The deadline for accommodations at the Sands Casino Resort Bethlehem is August 9, 2018.
---