No Comments
The Weekly Buzz | July 20 – 26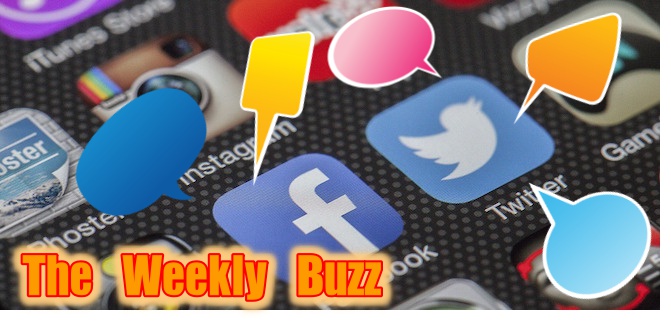 I've just arrived at the point where I have decided to neglect my real, bills-paying job in order to do a little work for my Internet beer-writing gig. Typing this intro on my phone is a real time-saver! I don't know why I never thought of this before. The sign on the door that reads "No Personal Cell Phones in Work Area" doesn't bother me either. Everyone here knows that The Weekly Buzz is more important than operating this very complex cement plant control room. If only they'd let me drink on the job…

I may be biased, but PA is the best beer state!
https://www.instagram.com/p/BleV15pHB5L/?utm_source=ig_share_sheet&igshid=14a3621nt54es
---
Earth is the only planet with beer! Protect it!
We've generated over 21.8 MWh with our solar panels this year to brew thousands of barrels of delicious beer! ☀️ You can still vote for us in the Brews from the Sun competition: https://t.co/7DI1xMpJKv! pic.twitter.com/fnTm4TSesu

— UrbanChestnutBrewing (@urbanchestnut) July 25, 2018
https://www.instagram.com/p/BljYPMaHojV/?utm_source=ig_share_sheet&igshid=1ebl5gzthagg0
---
Did you see this exhibit?
https://www.instagram.com/p/BllkO-bHFsS/?utm_source=ig_share_sheet&igshid=tacnv199m14n
---
Got dinner plans?
https://www.instagram.com/p/BllmO5sAbnD/?utm_source=ig_share_sheet&igshid=1c4i64iwlx11p
---
American brewers ain't got nothin' on these beards!
https://www.instagram.com/p/Bllw9JWA5qj/?utm_source=ig_share_sheet&igshid=4z4j6d1m0p38
---
Someone got a new toy!
Our new specialty bottling line has arrived and is being assembled. #morebeerwillbeflowing soon! pic.twitter.com/OiWxMaIrBi

— Bell's Brewery (@BellsBrewery) July 23, 2018
---
Want to drink a few dozen Pilsners?
Last chance for Pils & Love tickets! Join us & 57 other breweries this Saturday at @fw_propagator as we serve up some of the world's best pilsners! Tickets, beer lineup & more info: https://t.co/wBbR6tH9Zc pic.twitter.com/L9TTMk4Vkq

— Firestone Walker (@FirestoneWalker) July 23, 2018
---
Get your kicks on Route 66!
Planning a Route 66 Craft Beer Road Trip? Stop by and #BoycottBland with us! 🍻🍻 https://t.co/708H8qFbp1 pic.twitter.com/Ynr1Alsgbz

— DESTIHL Brewery (@DESTIHLbrewery) July 23, 2018
---
Do you have your tickets yet?
DULUTH'S BIGGEST BEER FEST IS BACK & it's this Saturday! Have you got your tickets to All Pints North yet?! https://t.co/OBdqds6jaq pic.twitter.com/5zlGbsqeAP

— Bent Paddle Brewing (@bentpaddlebeer) July 23, 2018
---
This brewery sure loves to celebrate hashtag holidays!
https://www.instagram.com/p/Bll2zNDAWN1/?utm_source=ig_share_sheet&igshid=1b9a99u46k8lt
https://www.instagram.com/p/Blom8kMgKqE/?utm_source=ig_share_sheet&igshid=1n0tylg4psfwn
---
Looking for a new recipe?
YARDS PALE ALE CAN CHICKEN & BRAWLER BBQ SAUCE Check out the full recipe on our Facebook page! #YARDS #PhillyPaleAle #Brawler #BrewUntoOthers https://t.co/eefYywQmaH pic.twitter.com/aPATktQqQ5

— Yards Brewing Co. (@yardsbrew) July 24, 2018
---
Beer doesn't get much more local than this!
3 O'Clock Tweet: Farm to Can: 16 Breweries Making Hyper-Local Beer https://t.co/EfehHXCPwm

— Charlie Papazian (@CharliePapazian) July 25, 2018
---
I'd prefer "Beer and Cheese Day"!
Today is National Wine and Cheese day, celebrate with our special bottles of wine and beer explorations including Black Tuesday Red Wine Barrel-Aged, now in 375 ml bottles, available exclusively to Society members in your Allocations! pic.twitter.com/fn16rGyB99

— The Bruery® (@TheBruery) July 25, 2018
---
Wanna put beer in bottles?
https://www.instagram.com/p/BlsyYeSlqo3/?utm_source=ig_share_sheet&igshid=gqub4gx69pen
---