No Comments
The Weekly Buzz | September 29 – October 5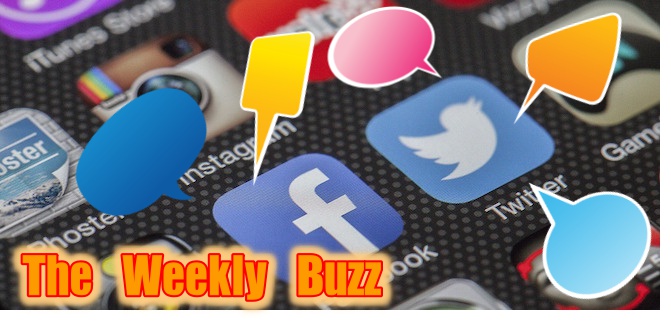 I hear that there is some kind of beer festival in Denver this week, but I don't want to discuss those things. OK, I do want to discuss those things, but I won't because I'm jealous and spiteful. Somebody had to stay home and mind the store, so it may as well be me. Due to the grudge I'm choosing to hold, there will be no further mention of that festival. For everyone else who is stuck at home, here is The Weekly Buzz.

Sounds like they've been planning this for a while!
Join us on Saturday, October 14 for a celebration two decades in the making… our 20th anniversary party! Details: https://t.co/0v8ZZkvL0k. pic.twitter.com/81ig4yNwuh

— Founders Brewing Co. (@foundersbrewing) September 30, 2017
---
All I got was a free medium coffee from Dunkin Donuts.
Celebrating #NationalCoffeeDay by releasing Thunder Stealer, an American brown brewed with @CarrierRoasting coffee. https://t.co/Mz171I0DIR pic.twitter.com/V5XicHV4XX

— Good Measure Brewing (@goodmeasurebeer) September 30, 2017
---
Lending a helping hand to those in need.
The 1st of many shipments of water into #SanJuan 🇵🇷 We couldn't have done it without our partners @oskarblues & @CANdAid! #PuertoRicoStrong pic.twitter.com/QPXSDnw7Qu

— Frontier Airlines (@FlyFrontier) September 29, 2017
---
Time to update that resume!
#RighteouslyIndependent? We are hiring: logistics team member, packaging tech & New York/Connecticut sales position. https://t.co/6d3PRa8HYC pic.twitter.com/hyFzod4H9z

— Left Hand Brewing Co (@LeftHandBrewing) September 30, 2017
---
This is just plain cool!
The wonders of modern technology. Watching an Allagash barrel sign get made at Doles Orchard. pic.twitter.com/WPKXaJcL7O

— Allagash Brewing Co (@AllagashBrewing) September 29, 2017
---
Are you a Normy or a Beer Nerd?
Normies take pictures of sunsets. Beer nerds take pictures of fresh hops. These Mosaic hops will be in the WET hitting shelves next week. pic.twitter.com/vllcdnP08f

— surlybrewing (@surlybrewing) October 1, 2017
---
This was the final shoe to drop on an already tragic week.
You belong somewhere you feel free… ♥️ Truly a heartbreaking 24 hours of loss. Rest in Peace, Tom Petty. pic.twitter.com/x0uSk5QRFt

— Starr Hill Brewery (@StarrHill) October 2, 2017
---
Collaboration gets the creative juices flowing!
Always a treat to work with brewers from across the globe! We collaborated with @alefarmbrewing on a new IPA – release is in a couple weeks! pic.twitter.com/pOlQWDJfRY

— Night Shift Brewing (@NightShiftBeer) October 2, 2017
---
Celebrating those who put their lives on the line to keep us safe.
https://instagram.com/p/BZw2Lkhlz2y/
---
Do you think you're the best candidate?
Hey, #NC craft beer fans: We are ⭐NOW HIRING⭐ a Sales Representative to spread the good word (and the good brews)! Apply here: https://t.co/ixcqWT7wSj pic.twitter.com/a9xB7BJRJD

— Starr Hill Brewery (@StarrHill) October 2, 2017
---
Yet another job opportunity!
We're hiring a Northern Oregon, Southwest Washington, Downstate Idaho Regional Manager! Apply today!https://t.co/Ywp8XlXQxe pic.twitter.com/8ZoDASDLYN

— Ninkasi Brewing (@NinkasiBrewing) October 2, 2017
---
Coffee? Beer? Jameson? I'm in.
Beoir Le Caife Brown Ale: made in collaboration with @jameson_us for #DrinkingBuddies, this ale celebrates a unique blend of coffee and beer pic.twitter.com/ydlH6cUlJx

— Cigar City Brewing (@CigarCityBeer) October 2, 2017
---
Take that, pumpkin! Our new seasonal sour drops in a few weeks.#boycottbland #wildsour #cranberrycriek #drinkillinois pic.twitter.com/Ub01pE5mXr

— DESTIHL Brewery (@DESTIHLbrewery) October 2, 2017
---
Bird Person would be pleased.
https://instagram.com/p/BZxA1s_HvXS/
---
Welcome back!
https://instagram.com/p/BZycvvqBaG3/
---
Are you feeling crafty?
https://instagram.com/p/BZyjsmIg5Lp/
---
FOUR fresh hop releases in one weekend?! SWOON!
https://instagram.com/p/BZzA97cnKBh/
---
New Beer Alert!
https://instagram.com/p/BZ1vWbJDrPf/
---
Yes please!
We busted out the good ole Potts family cider press to create a barrel-aged sour cider! Now, we wait for the magic to happen. #boycottbland pic.twitter.com/unkokQxsEC

— DESTIHL Brewery (@DESTIHLbrewery) October 5, 2017
---
I've seen bigger.
Six new 1,500 bbl fermenters are currently on their way from Germany to California – look for their arrival early November! pic.twitter.com/OuzFAa5sVd

— Firestone Walker (@FirestoneWalker) October 4, 2017
---
They'll be horizontal after drinking this vertical.
https://instagram.com/p/BZ37aNRjGkI/
---