No Comments
Event Preview | Meeting of the Malts VI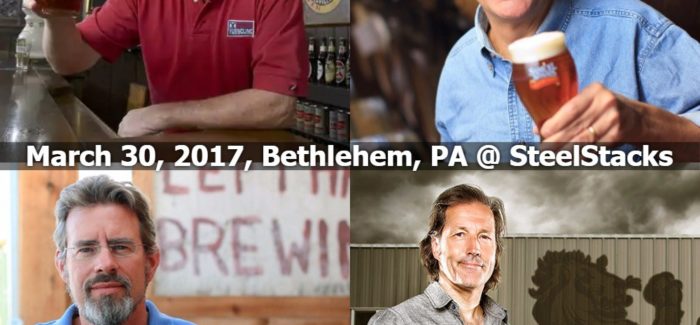 Featured photo credit: www.brewersofpa.org
In its next installation, The Brewers of Pennsylvania (BOP), the state's official brewers guild, is hosting Meeting of the Malts VI, the association's popular annual event that gathers the most acclaimed breweries to discuss the state of the craft beer industry.
Meeting of the Malts VI, presented by Micro Matic USA, will take place Thursday, March 30th, 2017 from 6:00 p.m. – 11:00 p.m. EST at ArtsQuest Center at SteelStacks, 711 First St., Bethlehem, PA.
In 2016, Draft Magazine named Meeting of the Malts as the #12 (out of 101) rated beer experiences on the industry bucket list.
Meeting of the Malts VI, #supportPAbeer, will include panel discussions with distinguished industry leaders Dick Yuengling of D.G. Yuengling and Son, Jim Koch of Samuel Adams, Eric Wallace of Left Hand Brewing Company and David Walker of Firestone Walker Brewing Company. The event will be emceed by Bump Williams and will feature a special collaboration draft for each attendee.
From last year's event to this year's, there have been significant legislative changes in Pennsylvania that impact craft brewers. Those changes and a host of other important issues will be thoroughly discussed at Meeting of the Malts VI.
Brewers of Pennsylvania have announced the recipients for the 2017 Legislative Awards, an honor that recognizes a person or organization that the BOP considers a partner in the industry, who continually strive to promote and protect Pennsylvania's craft beer industry.  Receiving this year's award are Speaker Mike Turzai, Representative Mike Tobash and Senator Richard Alloway II. These Pennsylvania legislators were chosen to receive this award due to their respect of the BOP's initiatives of promoting and protecting the craft beer industry in the commonwealth.
Following the panel discussion will be a four-course beer dinner from 7:00 p.m. – 9:30 p.m., beginning with a toast with Weyerbacher's Guildy Pleasure. Attendees will enjoy the following four dinner courses:
First Course: An oversized meatball, paired with Yuengling Lord Chesterfield
Second Course: Mahi Mahi Ceviche, paired with Firestone Walker Union Jack IPA
Third Course: Braised Short Rib with Sweet Potato Mash, paired with Left Hand Travelin' Light
Fourth Course: Tahitian Vanilla Panna Cotta, paired with Samuel Adams Rebel Juiced IPA
During the meal, the BOP will host a Beer Silent Auction, an opportunity to bid on unique and collectible items from a variety of breweries including autographed, one-of-a-kind items from the country's finest breweries.
Following the dinner is the Pennsylvania BrewPub Festival from 9:30 p.m. – 11:00 p.m. Participating in the festival will be members of the Brewers of Pennsylvania including: Barley Creek Brewing Co., North Country Brewing Co., Covered Bridge Brewhaus, Boneshire Brew Works, The Proper Brewing Co., The Brewery at Hershey, Round Guys Brewing Co., Free Will Brewing Co., Yards Brewing Co., Berwick Brewing Co., Butler Brew Works, ZerOday Brewing Co., HiJinx Brewing Co., Slyfox Brewing Co. and Weyerbacher Brewing Co.
About the Brewers of Pennsylvania – The Brewers of Pennsylvania (BOP), the state's official brewers guild, brings together leaders of Pa.-based breweries in order to promote and protect the brewing industry in the state.  A 501(c)(6 ) trade association, the BOP is a strong and influential organization, serving the consuming public of Pennsylvania by encouraging brand diversity in the market. BOP members employ an estimated 10,000 employees earning $296 million in wages and generating $1.1 billion in direct economic benefits to communities throughout the state. #supportPAbeer
---