No Comments
Illinois Brewers Guild President Discusses Welles Summer Fest and Illinois Craft Beer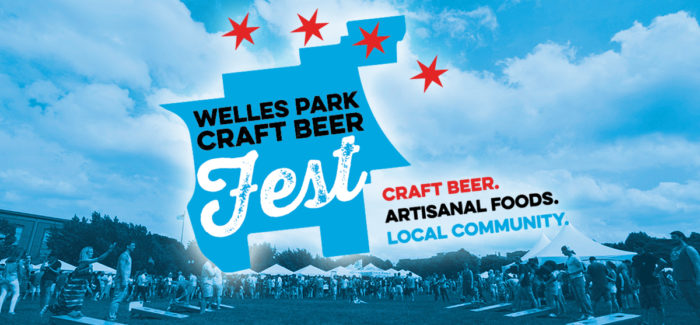 Once the Illinois Craft Beer Guild (ICBG) event that effectively served as the closing ceremonies to Chicago Craft Beer Week (CCBW), the festival held at Welles Park in Lincoln Square now enjoys the title of Summer Beer Fest. On August 5th, fans can drink beer, gaze upon the large gazebo, listen to live music and purchase food.
We chatted with Danielle D'Alessandro, president of the Guild, to talk Welles Fest, clean water and all things Illinois beer.
The Festival Nitty Gritty
Where: Welles Park in the Lincoln Square
Cost: $50 – Rain or shine, no refunds
Tickets: Click here to purchase tickets.
Who: The growing list of breweries can be found here
When: Saturday, August 5th

Early Entry: 12:00 PM for ImBIBE members & #DrinkIllinois Summer Passport Holders with more than 20 stickers – see illinoiscraftbeer.org/passport for more details.
General Admission: 1:00 PM -4:00 PM
The General Admission experience includes craft beer, 3 hours of entertainment and food for purchase.

Designated drivers or non-beer drinkers CAN access the fest without a ticket. We reserve the right to remove anyone found sharing beer.
Dogs are also welcome as long as they're leashed.
Moving the Fest from May to August
The move to from spring to summer alleviated the issues attached to CCBW, notably hosting "two festivals in two locations involving more than 100 breweries with over 3,000-3,500 people in 11 days." said Danielle. But, as Danielle explained, moving the festival at Welles is more than just a problem solver: "We can also now say that we have a summer fest!
One logistical change for Illinois beer drinkers consists of the new passport program. In 2016, for instance, one would grab a passport any Illinois Guild brewery and subsequently receive stamps at each brewery visited during the week. This year, beer geeks obtained passports at Guild events and select breweries and then proceeded to collect stickers from breweries throughout the summer. "We are excited about the passport program and being able to redeem your passport for early access to the fest and a chance to win prizes from TimeOut Chicago and the ICBG."
Do We Even Need to Have Festivals Anymore?
"Festivals that are hosted and organized by the Guild serve as fundraisers to help raise money to support our legislative efforts, provide educational opportunities for our members, and promote craft beer to the general public. We are also beginning to look at our events as a way to engage consumers to sign-up for our grassroots campaign effort when we are advocating in Springfield on behalf of our local craft brewers," said Danielle.
The Fight for Clean Water
One grassroots program involves something near and dear to all beer fans — clean water.
Danielle announced: "New this year, we are partnering with the Sierra Club to help them promote their #SaveTheGreatLakes Campaign. Everyone should feel good about drinking local craft beer and signing a petition that says you support the Great Lakes!"
In fact, the move to protect our nation's water has increasingly become a point of emphasis among breweries, in Illinois and nationwide. Many Chicago breweries have joined the National Resources Defense Council's Brewers for Clean Water initiative, and also composed a letter to the EPA imploring them to continue the clean water programs that existed before President Trump took office.
This is the Illinois Guild, Not the Chicago Guild
Have you ever traversed the East Coast from New York City to Virginia Beach? If you have, congrats — you traveled a distance that's 30 miles SHORTER than the length of Illinois. Can you imagine trying to manage a group of breweries existing within a state 390 miles long? Can you imagine trying to invite them all to one fest? Hand of Fate Brewing, located roughly 25 miles north of Springfield, will be at Welles, but what about others?
Danielle had this to say: "Every brewer has to think about their time commitment and resources when considering what events and festivals they will participate in. For smaller breweries that aren't being distributed throughout the state or have a large staff, that consideration is even stronger. Hand of Fate has been a great addition to the ICBG this year and we are really pleased they've been able to participate in our festivals."
"We are also considering moving a fest to central Illinois where it would be more feasible for all of our western, central, and southern brewery members to participate!" 
It's one of the many progressive changes that have occurred under the direction of Danielle and her crew, who are just about to celebrate one year at the helm.
So, what has Danielle taken from her first year as President?
"Two memories. The first was when we hit more brewery members this year than last. The second was going home after day one of our first Illinois Craft Brewers Convention. I was really proud of my team that day (Katie Long, Alex Lovinggood, Rob Carrier, and Vikki Reid) and for what we accomplished. The Guild organized and hosted a conference and trade show from the ground up in just a few short months. We didn't know anything about what that would entail, but we made it happen. Sure, are there things we can improve on for next year? Definitely. But I'm really excited to see the conference grow each year going forward."
So, What's Next?
"Back to the membership," Danielle added, "As we see more breweries open in Illinois, it's incredibly important that we continue to build upon the momentum of breweries excited to sign-up and join in our collective efforts to improve regulatory policies in Illinois and promote the craft beer community throughout the state."
We need to stay committed to making better beer, activating our consumer base more, and working collaboratively together." 
"I'm excited for next year and the opportunities that will exist! "
Illinois Budget Issues and Springfield Chaos
Illinois, a state with two former governors recently sent to prison, hasn't operated under a budget for three years. So, how does the Guild fight for breweries in this tumultuous political climate?
Danielle answered, "The lack of budget didn't affect our industry directly, but it did take some of the focus off of our legislative items and onto the more serious issue of passing a budget this year for legislators. There was a discussion of raising the excise tax on beer and other alcohol, but that ultimately wasn't included in a budget deal."
Final, Fun Thought — Weather & Swag
During Winterfest, in February (in Chicago, mind you), the temperature soared to 70 degrees. This made the gloves handed out to each participant the focus for quite a bit of humor. For the summer beer fest at Welles, "TimeOut Chicago and the ICBG will have their own booths and we'll have cool new Drink Illinois Beer tank tops that you won't want to miss out on!" 
If Winterfest is anything like last year, you can wear the tank again in February!
https://www.instagram.com/p/BW0Bl4tFURF/?taken-by=ilcraftbeer&hl=en
---