No Comments
Event Recap | Odell Hidden Gems Shine at Mainline Ale House Beer Dinner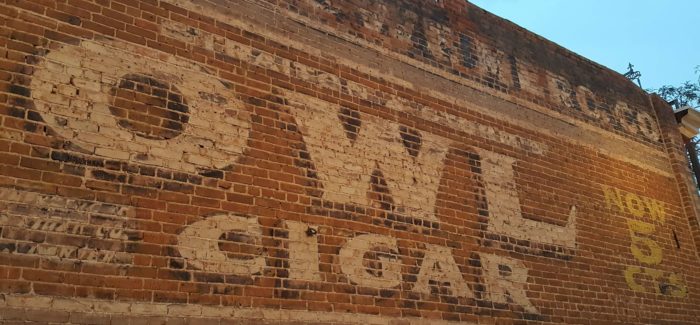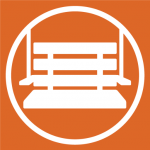 Whether you are a fan of beer, wine, spirits or a combination thereof, we can all agree on one thing: Pairing your drink of choice with a delicious plate of food is a wonderful experience. The culinary team at Mainline Ale House have taken it upon themselves to develop wonderful tasting menus that highlight the local beers of Fort Collins, Colorado.

A staple in the community, Odell Brewing Company was the choice for Chef Paul Schramm to focus his menu around on Friday night. Chef Schramm, who was celebrating his birthday, spent the evening ensuring each and every plate was expertly paired with their respective beers and came out looking spectacular. This four-course dinner, accompanied by a welcome beer, was certainly a treat and a delight for foodies and beer connoisseurs alike.
Speaking with Chef Schramm before the meal, it was easy to see his passion for food, beer and everything the city of Fort Collins has to offer.
"We want to showcase all of the great beer in Fort Collins and show that we know what we're doing in the kitchen," he said. "There's so much creativity in this town, and we want people to know that Fort Collins is the place to be."
If you take a quick glance at the menu, you'll notice that Odell's usual suspects are missing. With no 90 Shilling, IPA or Drumroll to be found, it might make some wonder about the process of finding these beers and pairing them with the food. When asked about the menu, Chef Schramm gave us some insight into the process he and his kitchen staff employed to choose the beers and dishes.
"We tried about 15 different beers at Odell's. They're all great beers, but the ones we chose are so complex and diverse in their flavors, we loved the idea of what we could do with them."
"Beer is so much more exciting and diverse than wine now," Chef continued, "and there are so many more ways to incorporate them with food. The tomatillo sour, for example… you don't find something like that very often. It's exciting, so we're really looking forward to everyone tasting the food."
Well, Chef Schramm was correct. The menu was exciting, and the food was nothing short of fantastic.
Odell Rupture is one of the newest additions to Odell's lineup, but it looks like it is here to stay. Rupture is a unique beer in that the brewers utilize whole flower hops and rupture them during the grinding process to release the yellow pollen held within. This gives the beer its bright, floral taste with a delightful balance of hoppy flavor. It was a wonderful beer to jumpstart your palate for the evening. In all honesty, it was gone before I could take a picture.
First Course – Seabass Ceviche paired with Odell Sunny Rain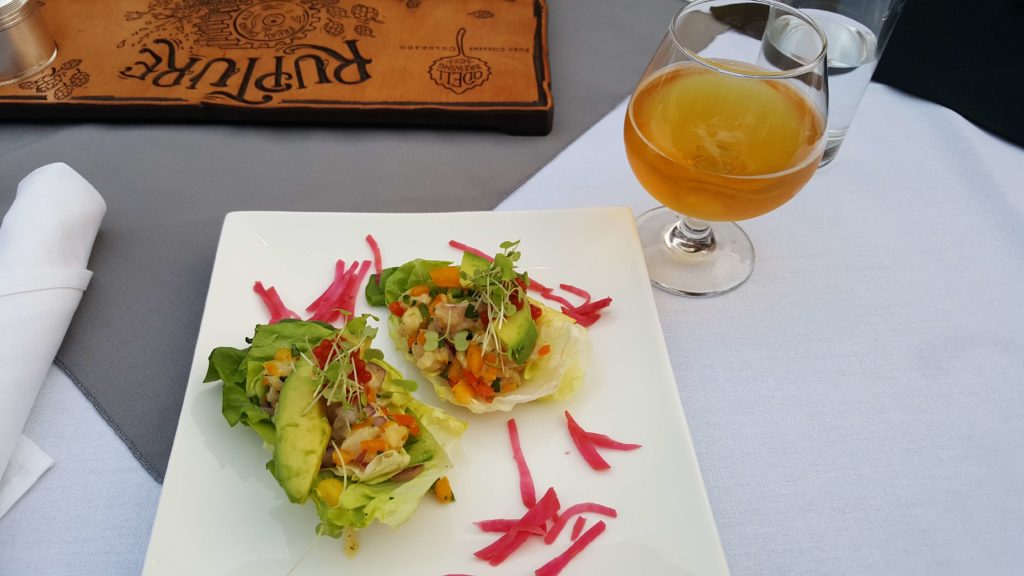 For the amuse bouche of the evening, guests were treated to a seabass ceviche with a lovely mango and pepper chutney on top of bibb lettuce, finished with a hot sauce "caviar." The topping, created by Chef Paul using molecular gastronomy to create droplets using agar and cold oil pearls, provided a lovely heat that brightened the dish. The fresh bite from the fish and chutney and the crunch of the lettuce created a complete bite.
Paired with Sunny Rain, this dish was a great way to set the tone. Sunny Rain is a refreshing and light beer that gives off a grassy and fruity scent, reminiscent of summer days spent doing yardwork before a random Colorado rainstorm finds its way over the horizon. It cut through the spice of the hot sauce, while highlighting the freshness of the mango in the dish.
Second Course – Smoked Duck Breast paired with Odell Green Coyote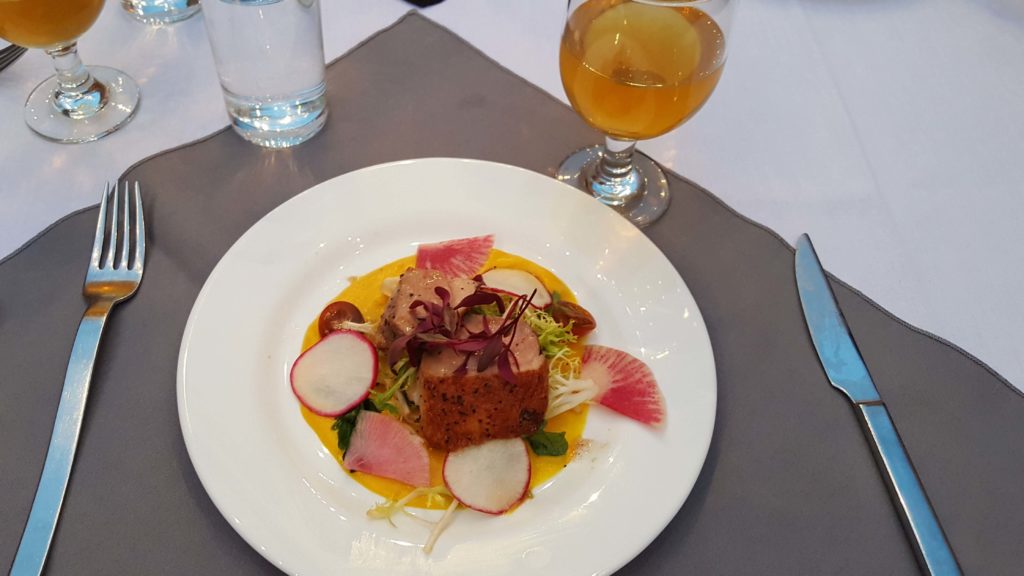 Green chili is essentially its own food group in the Four Corner States, and tomatillos are the base of all delicious green chili dishes. Odell had other ideas on how to use this delicious nightshade and paired it with what Johnny Benson, one of Odell's brewmasters, called his perfect berliner weisse. This combination shouldn't make sense, but I assure you, it does. Green Coyote is so wrong that it's right. A wonderfully balanced tomatillo sour, this beer asserts itself with what could be described as a savory tartness. Paired with kiwi, this beer has the tingle and freshness of a sour without a great deal of the pucker. Emitting a green-gold color, this beer is deceptively amazing.
When you thought it couldn't get any better, Chef Schramm paired this beer with a smoked duck breast, golden beet puree and an agave beer glaze sauce. The sauce came across as the star; a perfect balance of sweet and tart that complimented and cut through the fattiness of the duck breast. The puree was smooth and a perfect consistency, bringing a beautiful vehicle to calm the dish without masking any flavors.
Third Course – Lamb Chop T-Bone paired with Odell Kolfee Talk
Step aside, stouts and porters, you've lost your monopoly on coffee/beer combinations. Odell went out of the box for this brew, what Katie at Odell Brewing described as her coffee summer beer. A kolsch by nature, Kolfee Talk turns that on its head with addition of coffee and earthy flavors that are still more than drinkable when the sun is high in the sky. This beer gives the impression of a cold brew coffee on the nose, and drinks with a golden, roasted flavor and finishes with the familiar crispness of a kolsch.
The main course of the evening was a lamb chop T-bone, a tri-colored ragout that included potatoes, onions and carrots, and a coffee beurre rouge sauce. This sauce, by definition, is a red wine butter sauce that incorporates the flavors of coffee. Imagine a red-eye gravy that was taken to France and taught how to be a better sauce, and this is what you will get. The bitter notes of the coffee combined with the lamb and the sweetness of the roasted vegetables all came out when paired with the beer. The coffee flavor blended with the sauce, but never took over for anything on the plate.
Dessert – Poached Pears, Crème Anglaise, Peach Ice Cream, and Tuiles paired with Odell Pryus & Prunus
If you're in search of a decadent and dreamy dessert, ask Chef Schramm for this plate. Pears, poached in the beer with which the plate was paired, ice cream base paired with a full-blown peach ice cream, and a lovely tuile cookie, this dessert was ideal to match with this beer. While everything was sweet, nothing existed to overpower your palate or make you shy away from the sweetness.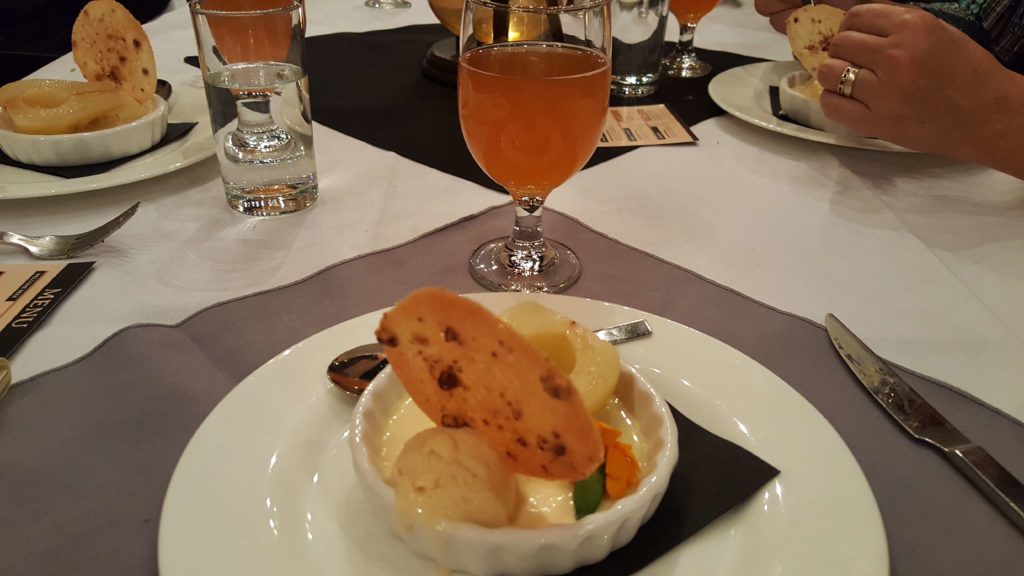 Pryus and Prunus is a peach and pear sour that has a wonderfully strong tart pucker to it. When you drink it, the pear immediately comes to your palate, and finishes with the bite of a palisade peach. The sourness of this beer was the ideal foil to the plate, as the taste of pear and peach in the beer and the dessert stood at opposite ends of the sweet and sour spectrum. The poaching of the pears in this beer was most apparent when paired with a sip of the beer, as the entirety of pear flavor came full circle.
This was Chef Schramm's first beer pairing dinner since taking over as the executive chef at Mainline. If it's any indication of the future of these events, the sky is the limit. Be on the lookout for Mainline Ale House's next beer pairing dinner featuring Prost Brewing on October 27.
---