No Comments
Event Preview | Deer Creek Malthouse's Malt-A-Palooza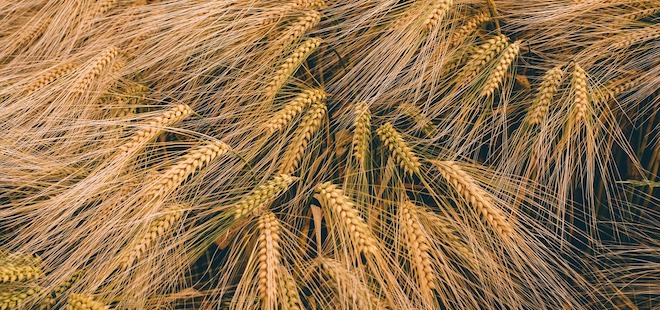 Malt is one of the most important ingredients in beer, and Deer Creek Malthouse is throwing a shindig to celebrate the craft of malting grain. Deer Creek's Malt-A-Palooza aims to blow your mind and dazzle your palate with malt-inspired food, beer and spirits from their customers and friends.
As the first commercial malting operation in Pennsylvania since prohibition, Deer Creek Malthouse produces high-quality malt using traditional floor germination techniques. Malt-A-Palooza is their fall harvest celebration where you can learn what it takes to make truly local beer and spirits from locally-sourced ingredients.
This family-friendly event isn't just about beer. There will also be hay wagon rides, yard games, a picnic area and guided tours of the craft malthouse. You can even bring your well-behaved, leashed dog!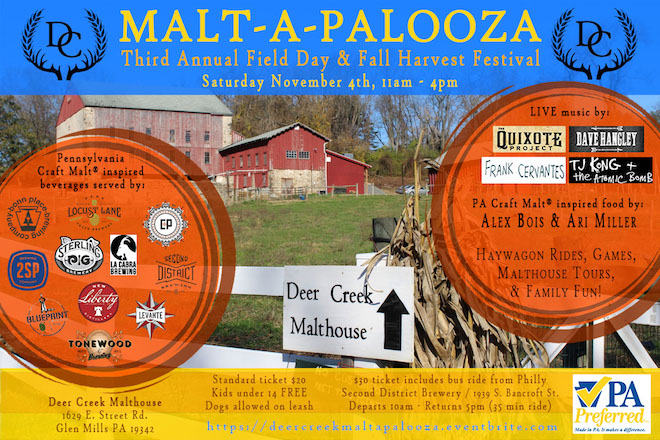 Participating Breweries:
Deer Creek's Malt-A-Palooza will also feature craft spirits and cocktails from New Liberty Distillery, and full-service food trucks from Lost Bread Company will be serving a malt-inspired menu from Alex Bois and Ari Miller. Entertainment will be provided by Dave Hangley, The Quixote Project, Frank Cervantes Band and TJ Kong & the Atomic Bomb.
Other local vendors will include Sunnybrae Hops, Keystone Homebrew & Fermentation Supply, PA Preferred Brews, USciences Brewing Science and more!
For those who live in Philadelphia, buses will be running from Second District Brewing (1939 S. Bancroft St.) in center city (1939 S. Bancroft St.) to Deer Creek, which is only a 45-minute ride. Buses will depart at 10 a.m. and return at 5 p.m.
Advance tickets will are available for sale online and cost $20 ($30 for bus riders). Tickets purchased the day of the event will cost $25. Admission for kids under 14 years old is free.
Absolutely no outside food or beverages allowed.
If you still have questions, you can e-mail Deer Creek Malthouse at [email protected] or call them at (717)-746-MALT.
---