No Comments
Taft's Ale House | Santa's Bribe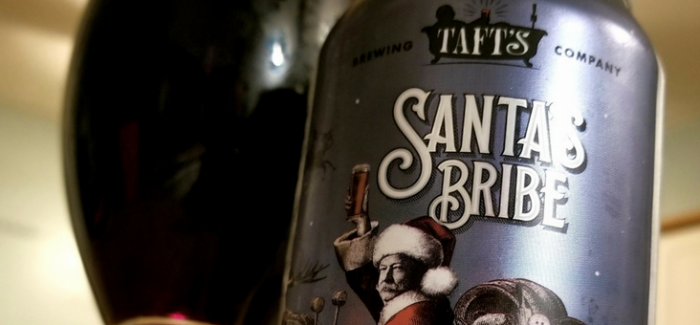 Ho! Ho! Ho! Merry Beermas!
Is there anything better than a Christmas ale? I mean really when you think about it, is there another style of beer made for a single day?
Christmas ales focus on one holiday like no other style does and that is a great thing. These holiday ales are the perfect way to welcome in the cold winter air and great Christmas traditions.
Last year, Taft's Ale House released a new beer called Santa's Bribe. It was only available on tap at their brewery. I was lucky enough to visit when they had it and I loved it.
Since then, Taft's Ale House has added a second location with a ton more production capability as they plan to distribute throughout the entire state. This additional location means more of their great beer for everyone; including canning Santa's Bribe.
I picked up a six pack as soon as I could. This beer was too good last year to pass up.
ABV: 6.2% | IBU: 16
https://www.instagram.com/p/BbhVfIxFXCC/?taken-by=taftsbrewingco
Like a liquid Christmas cookie, Santa's Bribe is a winter warmer ale brewed with cinnamon, ginger and vanilla. The spices play perfectly with each other to give it a sweet, warm and familiar flavor. The ginger is the strongest of the spices but it is kept under control by the cinnamon and vanilla.
On top of all that, it is about as smooth as it gets. The low bitterness is critical in a beer like this as it allows the malt and spices to do all of the work.
If my memory serves me well, I do think it was a touch sweeter last year. This could be from a change in malt or maybe less vanilla this year. Or my taste buds could be crazy.
This year's version is well balanced and perfect for any holiday celebration. I can't think of a better craft beer to enjoy on Christmas Eve as we all await the arrival of Santa.
---