No Comments
Land Grant Brewing | Beard Crumbs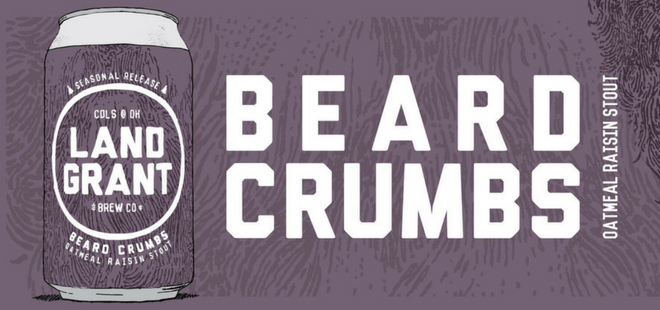 You can't deny the prevalence of beards that exist in the craft beer world. I've got one, so I can't really complain or dispute the association. Sometimes I wonder if some get into craft beer just to justify their beard. Well, Land Grant Brewing Company isn't afraid to express its love of beards either, and they've done just that with their winter seasonal Beard Crumbs Oatmeal Stout.
 ABV: 7.3% | IBU: 42
I was lucky to receive Beard Crumbs as a Christmas present from a family member that lives near  Land Grant's home of Columbus, Ohio. While the brewery refers to the beer as a festive ale, don't expect a winter-spiced beer or something profoundly sweet. The brewery describes the flavor as oatmeal cookie and I agree; however, it doesn't have the sweet brown sugar that most oatmeal raisin cookies will have.
Instead, Land Grant focused on producing a superb Oatmeal Stout. Though the ABV is north of 7%, its flavor profile is so interesting that you'll find yourself wanting to enjoy a few Beard Crumbs; there's little chance of experiencing burn out from the flavor.
The stout is exceptionally smooth and offers warm, roasted flavors. There are also subtle chocolate and coffee notes, but nothing that is overpowering. And to add a touch of winter to it, Land Grant added in caramelized raisins, which are evident in every sip and compliments all the other flavor notes. That final touch of raisin elevates the beer to a whole other level, making for one terrific beer that's both delicious and complex.
Being a Land Grant winter seasonal, you'll need to move quickly to get your hands on this one. Regardless of your facial hair status, you're going to enjoy Beard Crumbs.
https://www.instagram.com/p/Bdl24GGDhZB/?taken-by=craftbeerjoe
---