No Comments
Cooking with Beer | Corned Beef Stew with Yards Love Stout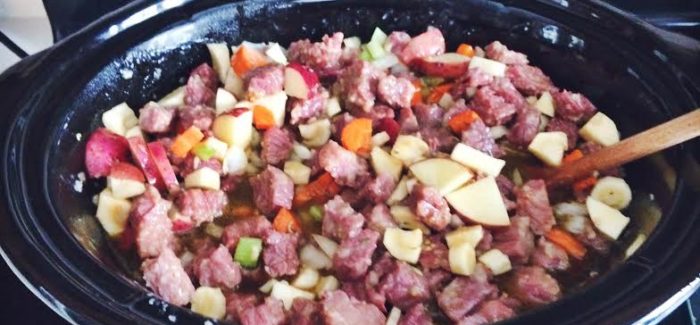 There are many dishes that have come to represent St. Patrick's Day. From shepherd's pie to soda bread, colcannon to boxty's, these forms of Irish fare exemplify the simplistic nature of living off of the crops and the land in Ireland. There is one dish that stands out in many people's minds as being the epitome of true Irish cooking; corned beef.
Corned beef has become synonymous with the American celebration of St. Patrick's day, but many people do not know that corned beef is actually not considered a part of true Irish dining. In fact, the Irish corned beef we are so familiar with today actually is Jewish corned beef. When the Irish immigrated to America, many settled within densely populated neighborhoods that were also populated with Jewish immigrants. The corned beef that the Irish would purchase was from local kosher delis.
Corned beef is a salt-cured beef product. The term 'corned' comes from the process of treating meat with large-grained rock salt which are also called 'corns' of salt. If prepared correctly, however, the meat should not be overly salty. Rather, it should be nicely seasoned by the spices it soaks within. Many beef-based stews, including corned beef, use stout as a base liquid during preparation.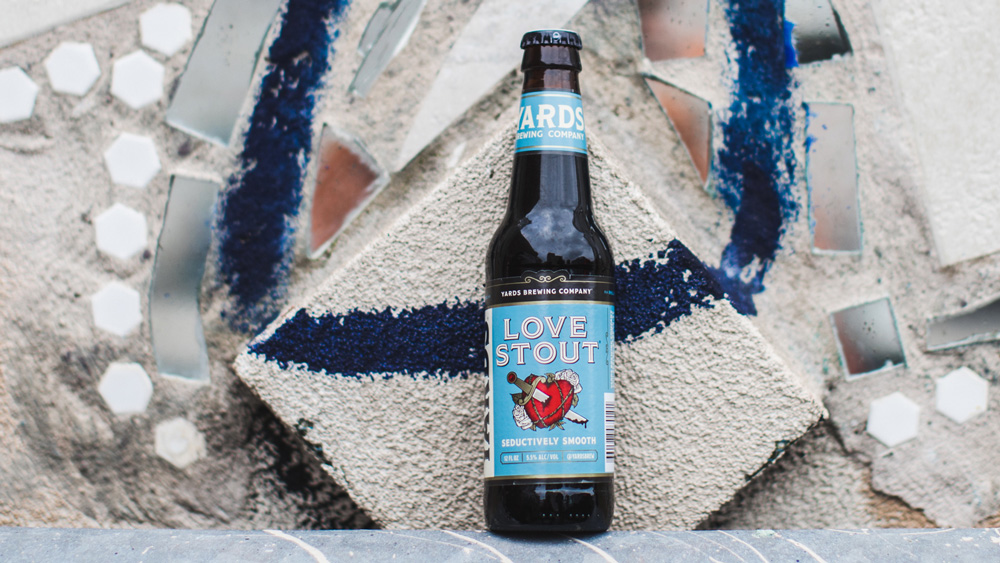 Yard's Love Stout at 5.5% ABV, provides a creamy and malty base for my stew. The smooth, chocolately taste of the stout thickened the broth perfectly. I chose Yard's Love Stout because I wanted to stray away from the predictable Guinness selection and stay local, by using a brew from a Philadelphia-area based brewery. I aimed to find a traditional stout, rather than an imperial or even an oatmeal stout. I wanted the mild flavor and texture that a traditional stout provides. With brews like an oatmeal stout, you might be faced with the issue of the beer masking the flavor of some of the stews key components. Yard's selection worked perfectly with this dish and I highly recommend it for your holiday cooking.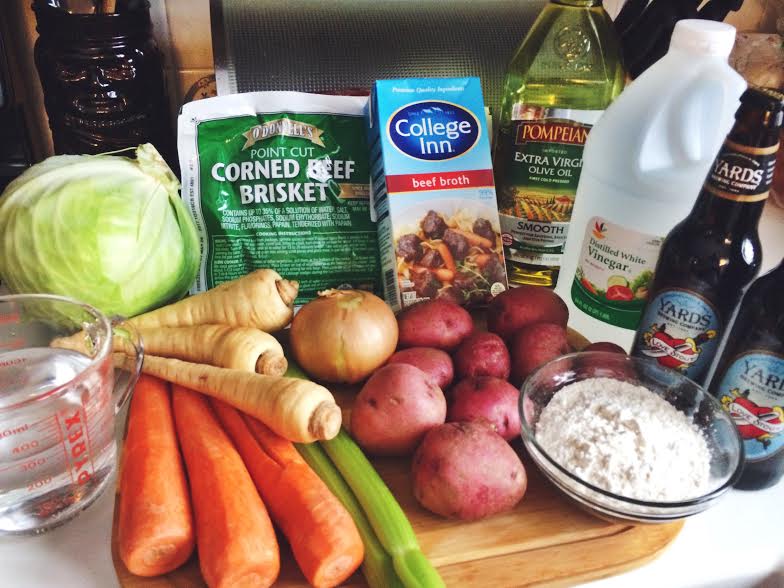 Ingredients
1/3 cup all-purpose flour
1 (3 lb.) corned beef brisket with spice packet, with the fat trimmed and cut into 1-inch pieces
1/3 cup olive oil
1 1/2 lbs. red potatoes, cubed (peeling is optional)
2 cups peeled and cubed parsnips
2 cups peeled and cubed carrots
2 stalks of celery, chopped
1 large onion, cut into chunks
1 1/2 cups water
1 (12 oz.) bottle of Yard's Love Stout (let's be serious, I used 1 1/2 bottles. I needed the extra stout for sipping)
1 (10.5 oz.) can beef broth
1 head cabbage, cored and coarsely chopped
1/4 cup distilled white vinegar
Directions
Once the meat has been chopped into cubes, place the flour in a large bowl and toss the cubes in the flour until coated.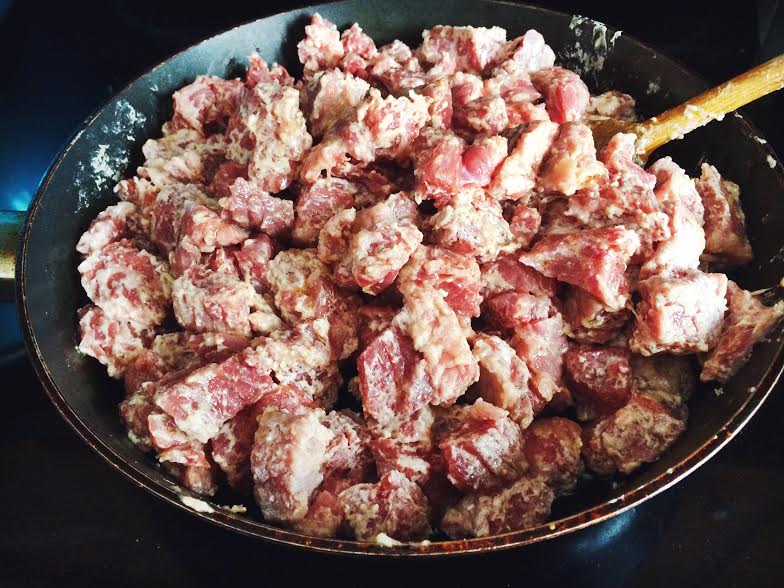 2. Heat the olive oil in a large pan over medium-high heat and slightly brown the beef cubes on all sides; approximately 5-10 minutes long.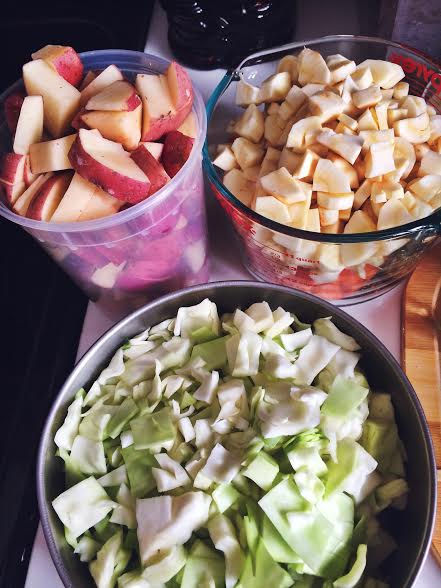 3. Pour the water, Yard's Love Stout, beef broth, carrots, onions, parsnips, celery, cabbage, pototoes and the spice packet into a crock pot.
4.  Pour the browned meat into the crock pot and mix well. Set the crock pot to high.
5.  Let the stew sit until the corned beef has become tender and the stew has thickened; approximately 4-41/2 hours.
6.  Mix in the vinegar and let the stew sit for another 15 minutes.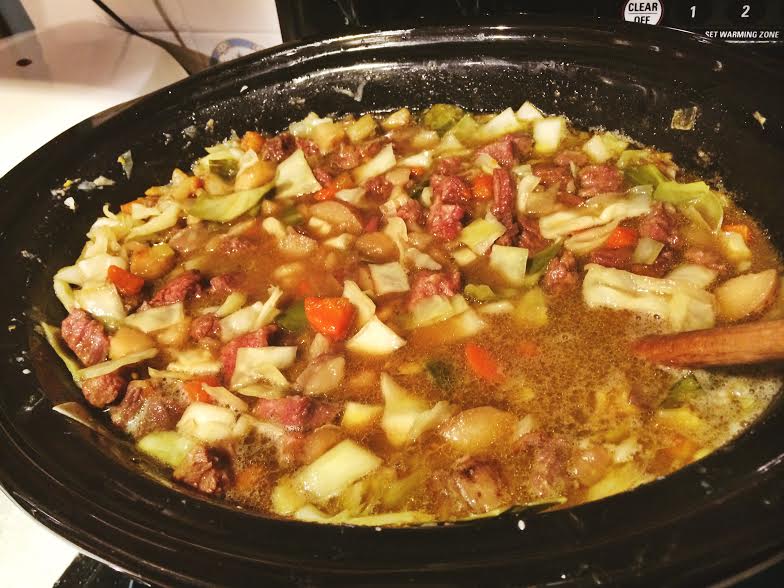 Enjoy and Happy St. Patrick's Day!
---