No Comments
Soulcraft Brewing | Coconut Milk Stout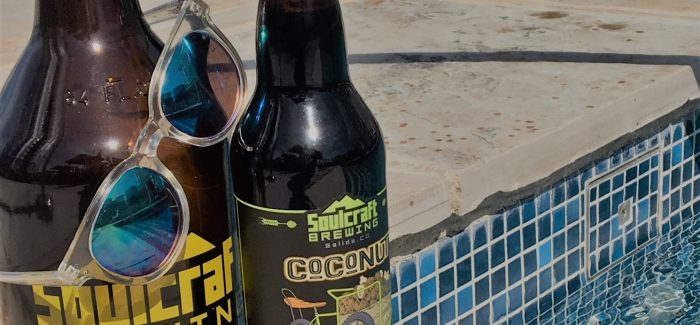 The idea came to him in a dream. Soulcraft Brewing's head brewmaster Mike LaCroix was so focused on brainstorming different kinds of beers to open the brewery with in November 2016 that it continued as he slept. He woke up and thought, let's do a really great Coconut Milk Stout. And he did.
"I wanted to challenge myself. Make something different. I hadn't done this kind of beer before as a brewer so it was fun experimenting and getting it right," said LaCroix.
Soulcraft is a brewery in the picturesque town of Salida, located in the heart-center of Colorado. Salida is the perfect combination of outdoorsy adventures, artsy culture and laid-back vibe. It offers a vast network of hiking and biking trails and is also home to the Arkansas River, famous both for exciting whitewater rafting and fly-fishing. It is ringed by the greatest concentration of 14ers anywhere in the country.
It's also has an up-and-coming craft beer and whiskey culture. Soulcraft Brewery enhanced this exciting scene with 16 innovative beers and a great tasting room and beer garden.
"It has a welcoming, classic pub feel to it. We don't have any televisions. We encourage people talking face to face in friendly conversations or lively debate," LaCroix explained.
Some of that debate is about the Coconut Milk Stout, apparently.
"People always start by smelling the aroma, first. They can't help it. But it's funny. Everyone smells things differently, therefore tastes things differently," said LaCroix. "Some think it's sweet, others say it's roasty. Some people hardly notice the coconut, others really like that element."
Beats talking about politics.
Don't Judge a Beer by its Color
Soulcraft opened in the fall, so the Coconut Milk Stout was an instant favorite—all through the winter, that is. But when spring came around, people thought they needed to trade out their dark beers like they swapped sweaters for t-shirts.  So LaCroix made it his mission to educate.
"I want to help people recognize they can drink it year round. It looks dark but it's not heavy; it's surprisingly refreshing," said LaCroix.
Its relatively low alcohol content of 4.6 percent makes it a "sessionable," craft beer. The kind of brew that a beer-lover can have a couple of without getting too buzzy or full.
"It's a great recovery beer from a day of bold adventures—after hard skiing, or mountain biking or hiking," says LaCroix. But it also has a mellow side.
"It is an excellent beer to drink while you put on your vinyl collection and some sweet headphones. It's good for having with dinner when you have friends over. Because of the lower alcohol content, it's relaxing but makes the night last longer. Great for sitting out and looking at the stars, too," he added.
Why it's Special
https://www.instagram.com/p/BdbVZHZjBud/?hl=en&taken-by=soulcraftbrewing
ABV: 4.6% | IBU: 14
The base is classic Milk Stout, but then they add a complex flavor-mix of chocolate and roasted barley. They use lactose (milk sugar) rather than coconut milk because in the fermentation process it leaves behind a creamy body and light sweetness. To achieve that intense coconut aroma, they hand toast the coconut and add it to the finished beer.
Session beers, defined here as ales or lagers in the 4-5 percent ABV range, are trending right now. Their growing popularity is largely because people enjoy drinking beer while doing other things—like fishing or hiking or challenging friends to corn-hole. There's a flip-side to all those great big high-alcohol beers that seem like such a good idea at the time.
Many still equate more alcohol with more flavor, though. LaCroix thinks that's another misconception. Beers like this Coconut Milk Stout have full-strength flavors.
And the Award Goes To…
This beer won the People's Choice Award at Color Fest in Pagosa Springs last fall. This mid-September fest features hot air balloons, wine, music, food and beer from all over Colorado and Northern New Mexico.
The Coconut Milk Stout also won a Gold Medal in the Spiced Beer Category at the All-Colorado Beer Festival in Colorado Springs in in Nov. 2017. This fest attracts about 70 breweries and cideries.
LaCroix noted that the beer got a lot of attention and was a clear favorite at Denver's outdoor Sesh Fest last August. Put on by the Colorado Brewer's Guild, this fest features beer samples that are all 5% or less in alcohol content from 50-plus member breweries statewide. An after fest write-up in 303 Magazine said Soulcraft's beer had the "soul of a milk stout, but the coconut took off an edge making it immensely refreshing."
Artsy Label
The metallic label image is based on a "hodgepodge" bike drawn from childhood memories of tearing around town in pure kid-freedom.
https://www.instagram.com/p/Ba4iK3ND7vT/?hl=en&taken-by=soulcraftbrewing
"It's based on a fat-tire BMX bike, which is totally fictitious. It has a cart in front loaded up with coconuts," said LaCroix.
All of Soulcraft's distinctive labels are created by local graphic artist Kurt Snyder. Snyder is also the artisan behind Kutthroat Stringworks and is a custom banjo, mandolin and ukulele maker. He hand-crafts each instrument, using wood he personally collects from around the local 14ers.
Recently, he designed the new logo for Chaffee County featuring the Chalk Cliffs, Browns Canyon, and the Arkansas River. Earlier he created the logo for the Colorado County Clerks Association and the Chaffee County Fair and Rodeo.
Where to Taste It
The Coconut Milk Stout is always available at Soulcraft Brewery on Hwy 50 in Salida. It is also distributed statewide in around 100 liquor store locations in 22 ounce bombers.
It can also be found at numerous beer fests like the epic annual Colorado Brewers Rendezvous  in July in Salida's Riverside Park. This one has 75 participating breweries and 300 possible samplings but start with the Coconut Milk Stout, of course.
---