No Comments
The Weekly Buzz | April 27 – May 3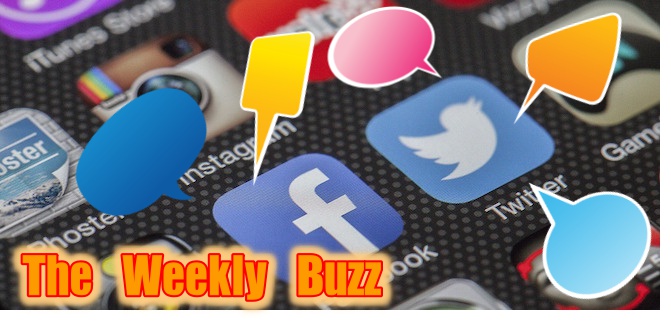 This freaking weather is driving me insane. First it was cold, and now it's 90 degrees. I just turned the heat off two days ago. It shouldn't have been necessary to turn the air conditioner on today. Mother Nature needs to cool her jets and enjoy a fine craft beer. Despite the sweat puddle that's accumulating under my desk, I still managed to find a bunch of fun stuff on Twitter and Instagram. Sit down in front of your favorite oscillating fan and enjoy The Weekly Buzz!

Have you had your first lawnmower beer of the season?
The bad news: it's lawnmower season again.

The good news: it's lawnmower beer season again.#TeamRadler pic.twitter.com/yjOhmPGDkl

— Boulevard Brewing Co (@Boulevard_Beer) April 28, 2018
---
I'm not sure what I'm looking at here…
Welcome To The Jungle…the #boonvillebeerfest is about to begin. Rumor has it @barkleyboont will be there! pic.twitter.com/2w7uLznOt5

— Anderson Valley Brew (@avbc) April 28, 2018
---
Book your tour of this brand new facility today!
BREWERY TOURS ARE HERE! Click that link & book yours! #YARDS #BrewUntoOthers https://t.co/EcMxQJOoaL pic.twitter.com/yrRmmSmjRT

— Yards Brewing Co. (@yardsbrew) April 28, 2018
---
Want a job in craft beer?
Our team is growing and we're looking for amazing people to join our crusade for independent craft brewing excellence.

Visit https://t.co/m5iIAb1uDH for openings in Southern California, @StoneBrewingRVA, @StoneBerlin, @StoneNapa (opening next month) and more! pic.twitter.com/JUNshxH4ET

— Stone Brewing (@StoneBrewing) April 28, 2018
---
It's never too early to plan for Mother's Day!
https://instagram.com/p/BiFojichO7j/
---
I love it when a plan comes together!
Our first colab with @indeedbrewing. Ben's lost wallet was found by @IndeedRepColin! Nice. pic.twitter.com/3pEC4sXLPU

— Barrel Theory (@BarrelTheory) April 26, 2018
---
Did any of you sneak into the Craft Brewers' Conference this year?
Everyone flying into Nashville for #CBC2018 – grab your first Nashville beer at our new Yazoo kiosk at gate C-25! You can walk with a beer in the airport, and it's a 5 min walk to the exits anyway! Welcome to Nashville! @Fly_Nashville

— Yazoo Brewing (@yazoobrewmaster) April 26, 2018
What's good, Nashville! Hanging out at the Craft Brewers Conference this week, gettin' our learn on, all in an effort to bring you the best beer possible. #CBC2018 #independentbeer pic.twitter.com/cMmMfOdq6R

— River North Brewery (@rivernorthbrew) April 30, 2018
I don't have enough logo'd shirts to pack, how will everyone know me from the rest of the bearded population!? #CBC2018

— Jeff McCullor (@jmccullor) April 30, 2018
https://instagram.com/p/BiMkhxRhGL-/
https://www.instagram.com/p/BiNYrOIjbgo/
https://instagram.com/p/BiPOIKchAiY/
Eric Wallace, Left Hand co-founder and president, welcomed everyone to the Craft Brewers Conference with a message of independence and a call to focus on making our people, our communities, & our world better through our efforts. #RighteouslyIndependent #CBC2018 #CraftBrewersCon pic.twitter.com/9Mr2PUov5m

— Left Hand Brewing Co (@LeftHandBrewing) May 1, 2018
We got a carnival game @BrewersAssoc #CBC18 come win some prizes pic.twitter.com/ggSWGsTPTG

— Hop Head Farms (@hopheadfarms) April 30, 2018
Even in the midst of a MASSIVE 14,000 person #craftbrewersconference, it's always nice to catch up with a couple @BrewersofPA. #cbc2018 #seeyounextyear pic.twitter.com/khAIv0CT0I

— East End Brewing (@EastEndBrewing) May 3, 2018
https://www.instagram.com/p/BiUwZOkhqUQ/?utm_source=ig_embed
We want to recognize the 75+ volunteers that helped make this one of the best #CraftBrewersCon ever! Thank you and cheers! #IndependentBeer pic.twitter.com/sQHMTHLAOT

— Brewers Association (@BrewersAssoc) May 3, 2018
---
Go Pens!
It's a hockey night in Pittsburgh! What is your Penn beer of choice to sip during the game? #LetsGoPens 🍺🏒 pic.twitter.com/aEVZZODg8k

— Penn Brewery (@PennBrewery) May 1, 2018
---
A quick lesson about hops.
Count along with us as we showcase all 10 of the hops grown at @RogueFarms, including our newest hop Adair. https://t.co/Q9nK8UYDeB #10HopIPA #IPAMay #WeGrowBeer pic.twitter.com/JTl0de7l8Q

— Rogue Ales & Spirits (@RogueAles) May 1, 2018
---
Time to update that resume!
https://instagram.com/p/BiOBiqKHGv4/
---
The best way to prep for IL Craft Beer Week!
https://instagram.com/p/BiSlKNMAlqQ/
---
Grab a spot while they last!
CODE RED! CODE RED, PEOPLE!!! There are exactly 66 spots of 4,000 left for our Santo de Mayo 5K this Sunday. Go get 'em! https://t.co/9VfDq4Vq5j pic.twitter.com/VMV6CtYIV5

— SaintArnold (@SaintArnold) May 3, 2018
---
Look out Mexico! More craft beer is on the way!
https://instagram.com/p/BiVD7cChc_g/
---