No Comments
Odell Brewing | 90 Shilling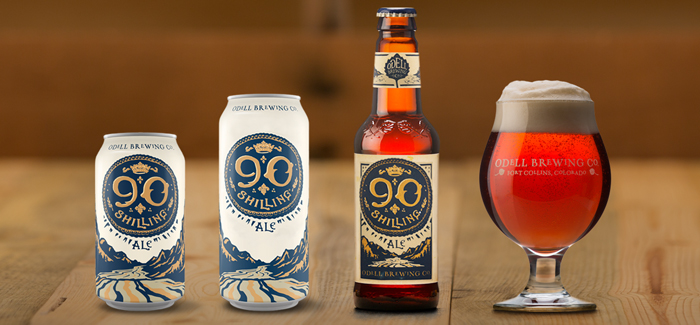 If you sip around the craft beer world today, you'll find many new unique and tasty beers, such as hazy beer, pastry stouts, milkshake IPAs, sours, brut IPAs, etc. With all the recent/rapid evolutions in the craft beer industry, this got me to thinking, "What was the beer that first opened my eyes to all the glory that is craft beer?" It was Odell Brewing's 90 Shilling amber ale, and this, my friends, is an ode to that particular beer or as I call it, my "gateway to craft."
Perhaps some or even many of you are like me, and you weren't fortunate enough to grow up in colorful Colorado. You migrated here from the Midwest, or perhaps even Texas. A love of artisan beer was not fostered; rather, I had to figure this out on my own. So, I was sent off into the great unknown, ignorantly drinking beer made by the millionth gallon at a time, until one fateful day…
Having newly moved to Denver eight years ago, I was invited to a random social gathering "hooray", trying to meet people and learn more about my new town. There I was, navigating the delicate intricacies of an awkward party, knowing all of one person, and I realized I needed something to help me "loosen up." So, I reached into a cooler filled with ice and grabbed a beer. What emerged, was Odell's 90 Shilling. I had no idea what I was in store for, but there was no turning back now. I remember feeling intimidated to try it due to lack of knowing anything about craft beer, while at the same time having little appreciation for it. Nonetheless, I popped the cap off and took a swig. I was pleasantly surprised by this complex yet easy-to-drink amber ale. I had never tasted anything like it before. I was met with a simple caramel sweetness and extreme drinkability, and I thought to myself, "Hey, this doesn't taste anything like weird alcoholic water… I could get into this craft beer thing."
https://www.instagram.com/p/BkoMiP6AzOU/?hl=en&taken-by=serioustool
90 Shilling is Odell's flagship beer, even if  they are now also widely known for a wider portfolio, like their IPA, Easy Street Wheat, or Drumroll American Pale Ale. The name 90 Shilling, according to Odell, is derived from "the Scottish method of taxing beer. Only the highest quality beers were taxed 90 Shillings."
Mild in bitterness IBUs (32) and low in ABV (5.3%), 90 Schilling is approachable enough for just about any occasion including making friends at an awkward party. The first thing you'll likely notice when opening a 90 Shilling is the nose of the beer: the malt's aroma. There's a striking malty caramel-sweetness that pairs perfectly alongside with this beer's color. The taste and the coloring gives the beer a one-two sensory punch. The rich amber color of this beer alone would make you want to drink it. It glistens in the sunlight, and those amber undertones appear to turn richer in dim lighting. It's a beer that is subtle in the best way.
For an amber ale, 90 Shilling has a solid fullness to it from the front to the back of your sip. It's not a beer that is going to overwhelm you, yet it has dimension to it. It's very drinkable, which makes it a craft beer that you can enjoy again and again, and doesn't blowout your pallet. 90 Shilling is a beer that can be overlooked in today's beer-cosystem but shouldn't be.
If you're wanting to have one or a few beers on a beautiful Colorado day, consider grabbing this amber ale now and again. It's a brew that you'll enjoy at any time and is tried and true. Still to this day, I often find myself searching in coolers at cookouts and gatherings for this refreshing amber ale, 90 Shilling.
---