No Comments
The OGs of Craft Beer | Great Lakes Brewing Edmund Fitzgerald Porter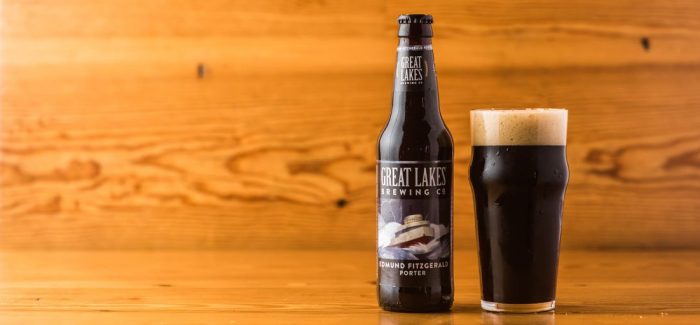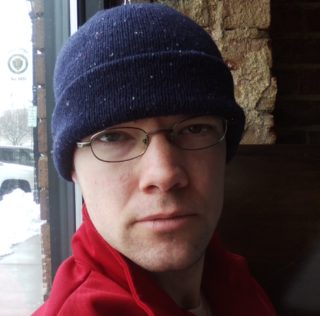 "It just feels right that this is a beer that comes from Cleveland," says Great Lakes Brewing Company co-founder Pat Conway of his brewery's Edmund Fitzgerald Porter. The iconic dark brew is named for the ill-fated iron ore freighter that sank on Lake Superior with all hands during a vicious storm on November 10, 1975.
The S.S. Edmund Fitzgerald was built in Michigan and launched on June 7, 1958. At that time she was the largest ship on the Great Lakes, and set numerous seasonal cargo haul records during her 17 years of service. As the largest of the nearly 5,000 shipwrecks to litter the bottoms of the Lakes, Fitzgerald has lingered in the memories of the Midwestern states that hem in these inland freshwater seas. A popular Gordon Lightfoot song brought broader attention to the loss, with haunting verses detailing the final hours of "that good ship and true."
Of the 29 men lost when Fitzgerald dove for the bottom, 13 were from in or around Cleveland, OH. The ship filled her belly with massive loads of taconite iron ore from the mines around Lake Superior and hauled it to the industrial ports along the lower Lakes, including Toledo, Detroit, and Cleveland. All three industrial Rust Belt cities have gone through hard times in the decades since the big ship sank, though all have begun to rebound in recent years. Edmund Fitzgerald still matters to the people of Cleveland at the east end of Lake Erie.
"People in the Great Lakes region, and especially Cleveland, still really care about what happened that day," reflects Conway while explaining why his brewery named one of their flagship beers after this doomed freighter. "My brother (co-founder Dan Conway) and I were childhood friends with John McCarthy. His father, Jack, was First Mate of the S.S. Edmund Fitzgerald, so when we approached John to ask him if he felt comfortable with us naming our beer in honor of the crew, 'My dad would be honored' is how he responded."
Great Lakes Brewing Company was founded by the Conways in Cleveland in 1988 and celebrates its 30th anniversary this year. They began with just two beers, Dortmunder Gold and Eliot Ness Lager, and quickly brought on their other two flagships, Burning River Pale Ale and Edmund Fitzgerald Porter. All four are still year-round offerings.
"Adding a Robust Porter seemed like a good contrast to what we were already making," explains Conway. "The imagery of the boat, the Great Lakes, and the industrial heritage of Cleveland just seemed to work in tandem with the style. Porters are a working class beer and Cleveland had a number of breweries making Porters during the early to mid-1800s."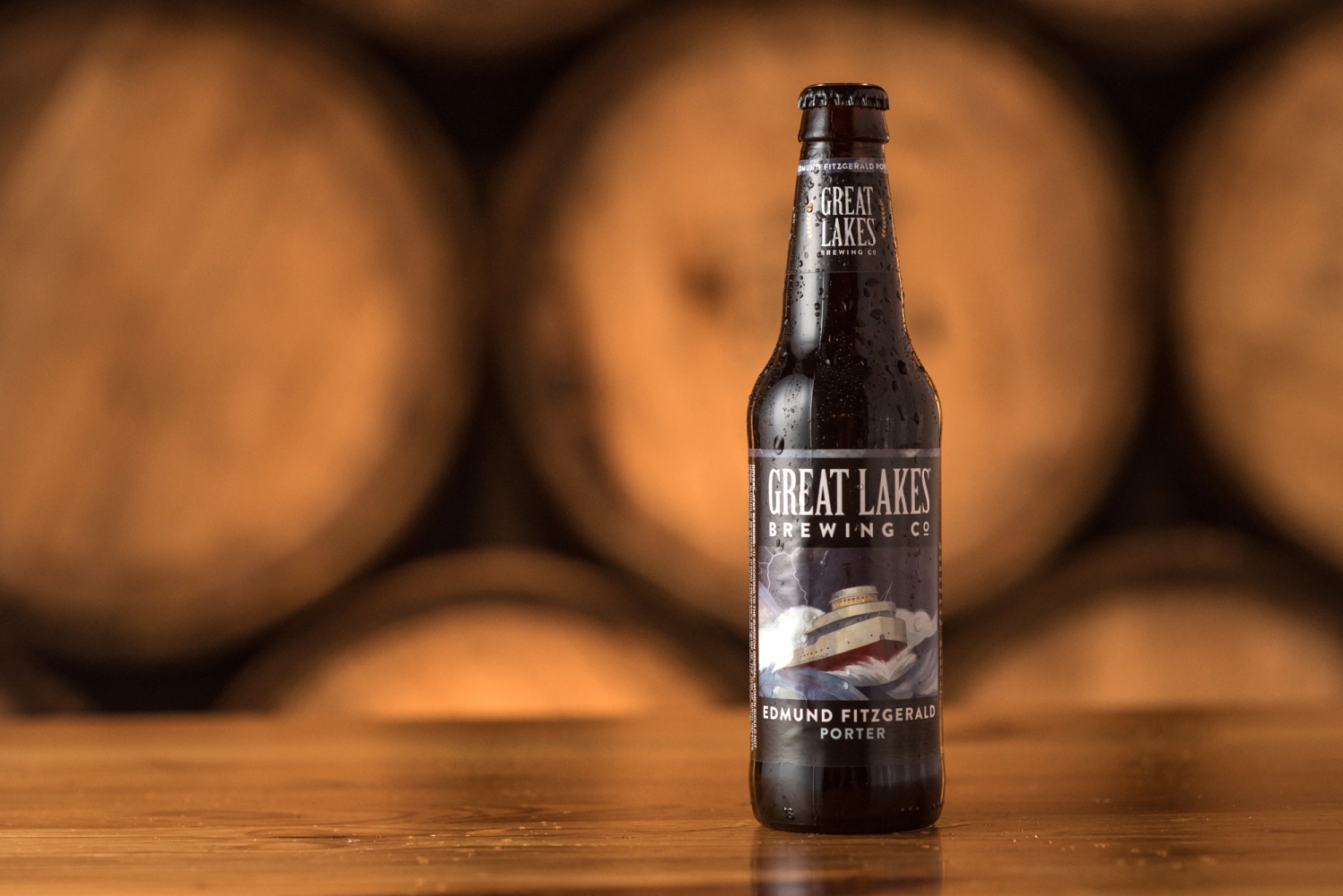 Porters grew to prominence in 18th century London as the first mass-produced style of the early Industrial Revolution. While drinkers from all walks of life enjoyed the style, it was predominantly the drink of the working class, and its popular origin story holds that it drew its name from the transportation workers who celebrated the dark brew. Whether that last bit of lore is romance or reality is irrelevant to the blue collar pride that still clings to this hearty style.
When first-generation American craft brewers began to brew Porters, they followed the trend they'd begun with Pale Ale, IPA, and other British styles and made these new American Porters a little stronger and more assertive than their Old World forebears. Great Lakes Edmund Fitzgerald was no exception.
"The recipe is a bit of an American take compared to a traditional porter," explains Great Lakes brewmaster Mark Hunger. "It features a pretty complex malt bill with a mix of malt and roasted barley that you wouldn't typically see together. We use a mixture of American and European-influenced hops that really complement the coffee, roasty, and bittersweet chocolate flavors."
What results is a beer that is both robust and drinkable, and bracing in the face of a Lake Erie blow while still being balanced and nuanced.
Michael Williams, who handles Field Education for Great Lakes Brewing, says the beer's balance and approachability make it a great beer for folks who don't expect to like beer at all. "I'll ask them if they enjoy chocolate or coffee, and if they say yes, I always encourage them to at least give Fitz a try." Williams says these folks are consistently surprised by how much they enjoy this dark beer. And that reception isn't limited to beginners. "It's one of, if not the, most awarded Porters made in the U.S.," adds Williams.
"And it's beautiful to look at," reflects Conway. "You hold a pint of it up to the light and you notice this wonderful mahogany color along the edges." Hunger says that rich color comes from the carefully selected crystal malts in the recipe.
Hunger will never forget his first experience with the Porter he's now tasked with brewing. The day he got hired at Great Lakes, he celebrated with Edmund Fitzgerald. "I remember back when I first started at GLBC in 1997, I had just finished sitting down with Pat and Dan and learning that I'd been hired," recalls Hunger. "I knew I wanted to pick up a GLBC 6-pack on the way home to celebrate. My college days had been spent mostly drinking lagers, but I saw a 6-pack of Edmund Fitzgerald and thought why not. I'll never forget grabbing it."
At 7:00 p.m. on November 10, 2015, my wife and I stood with my sister and her fiance at the end of the long breakwater pier at Grand Marais, MI. The cold Lake Superior waters smashed against the concrete pier, and a blustery wind blew the spray in our faces. We'd driven to the Upper Peninsula to this little town where our family had vacationed since before I was born to pour one out for the Fitzgerald sailors lost exactly 40 years earlier. After saying a few words, we each poured a bit of Great Lakes Edmund Fitzgerald Porter into the dark waters off the end of the pier and then shared a bottle as we huddled close against the cold. My sister and I had first had this beer on a trip to the same town in our 20s, almost 15 years prior. The Lakes, and the thousands of wooden and steel ships that rot on their floors, have long fascinated us. It only takes standing on Lake Superior's shore on a chill night when the wind is blowing to imagine what it must be like to be at the mercy of the waves on a ship in a storm. A good beer like this is a comfort on a night like that.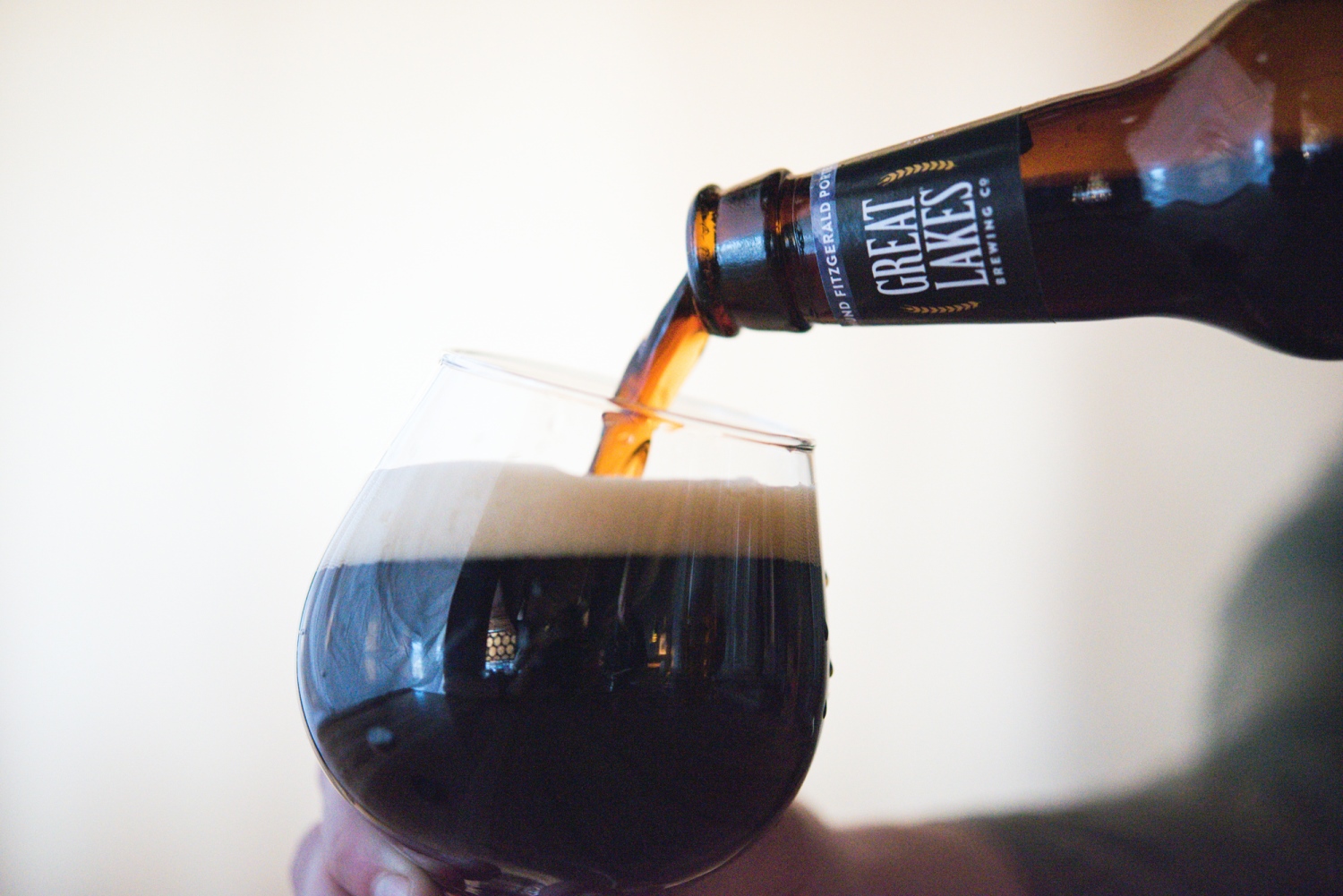 "Beyond the familial connection with the McCarthys and the awards and recognition it continues to garner, this is a beer with a story, and a name, and a feel that just connects with so much of Cleveland's past and present," reflects Pat Conway. "Porters are brewed everywhere these days, but there's just something about the industrial feel, the history of the style, and the character of the beer."
"29 men were lost that day, but they were not forgotten," he finishes.
Lift a glass of Great Lakes Edmund Fitzgerald Porter and remember the lives lost on the Great Lakes over the last two centuries to feed the industries of the Midwest, and especially those lost on the Mighty Fitz. That good ship and true is gone, but its legend lives on.
All photos provided by Great Lakes Brewing Company
We at Porchdrinking.com thoroughly enjoy covering craft beer trends and showcasing the newest and beers. But, before terms like Brut, Milkshake, New England and even BBA entered the brewing-industry lexicon, beer fans were thrilled to taste Ambers, Pale Ales and some mysterious beer that may or may not have arrived from India. So, for one month, we are going to take time to remember some of those OGs of Craft Beer — the brews that made it all possible. While we can't cover all the OGs of Craft Beer, we want to take this time in August to pay homage to several of them. If your favorite "classic" isn't on the list; don't fret. Let us know what you loved back in the day (or still do), and bring attention in the comments section below or via our social media channels.
---