No Comments
Texas Craft Brewers Festival 2018 Beer List Announced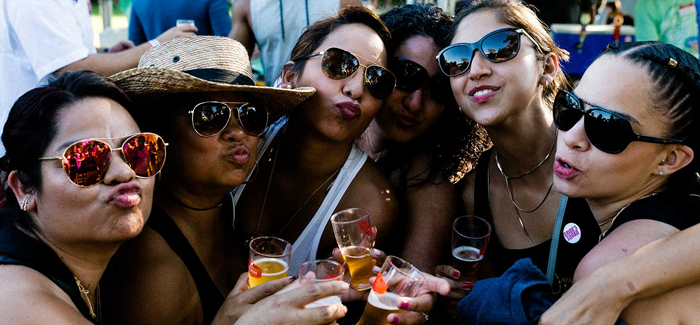 The Texas Craft Brewers Festival, featuring more than 75 craft breweries, returns September 29, 2018 to Fiesta Gardens in Austin, TX. The event, which is organized by the Texas Craft Brewers Guild and co-presented by Craft Pride and Paychex, is the state's largest beer event focused exclusively on Texas-brewed craft beer.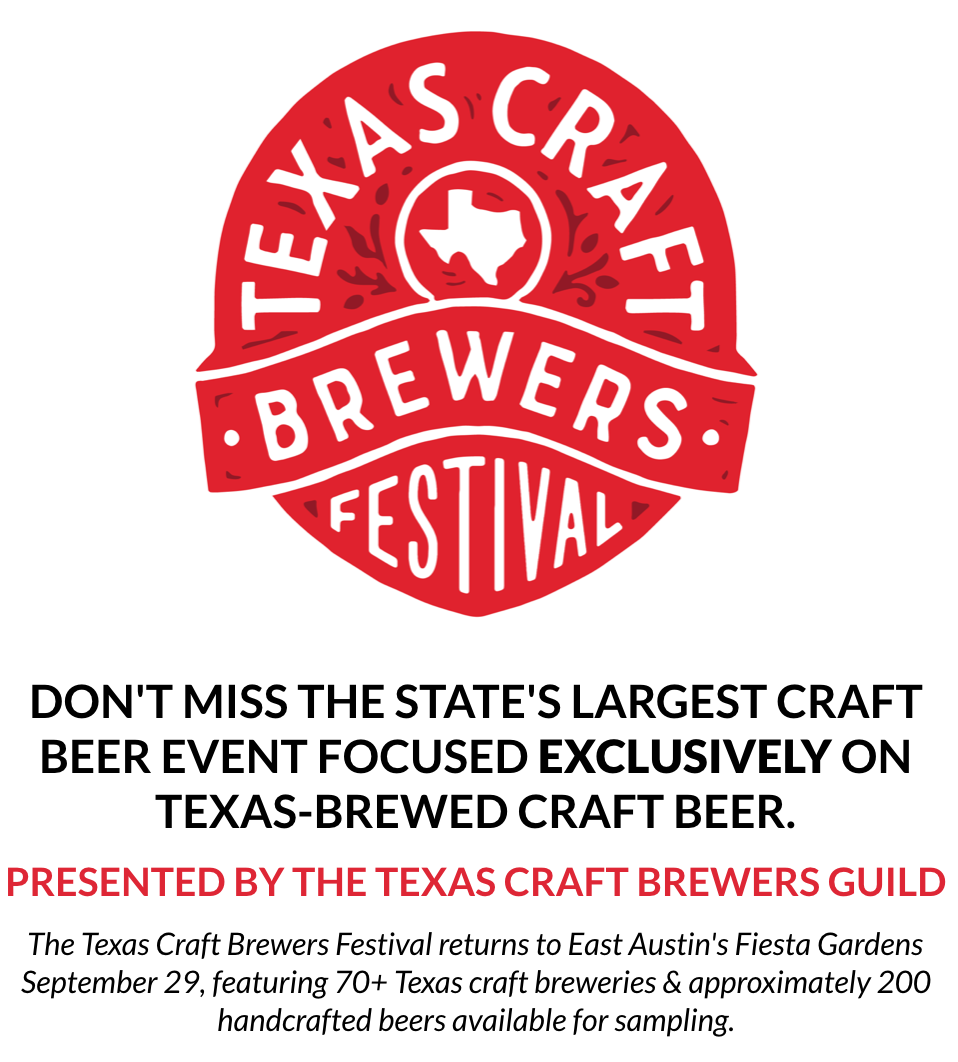 Kicking off the weekend is the return of the opening night event, Partners in Craft, featuring handcrafted collaboration brews inspired by a wide variety of community collaborators.
The event sells out each year (VIP tickets are already sold out), so get your ticket today!
"We are excited to once again throw this amazing celebration of uniquely Texas craft beer in the beautiful setting of Fiesta Gardens in Austin," said Charles Vallhonrat, executive director of the Texas Craft Brewers Guild. "Showcasing the beer of small, independent Texas craft breweries gives us the opportunity to celebrate our industry with the most important stakeholders, the craft beer fans."
Follow event news on Facebook, Instagram and Twitter and use hashtag #TXbrewersfest.
Partners in Craft Pour List:
7 Spanish Angels Autumn Ale | Brazos Valley Brewing Company
Collaboration with Independence Coffee Company | Pumpkin Spiced Coffee Brown Ale
Archetype Historical IPA | Circle Brewing Company
Collaboration with Blacklands Malt | Historical Beer
Art Car IPA with Texas Peaches | Saint Arnold Brewing Company
Collaboration with Lightsey Farms | American IPA
Black Sparrow Bier | Texas Beer Company
Collaboration with Black Sparrow BBQ | Smoked Beer
Bourbon Barrel Aged Off With Your Red | Rabbit Hole Brewing
Collaboration with Acre Distilling, Ft. Worth TX | Barrel Aged Imperial Red IPA
Cool & the Gang | Blue Owl Brewing
Collaboration with Lazarus Brewing Co | Sour Mild with Earl Grey Tea
DDHelada | TUPPs Brewery
Collaboration with Waterboy Farms | Heirloom Tomato New England Style Double Dry Hopped IPA
Et Tu Brut IPA | Austin Beerworks
Collaboration with Holdout Brewing | Brut IPA
Hill Country Common | Thirsty Planet
Collaboration with Pellets and Patience BBQ, Austin Honey Company | Smoked California Common
Houston Triple Craft | Holler Brewing
Collaboration with Greenway Coffee, Feges BBQ | Smoked Coffee Marzen
Just Hunks | Adelbert's Brewery
Collaboration with Oddwood Ales | Blended Double IPA
Lady Bird | Vista Brewing
Collaboration with Lady Bird Johnson Wildflower Center | Bier De Garde
Magic | Hops & Grain Brewing
Collaboration with Spokesman Coffee | Mixed Culture Barrel Aged Saison with Coffee
Meow! | Whitestone Brewery
Collaboration with Flix Brewhouse | Hazy IPA
Mikey V's Texas Ex's Weizenbock | Rentsch Brewery
Collaboration with Mikey V | Weizenbock
Nitro Coffee Milk Stout with Hemp Oil | Zilker Brewing Company
Collaboration with Cuvee Coffee | Coffee Milk Stout
No Way Rosé | Deep Ellum Brewing Company
Collaboration with Oskar Blues Brewery, other CANarchy breweries | Southwestern Rose Ale
Norman | St. Elmo Brewing Company
Collaboration with Easy Tiger | Rye Bread Beer
Part & Parcel | Jester King Brewery
Collaboration with Blacklands Malt | farmhouse ale
Po-Cha-Na-Quar-Hip | Lone Pint Brewery
Collaboration with A local bee farm near Livingston, TX | Braggot
Rocket Fuel | 8th Wonder Brewery
Collaboration with Greenway Coffee Co | Vietnamese Coffee Porter
Snakebite | Real Ale Brewing Company
Collaboration with Austin Beerworks
Hazy IPL
Sorachi Tripel | Southern Star Brewing Company
Collaboration with Channing Herrin (Nobi Public House) | Tripel
Tejano Coffee | Künstler Brewing
Collaboration with White Elephant Coffee Co | American Porter
Texas Ruby Red Radler | Uncle Billy's Brewery & Smokehouse
Collaboration with Lone Star Citrus Growers | Radler
Wineoceros | Red Horn Coffee House and Brewing Co.
Collaboration with NXNW (Stone Lake) | American IPA w/ White Wine Juice
With Our Powers Combined | Eureka Heights Brew Co
Collaboration with Freetail Brewing Company | Hoppy Rye Kolsch
With Our Powers Combined | Freetail Brewing Company – Pub
Collaboration with Eureka Heights Brewing Co. | Dry-Hopped Rye Kolsch Wit Bier
Yellow Circles | The Brewtorium
Collaboration with Red Horn Coffee House and Brewing Co. | Altbier
YSB #6: Siouxsie's Strawberry Girl | Austin Beer Garden Brewing Company, The
Collaboration with Farm To Table | Fruited American-Style Sour Ale
Zaydorf | Orf Brewing LLC
Collaboration with Justin Davis | wood-aged ale
(512) Brewing (Austin) | Cryo Juicy IPA
(512) Brewing (Austin) | Wild Bear (Foeder-aged wild ale)
8th Wonder Brewery (Houston) | Dome Faux'm (Cream Ale)
8th Wonder Brewery (Houston) | Haterade (Gose)
Adelbert's Brewery (Austin) | Hibiscus Saison
Adelbert's Brewery (Austin) | Lagerboy Pilsner
Adelbert's Brewery (Austin) | Travelin' Man (Rotating Hop IPA)
Adelbert's Brewery (Austin) | Tripel B (Tripel)
Alamo Beer Company (San Antonio) | Alamo German Pale Ale
Alamo Beer Company (San Antonio) | Alamo White (Belgian Wit)
Armadillo Ale Works (Denton) | Honey Please (Mesquite Bean Blonde Ale)
Armadillo Ale Works (Denton) | Land Yacht (IPA)
Austin Beerworks | Black Thunder (Black Lager)
Austin Beerworks | Heavy Machinery Wet Hop IPA
Austin Beerworks | Lazer Salad (Double IPA)
Austin Beerworks | Montecore (Oktoberfest)
The Austin Beer Garden Brewing Co. | Happy Pounds (American-style Lager)
The Austin Beer Garden Brewing Co. | Sunny (Saison)
Back Pew Brewing (Porter) | Black Habit (Schwarzbier)
Back Pew Brewing (Porter) | Blue Testament (American Pilsner/Pre-prohibition Lager)
Barrow Brewing (Salado) | Evil Catfish (IPA)
Barrow Brewing (Salado) | Mystery of the Deep (DIPA)
Bearded Fox Brewing (Tomball) | Aunt Rose (Red Helles Lager)
Bearded Fox Brewing (Tomball) | G.O.A.T. (Imperial IPA)
Big Bend Brewing (Alpine) | Alpine White (Witbier)
Big Bend Brewing (Alpine) | Balmorhea w/ watermelon & tangerine (Imperial Berliner Weisse)
Big Bend Brewing (Alpine) | Charles Prince of Whalez (Pastry Stout)
Big Bend Brewing (Alpine) | Old Love (Barleywine)
Black Star Co-op (Austin) | It's Not A Pneuma (Super Hoppy Pale Ale)
Black Star Co-op (Austin) | Roze Sap (Sour Guava Ale)
Blue Owl Brewing (Austin) | Cool & the Gang (Sour English Mild w/ Earl Grey Tea)
Blue Owl Brewing (Austin) | Citra Fresh Hopped Little Boss (Sour session wheat w/ fresh hops)
Blue Owl Brewing (Austin) | SMash SMaSH (Single-Malt-and-Single-Hop Sour IPA)
Blue Owl Brewing (Austin) | Tiki Hop Totem (Sour IPA w/ tropical tiki fruit)
Bluebonnet Beer Company (Round Rock) | Trophy Buckle IPA (American IPA)
Bluebonnet Beer Company (Round Rock) | Oktoberfest (Oktoberfest / Marzen)
Braman Brewery (Richmond) | Running Walker Hefeweizen
Braman Brewery (Richmond) | Running Walker Pale Ale
Brazos Valley Brewing (Brenham) | Greetings from Brenham TX (Brut IPA)
Brazos Valley Brewing (Brenham) | Willin' Pale (Mosaic-Hopped Pale Ale)
The Brewer's Table (Austin) | UnBavarian Super Fancy (Field Lager)
The Brewer's Table (Austin) | Vor Ort (American Lager)
The Brewtorium (Austin) | Electric Lederhosen (Vienna Lager)
The Brewtorium (Austin) | SHAzacca (IPA)
Brigadoon Brewery & Brew School (Plantersville) | Green Ogre IPA (Imperial IPA)
Brigadoon Brewery & Brew School (Plantersville) | Scottish (Scottish 60 Shilling)
Buffalo Bayou Brewing (Houston) | Crush City IPA (Mandarina & Mosaic IPA)
Buffalo Bayou Brewing (Houston) | Wake 'n Bake (Blonde Ale w/ Amaya Espresso & Madagascar Vanilla)
Caracara Brewing (Lockhart) | Lockhart Blonde (Blonde)
Caracara Brewing (Lockhart) | Plum Creek Porter (Robust Porter)
Celis Brewery (Austin) | Celis IPA (American IPA)
Celis Brewery (Austin) | Celis Juicy IPA (Hazy IPA)
Celis Brewery (Austin) | Celis Pale Bock (Amber Lager)
Celis Brewery (Austin) | Celis White (Belgian Witbier)
Circle Brewing (Austin) | Beto Beer (American Pale Ale)
Circle Brewing (Austin) | Blur Texas Hefe (South German Hefeweizen)
Community Beer Company (Dallas) | Mosaic IPA (India Pale Ale)
Community Beer Company (Dallas) | Silly Gose (Fruited Gose)
Community Beer Company (Dallas) | Texas Lager (Light Lager)
Community Beer Company (Dallas) | Witbier (Belgian White Ale)
Deep Ellum Brewing (Dallas) | Dallas Blonde (Blonde Ale)
Deep Ellum Brewing (Dallas) | Easy Peasy IPA (Session IPA)
Deep Ellum Brewing (Dallas) | Neato Bandito (Mexican-style Lager)
Deep Ellum Brewing (Dallas) | Play Date (American Sour Blonde Ale)
Eureka Heights Brew Co. (Houston) | Buckle Bunny (Cream Ale)
Eureka Heights Brew Co. (Houston) | Mini Boss (IPA)
Family Business Beer Company (Dripping Springs) | Spree (Berliner Weisse)
Family Business Beer Company (Dripping Springs) | The Ocelot (Un-hazy IPA)
Flix Brewhouse (Round Rock) | Das Umlaut Oktoberfest (Marzen)
Flix Brewhouse (Round Rock | Nebulas Hazy IPA (New England IPA)
Flying Man Brewing (Pflugerville) | Auto Rotator Series IPA
Flying Man Brewing (Pflugerville) | Waterbomber Watermelon Wheat
Fredonia Brewery (Nacogdoches) | Invictus (New England IPA)
Fredonia Brewery (Nacogdoches) | Marzën
Freetail Brewing (San Antonio) | Bat Outta Helles (Munich Helles Lager)
Freetail Brewing (San Antonio) | Tadarida Oscura (Cascadian Dark IPA)
Freetail Brewing (San Antonio) | Old Bat Rastard (Winter Warmer)
Freetail Brewing (San Antonio) | Peach Bexarliner (Fruited Berliner)
Friends and Allies Brewing (Austin) | Bearliner (Blackberry Berliner Weisse)
Friends and Allies Brewing (Austin) | Hike & Bike (Pale Lager)
Frontyard Brewing (Austin) | Coffee Milk Stout
Frontyard Brewing (Austin) | Rye IPA
Great Heights Brewing (Houston) | Fruity Pellets (New England IPA)
Great Heights Brewing (Houston) | Lager-ish (Kolsch)
Hi Sign Brewing (Austin) | Hi-C (American IPA)
Hi Sign Brewing (Austin) | Shamus The Fiddler (Irish Red)
Hi Sign Brewing (Austin) | The Astronaut (Double IPA)
Hi Sign Brewing (Austin) | Violet (Blueberry Blonde)
Holler Brewing (Houston) | Apriquat Sour (Kettle Sour w/ Fruit)
Holler Brewing (Houston) | Holler Dollar Pils Y'all (German Pilsner)
Hopfusion Ale Works (Fort Worth) | Feisty Blonde (Honey Vanilla Blonde)
Hopfusion Ale Works (Fort Worth) | Tejano Lager (Mexican Lager)
Hops & Grain Brewing (Austin) | A Pale Mosaic (Double Dry-hopped IPA)
Hops & Grain Brewing (Austin) | O-Fest Lager (Festbier)
Hops & Grain Brewing (Austin) | Pellets & Powder IPA
Hops & Grain Brewing (Austin) | River Beer (Premium American Lager)
Jester King Brewery (Austin) | Das Wunderkind! (Hoppy Farmhouse Blended-Saison)
Jester King Brewery (Austin) | Detritivore (Farmhouse Saison with Spent Cherries)
Künstler Brewing (San Antonio) | Cashmere (Hefeweizen)
Künstler Brewing (San Antonio) | Hawaiian Fog (American IPA)
Lakewood Brewing (Garland) | Lakewood IPA (American IPA)
Lakewood Brewing (Garland) | Temptress (Imperial Milk Stout)
Last Stand Brewing (Austin) | Fuzzieluscious (New England IPA)
Last Stand Brewing (Austin) | Pre-Prohibition Lager
Lazarus Brewing (Austin) | 40 Days and 40 Nights (IPA)
Lazarus Brewing (Austin) | Prodigal Pils (Pilsner)
Legal Draft Beer Co (Arlington) | Hung Jury (Hefewiezen)
Legal Draft Beer Co (Arlington) | Lawktoberfest (Festbier)
Live Oak Brewing (Austin) | Lichtenhainer
Live Oak Brewing (Austin) | Oaktoberfest (Festbier)
Lone Pint Brewery (Magnolia) | The Jabberwocky (Imperial India Pale Ale)
Lone Pint Brewery (Magnolia) | Tornado Shark (American Strong Ale)
Martin House Brewing (Fort Worth) | The Salty Lady (Gose)
Martin House Brewing (Fort Worth) | True Love (Raspberry Sour Ale)
No Label Brewing (Katy) | 1980 Kolsch
No Label Brewing (Katy) | Sittin' Sidehaze (New England IPA)
North by Northwest (Austin) | Bohemian Pils (Czech-style Pilsner)
North by Northwest (Austin) | Brutylicious (Brut IPA)
North by Northwest (Austin) | Mango Zombie (Fruited IPA)
North by Northwest (Austin) | Zombie Dragon (IPA)
Oak Highlands Brewery (Dallas) | Freaky Deaky (Belgian Tripel)
Oak Highlands Brewery (Dallas) | Oktoberfest (Marzen)
Oasis Texas Brewing (Austin) | Luchesa Lager (Unfiltered Pils)
Oasis Texas Brewing (Austin) | Protomodern IPA
Orf Brewing (Austin) | Oocheenama (Asian white ale)
Orf Brewing (Austin) | Salutation (Golden ale)
Oskar Blues Brewery (Austin) | Barrel Aged Barleywine
Oskar Blues Brewery (Austin) | Barrel Aged Ten Fidy (Imperial Stout)
Oskar Blues Brewery (Austin) | Dale's Pale Ale
Oskar Blues Brewery (Austin) | Mama's Lil Yella Pils (Pilsner)
Peticolas Brewing (Dallas) | Golden Opportunity (Kolsch)
Peticolas Brewing (Dallas) | Sit Down or I'll Sit You Down (Imperial IPA)
Pinthouse Pizza (Austin) | Hazed & Confused (Unfiltered IPA)
Pinthouse Pizza (Austin) | Nomura (Hazy Double IPA)
Rabbit Hole Brewing (Justin) | Shield Biter (Strong Scotch Ale)
Rabbit Hole Brewing (Justin) | Yankee Jester (New England IPA)
Rahr & Sons Brewing (Fort Worth) | Dadgum IPA (American IPA)
Rahr & Sons Brewing (Fort Worth) | Paleta De Mango (Fruit Beer)
Real Ale Brewing (Blanco) | Axis IPA (American IPA)
Real Ale Brewing (Blanco) | Cranberry Gose (German-style Gose with Cranberry)
Real Ale Brewing (Blanco) | Oktoberfest (Marzen)
Real Ale Brewing (Blanco) | Swifty APA (American Pale Ale)
Red Horn Coffee House & Brewing (Cedar Park) | Hoop Dreams (Helles Lager)
Red Horn Coffee House & Brewing (Cedar Park) | More Better Tropical Milkshake Double IPA
Rentsch Brewery (Georgetown) | Bourbon Barrel Stout
Rentsch Brewery (Georgetown) | Double Dry Hop IPA
Saint Arnold Brewing (Houston) | Art Car IPA (American IPA)
Saint Arnold Brewing (Houston) | Orange Show (Blood Orange Blonde Ale)
Saint Arnold Brewing (Houston) | Pumpkinator 2013 (Pumpkin Imperial Stout)
Saint Arnold Brewing (Houston) | Raspberry AF (Raspberry Berliner Weiss)
San Gabriel River Brewery (Liberty Hill) | Irish Coffee Porter (Robust Porter)
San Gabriel River Brewery (Liberty Hill) | Texas Red (Irish Red)
Save the World Brewing (Marble Falls) | Flamma Granatum (Blonde ale aged on pomegranates)
Save the World Brewing (Marble Falls) | Sol Vinum (Golden strong ale aged on Syrah grapes)
Southern Heights Brewing (Austin) | Tahitian Dreamin (American IPA)
Southern Heights Brewing (Austin) | Where's My Flannel (English Mild Pub Ale)
Southern Star Brewing (Conroe) | Hecho en Conroe (Mexican Lager)
Southern Star Brewing (Conroe) | Oktoberfest (Marzen)
Spoetzl Brewery (Shiner) | Shiner Day Quencher (Session Ale)
Spoetzl Brewery (Shiner) | Shiner Wicked Juicy IPA
St Elmo Brewing (Austin) | Roxanne (Guava Sour)
St Elmo Brewing (Austin) | Vaughn (German Pilsner)
Suds Monkey Brewing (Dripping Springs) | Funky Monkey IPA
Suds Monkey Brewing (Dripping Springs) | Punk Monkey Porter
Texas Beer Company (Taylor) | Hoppy Duck (IPA)
Texas Beer Company (Taylor) | Pecos Amber Lager
Thirsty Planet Brewing (Austin) | Pail Head Pale Ale
Thirsty Planet Brewing (Austin) | Wizard Kitty (Passion Fruit Kettle Sour)
TUPPS Brewery (McKinney) | DDHIPA – Double Dry Hopped IPA (New England IPA)
TUPPS Brewery (McKinney) | Full Grown Jack (Pumpkin Spiced Imperial Stout)
Uncle Billy's Brewery (Austin) | Green Room (IPA)
Uncle Billy's Brewery (Austin) | Knuckleballer Kolsch
Vista Brewing (Driftwood) | Le Saison (Traditional Saison)
Vista Brewing (Driftwood) | Dark Skies (Schwarzbier)
Whitestone Brewery (Cedar Park) | Keyboard Gangsta (Hazy IPA)
Whitestone Brewery (Cedar Park) | Oktoberfest (Marzen)
Wild Acre Brewing (Fort Worth) | Wild Acre Super Hawk (Double IPA)
Wild Acre Brewing (Fort Worth) | Wild Acre Texas Blonde (Blonde Ale)
Woodcreek Brewing (Rockwall) | Highway 66 IPA (American India Pale Ale)
Woodcreek Brewing (Rockwall) | Lakeside Cerveza (Mexican-Style Ale)
Zilker Brewing (Austin) | Chaos Magic (Kettle Sour)
Zilker Brewing (Austin) | Heavenly Daze IPA (American IPA)
---