No Comments
Firestone Walker Brewing Company | 805 Cerveza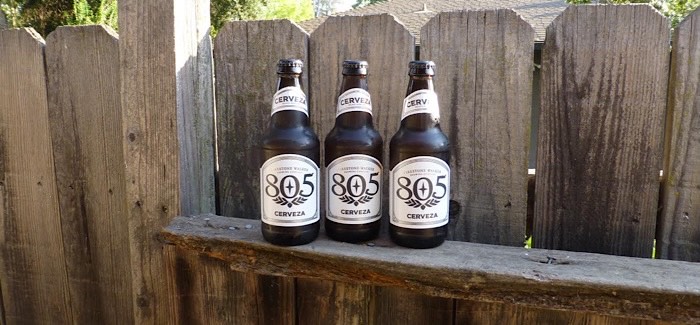 Firestone Walker Brewing Company has never been shy about embracing a classic style and putting their take on it. It's no different with their 805 Cerveza.
When Pivo Pils was introduced Firestone Walker made it acceptable to branch out from the "go-to" IPA and order a Pils. They did that again with the introduction of their Lager. Both are classic styles that needed that craft boost. Today Lagers and Pils are common sights. We have breweries like Firestone Walker to thank, and for helping to lead that charge.
Firestone Walker began to roll out the 805 Cerveza to a few limited California markets. While 805 is certainly a Firestone Walker product, the branding keeps some consumers guessing. 805 Cerveza is bound to blur these lines even more. The packaging is almost the same as the original 805. Now with Cerveza, the name 805 is moving farther from just a beer, and now is becoming its own brand.
What is 805 Cerveza? Is it just 805 with a new name? First off, this is a Mexican style Lager. It should be judged accordingly. Secondly, set the scene. You are at your favorite Mexican restaurant and you order your go-to Mexican Lager. Most likely it's going to show up in a bottle, with a lime jammed down the neck. Cue Firestone Walker 805 Cerveza.
Forget about the lime, this beer is infused with just enough lime. Almost like you pulled the lime from the bottle's neck and as you drink the beer you are just picking up the residual nuances of the fruit. This beer comes in at 4.5% ABV which makes it perfect for just about all occasions. It has all the traditional flavors of a macro Mexican lager but tastes cleaner, lighter, and more refreshing.
https://www.instagram.com/p/CDsEWr1JAAK/?utm_source=ig_web_copy_link
Firestone Walker created a whole new market when they introduced the original 805. Now with 805 Cerveza, they are looking to capture even a broader audience. For those who enjoy the macro Mexican Lagers at the backyard BBQ or when just hanging with friends. This beer is going to be a great alternative.
---