No Comments
Rockyard Brewing | The Gondolier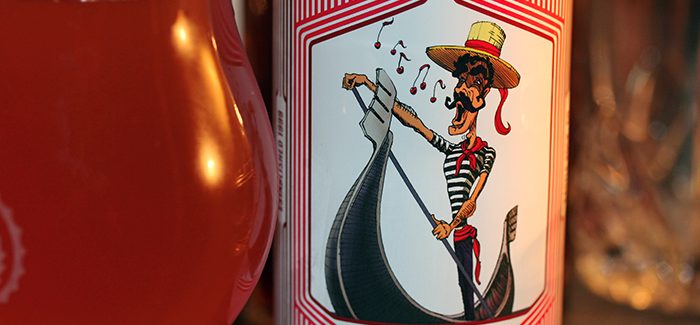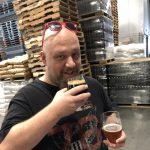 As a kid, I loved Halloween and all the teeth-rotting candy that came along with it. Warheads and Sour Patch Kids were my favorites. In the same time period, my parents (in an attempt to prove to me that beer was gross) let me take a sip of a certain domestic lager. It worked, for a while, because I still remember that sip of beer and it was disgusting. But palates change, and now of course I know how delicious craft beer can be. My love of mouth-puckering sour treats, however, was left behind long ago with my last pair of Bugle Boy jeans.

Some people say sour beers are an acquired taste; others love them from the first drop. As a purveyor of craft beer nerdery, I have taken it upon myself to really try and develop a taste for all kinds of brews, and I think I've done a pretty good job. But when it comes to sours, my tongue typically (and often violently) rejects them. There are some sours I've enjoyed to be sure, but nothing has ever had me going back for seconds. So when Greg Fetzer, head brewer at Rockyard Brewing Company, called his most recent creation "a starter sour," I took it as a good opportunity to revisit the style.
During Halloween we talk about ghosts and zombies and all things spooky. So it seems fitting that Rockyard recently released The Gondolier — a cherry kriek sour that was brewed from the zombie remnants of their GABF gold medal-winning Plum Creek Sour.
Fetzer was really excited to unleash this brew into the beer-drinking world when we talked to him in June, and after a year-plus of aging in the same barrels as Plum Creek Sour, it's on shelves around Colorado as a limited release.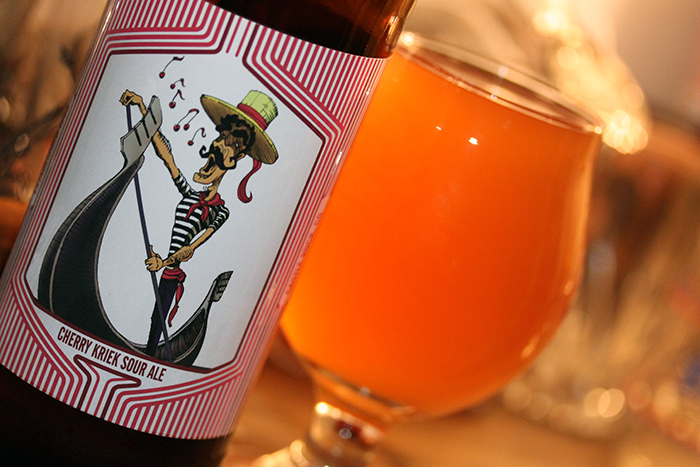 "The base beer of the tart cherry sour is a simple golden sour base consisting mostly of pilsner malt, raw wheat and flaked oats. We do a primary fermentation on this beer with saison yeast. After primary fermentation is complete, we take our un-fruited inoculate and blow that mixed culture into the take with the golden sour base. After we see a decent drop in the pH of the base beer we then move the beer into rinsed red wine barrels (the same barrels that their award-winning Plum Creek Sour was aged in). While in oak, this golden base has also been aging on tart cherries at a rate of one pound of cherries per gallon of beer. This beer has a nice tartness and is visually stunning," said Fetzer in June.
Now that the beer's been released, Fetzer is pleased with the results, and thinks it will appeal to both experienced sour lovers and those who are just dipping their toes in the sour end of the pool for the first time. "Our favorite attribute of the Gondolier is that even after 14 months aging on souring bacteria, it's not a pucker bomb. We'd go so far as to say it's a starter sour. This beer is all about subtlety — subtle tartness, subtle fruit flavor, subtle pink hue. At the end of the day it still tastes like a clean-finishing, refreshing beer."
So let's find out if what they say is true:
The beer pours a beautiful, opaque pinkish rose color. Then, skepticism sets in — the scent of the beer after pouring it into a glass already has my mouth watering, triggering memories of stuffing a full pack of Sour Patch Kids between my cheeks after trick-or-treating. When I take the first drink, that familiar tartness is present, but it's not nearly as pronounced as I was imagining. The sour is balanced really nicely with a dry sweetness.
If my personal experience is any indication, people who don't like sours have to make their tongues work very hard in order to taste anything but "sour" in a sour beer. But after a few sips I am able to discern much more than just "sweet" or "tart." The cherries emerge and become increasingly pronounced with each taste, and the finish leaves a surprisingly sweet coating on the lips and roof of the mouth. At just 5.8% ABV, it's easy (and ultimately a pleasure) to finish off the 11 ounces of the 22-ounce bomber I was sharing.
I'm familiar with Rockyard's new branding, and the artwork is excellent on all of their new releases. But now a beer deep, I start to wonder why "Gondolier"?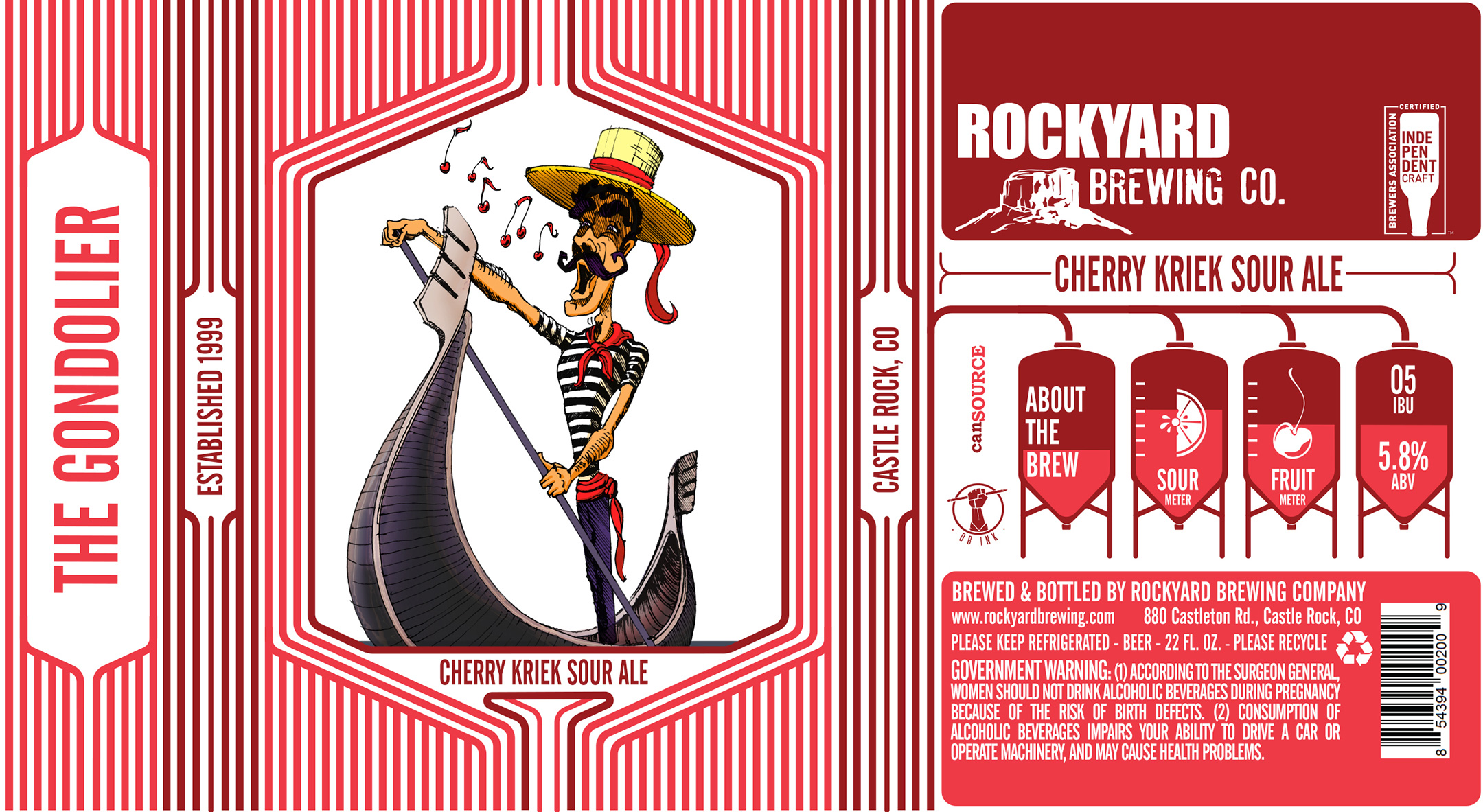 The Gondolier label was designed by Denver artist Drew Button. "It portrays a Venetian gondolier singing music notes resembling cherries. The character was created in reference to a time when Cherry Creek ran through Denver with the infrastructure designed to be navigable by gondola," said Button.
So maybe I'm not ready to jump on the sour gondola and start singing just yet, but it's safe to say that I have a new appreciation for the kind of balance a sour beer can have. If you're a fan of sours, cherries, or are looking for a gateway beer into the world of tart tinctures, this brew should definitely be on your fall to-drink list.
The Gondolier is available for a limited time in 22-ounce bombers while supplies last.
---