No Comments
Summer Brew & Starting Anew | Rockyard Brewing's Dramatic Makeover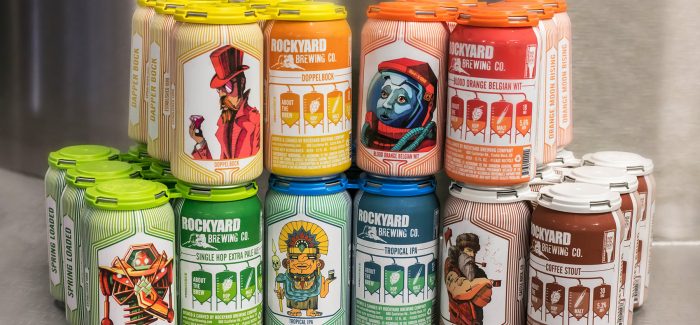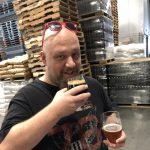 I've always been a bit cynical. I'm not a rare breed in that sense; the beer world has many stubborn, cranky cynics. We're the ones shouting at you to get off our lawns with your sour, hazy, glittery slush stouts as we rock cantankerously back and forth on the porch with our pint glasses full of clear, reliable IPA. But even the most hardened beer traditionalist among us can look forward to summer. In summer, we can rise from the ashes of our self-loathing like a magnificent, tipsy phoenix. Even if for just a season, we can crack a smile and enjoy the sun on our face while the bubbles of an unfamiliar brew caress our puckered lips.
In that spirit, Colorado's Rockyard Brewing Company is showing us how it's done. Shedding its skin and undergoing a major renewal of its own, the brewery has done away with ALL of its award-winning original lineup.
When Rockyard – the longest-standing brewery in Douglas County, Colorado – decided to completely eliminate its lineup of traditional beers, there were many rabbles a-roused by the cranky beer traditionalists in the area. Rockyard received complaint after complaint, letter after letter, petition after harshly worded petition, to bring back the original lineup.
And yet, proving me wrong in an attempt to discredit me completely (as the world is wont to do), Brewery Operations Manager Zac Rissmiller insists that people are LOVING Rockyard's new approach.
"Overall the market has responded very positively. We have sold more beer in the first quarter this year than we sold all of last year. Last year we averaged 450 cases sold a month; we're averaging over 2250 cases a month this year, so far. Were people upset about losing some favorites? Yes. Were there more than a handful of complaints? No. There were probably about five total complaints across the board."
I guess you can use statistics, facts and reliable sources to prove anything these days. Seriously, I do have to give the team at Rockyard credit – when they decided to make the change, they really went all-in. Moving from bottles to cans seems like enough of a logistical challenge, but on top of that they added new can art, a new website and all new brews. This sounds more like the frenzied late-night ramblings of a madman than a calculated marketing strategy.
"[The change] was really born out of the market refusing to buy what we were selling. After brewing the same beers for many years, we knew that it was time to create some brand new, fresh recipes with current ingredients that would compete in today's market. With an awesome new head brewer and brew team, we knew we could pull off an entire new lineup and put them into our creative new cans," said Rissmiller.
Rockyard's Head Brewer, Greg Fetzer, cut his teeth at Rogue Ales in Oregon. Now, under his careful guidance, the Castle Rock brewery has taken home some major awards over the past two years, starting in 2016 with a GABF Gold for their Plum Creek Sour. Their most recent win came at this year's World Beer Cup, where they landed a gold medal for their Primadonna Pilsner.
Still, it may seem a bit timid to redo your company's entire image, and then continue to focus your brewing efforts on a traditional style like pilsner. But as I started to peel back the layers of Rockyard's traditional facade, I discovered a very feisty, experimental beast — one that has already started to rear its tangy head in the form of new summer brews. The lineup includes Buoyant, a boysenberry blonde ale, Slightly Sessionable, a session IPA, and the beer Fetzer is most excited about: a not-yet-released tart cherry sour.
"The base beer of the tart cherry sour is a simple golden sour base consisting mostly of pilsner malt, raw wheat and flaked oats. We do a primary fermentation on this beer with saison yeast. After primary fermentation is complete, we take our un-fruited inoculate and blow that mixed culture into the take with the golden sour base. After we see a decent drop in the pH of the base beer we then move the beer into rinsed red wine barrels (the same barrels that their award-winning Plum Creek Sour was aged in). While in oak, this golden base has also been aging on tart cherries at a rate of one pound of cherries per gallon of beer. After almost a year this beer has a nice tartness and is visually stunning as it pours a bright red color. In the next month or two we plan on pulling this beer out of oak and bottling this bad boy up!" exclaimed Fetzer.
Can any amount of beer nerdery sell me on sours? No. I'm sour enough. But award-winning brews and savvy brewers don't need my support. Still, it's summertime now and I promised myself that I would be a bit more open-minded this season about the beers I try. After all, experimentation is a huge part of what craft beer is all about. It's a big reason why deep-down — in the pool of decaying tortilla chips where my soul once was — I love craft beer in all its crazy forms.
So, what about this new summer lineup? I would say the "proof is in the pudding," but I've never liked that saying. Pudding is gross, and I don't like to get my fingers sticky. But the proof that Rockyard's beer is better than ever IS in a can of their newest brew: Slightly Sessionable (which I have tried for myself and can confirm that it fits the profile of an excellent summer beer).
This hopped-up IPA is inspired by the beer and music styles of the West Coast, featuring the artwork for Slightly Stoopid's School's Out for Summer Tour 2018. This bright, crisp beer is light, summery and crazy drinkable at just 5.1%. Beer and music coming together – this is the essence of happiness.
"Being able to brew a beer, with co-workers who have become some of my best friends, for one of my favorite bands, is super fulfilling; we just hope people enjoy it as much as we do!" says Rockyard Brewer Derick Rivera.
The partnership between Rockyard and Slightly Stoopid was born at Red Rocks Amphitheater – where so many magical things happen on any given summer night in Colorado. For many, Red Rocks is where the harshness of adulthood is briefly transformed into giddy, childlike joy. There really is nothing like sipping on a craft brew as the sun sets at Red Rocks; two monolithic sandstones book-ending 10,000 music lovers from all over the world.
"We all appreciate what other artists do. It is a really fun connection. And, when you reach out as a brewer to a musician/band, they are usually totally stoked to be appreciated, and/or involved," said Rockyard's Pub Brewer John Schneider.
The success of Rockyard's new direction is a reflection of the ever-changing tastes in a wild Colorado beer market. In the spirit of summertime adventure, I plan to try as many new styles of beer as I can, and it feels great to know that breweries like Rockyard will continue to have my back whether I feel like a regular ol' IPA or something completely new. I hope you all have some amazing concerts lined up where you can enjoy a carefully crafted brew from your neck of the woods. Here's to music, beer, summertime and knowing that it's never too late to start over from scratch.
---