No Comments
Dovetail Brewery | Pilsner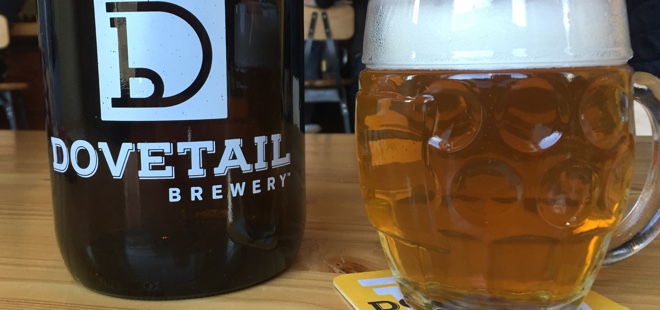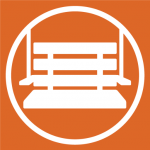 ABV: 4.4 | IBU: 39
Brewed in the traditional process, Dovetail's Brewery's Pilsner is a trip to Europe in a Czech stein. The outside of the glass has circular divots patterned all around, amplifying the beautiful caramel color. This Pilsner receives its color from a triple decoction mash — the repeated boiling of a portion of mash, then returning it to the main mash. The head on the beer is thick and foamy, remaining stuck to the sides of the glass as you take your sips.
It is a very aromatic beer of bright daisies or sunflowers that are drenched in a cold glass of a lemony grapefruit juice. The credit goes to the Czech Saaz hops that make up traditional pilsners, while floral and citrus notes become stronger as you drink your way through the mug. The hoppy taste is bitter, like the rind from a grapefruit with some spiciness. It's not temperature spice, but a biting pepper. That bitter bite will slow many patrons down from chugging, if it weren't for the 100% Pilsner malt and the "heaven's water" (a version of the the soft water from Plzen, Czech Republic) that provide balance.
The carbonation is very robust, like newly opened champagne. The fizziness will fill your mouth while giving way to the light, but not watery taste. That is what makes the Dovetail Pilsner perfect for the coming spring and summer weather activities. I could drink this beer in high heat and feel hydrated while walking through a Chicago street fest near Lincoln Square or for hours while my fiancé barbecues.
European style beers are my favorite to imbibe because they are easy to drink, less filling and traditional. Naturally, I knew I would like Dovetail's Pilsner because of its simplicity and direct flavor. It is common for Dovetail not to give their beer a witty or cool name so that the patrons can enjoy the beer for its quality, instead of a fancy title.
https://www.instagram.com/p/BSMnQtyh8gy/?taken-by=dovetailbrewery
While, I have yet to visit Europe, I imagine there are similar drinking experiences to the beers offered at Dovetail. The brewery focuses on classic European style beers with noble hops sourced from European growing regions. They produce their beers by traditional European techniques with American ingenuity on American and German made equipment. Some parts of their equipment, like their Coolship and Malt handling system, are custom made. Things like their copper kettle is straight out of a 1,000 year old Weihenstephan pilot brewery in Germany.
Dovetail is a Euro-American love fest that is quintessentially Chicago. Beer lovers get to try locally brewed European style beer near a historically German neighborhood with noisy transportation ways. Patrons snack on soft pretzels or Landjäger links while Tweeting about the Wrigleyville renovations. It is a homogeneous mix of the old country and the new world.
---