No Comments
Pour List | 2018 Denver Festivus Brings Out the Best Holiday Beers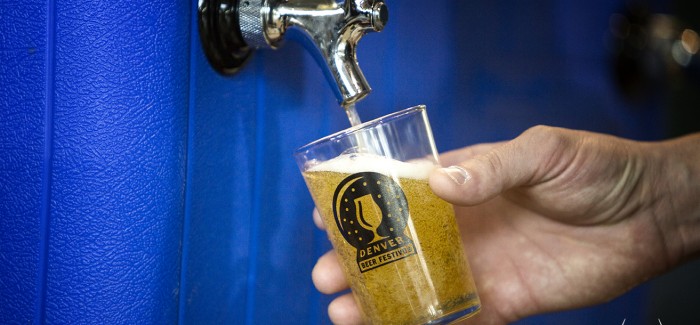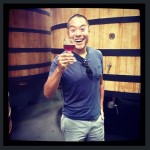 In a holiday season littered with White Elephants, tinsel and ugly sweaters, I think it's safe to say what we really care about is cutting straight to the booze and debauchery. Denver Beer Festivus, which returns Saturday afternoon from 3-6pm with a VIP hour at 2pm, cuts to the chase with 60 Denver-based breweries in attendance. This year's event taking place at the former Sports Authority Sports Castle at 1000 Broadway, will also feature a silent disco floor from SoundDown, part luchador-style wrestling and comedy from Lucha Libre and Laughs, a holiday market, food vendors, and plenty more surprises.
General Admission tickets and Feats of Strength VIP tickets are currently still available. This VIP treatment gets you early admission to the fest, a free food ticket, and a commemorative glass. The folks at Two Parts who put on Denver Beer Festivus were kind enough to provide us with a pair of Feats of Strength tickets to give away.
For your chance to win just email "A Festivus for the Rest of Us" along with your First and Last Name to 

[email protected]
By email you will also subscribe to PorchDrinking's monthly newsletter that will also include some sort of boozy themed giveaway each month!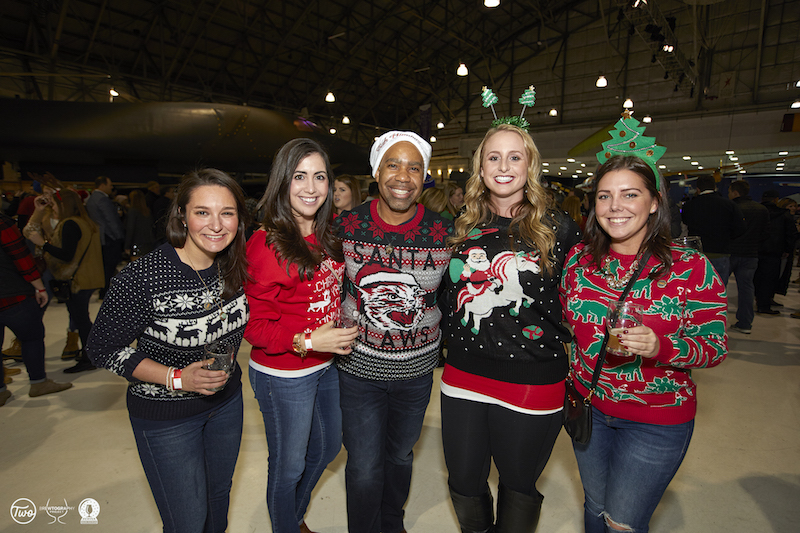 In preparation for Saturday's Festivus we've gotten a sneak peek of what several of the breweries will be pouring at the fest, and there are certainly some doozys. Here's the partial pour list for the 2018 Denver Beer Festivus:
| Brewery | Beer 1 | Beer 2 | Beer 3 | Beer 4 | Beer 5 | Beer 6 |
| --- | --- | --- | --- | --- | --- | --- |
| 10 Barrel Brewing Co. | Stone Free IPA | Prinz Pils | | | | |
| 14er Brewing Company | Strawberry Rhubarb Pie Milkshake IPA | Dry Hopped Oak Aged Pale Ale with Brett | | | | |
| Alpine Dog | Mocha "Dyatlov Pass Incident" Russian Imperial Stout | 4th Anniversary Juicy IPA | | | | |
| Alternation Brewing Company | Lady of the Lake | Nut Shake | | | | |
| Baere Brewing Company | Palisade Peach Table Sour | Totes Cubed | Frambruin | Saison | Reciprocity Golden Rye No Oddjobs | |
| Banded Oak Brewing | Marzen | Ye Olde Ale | | | | |
| Black Project | | | | | | |
| Black Shirt Brewing Co. | Blood Orange Overdrive DIPA | Fourtrack Porter | | | | |
| Blue Moon - RiNo | Birthday Cake Barleywine | Muscat Barrel Aged Biere de Noel | | | | |
| Bruz Beers | | | | | | |
| Burns Family Artisan Ales | Thunder Kolsch | Bacchanal | Tourist Economy | Buche de Noel | | |
| C Squared Ciders | Dark Cider | Rosé | | | | |
| Call To Arms Brewing Company | Beer Drinks You | Really Really Ridiculously Good Tasting | | | | |
| Cerebral Brewing | Character Reference Pale Lagerbier | Thornless Sour w/ Blackberry Cinnamon & Vanilla | Burner Phone Double IPA | Boss Fight | | |
| Cerveceria Colorado | Churro Stout | Venga Mexican Lager | | | | |
| Chain Reaction Brewing Company | | | | | | |
| CO-Brew | Squarrel Aged Imperial Cinnamon Stout | Brut Rose IPA | New England IPA | | | |
| Colorado Cider Company | Freshop-ah | Spruced Glider | | | | |
| Copper Kettle Brewing Company | Mexican Chocolate Stout | Well Bred Bourbon Barrel Barelywine | Snowed In - Mocha | | | |
| Crazy Mountain Brewery | Shane McConkey IPA | Gin & Juice Pale Ale | | | | |
| Crooked Stave Artisan Beer Project | Coffee Baltic Porter | Sour Rosé | | | | |
| Declaration Brewing | | | | | | |
| Denver Beer Co. | Big Juicy Freak Double IPA | Graham Cracker Porter | | | | |
| Dos Luces Brewery | Passion Fruit Orange Zest Chicha | Strawberry Nutmeg Pulque | | | | |
| Epic Brewing Co. | RiNo American Pale Ale | Tart N Juicy | | | | |
| Factotum Brewhouse | | | | | | |
| Fermaentra | | | | | | |
| Fiction Beer Company | Peanut Butter Pancakes Imperial Stout | Madame Psychosis New England Pale Ale | Chocolate Candy Cane Imperial Stout | | | |
| Goldspot | Dark Cranberry Saison | Kodiak American Brown | | | | |
| Grandma's House | | | | | | |
| Great Divide Brewing Co. | Wood Werks Barrel Series #2 | Wood Werks Barrel Series #3 | Hibernation Ale | Strawberry Rhubarb Sour | Chai Yeti Imperial Stout | |
| Jagged Mountain Craft Brewery | Hurricane Haze Southeast Coast IPA | This Beer Really Ties the Room Together | Rocky Mountain Chowda | Wolfpack | | |
| Liberati Osteria & Oenobeers | Dictum Factum: Stout with 25% Cab Sauv | Nomen Omen: Double IPA with 20% Marsanne and Pichia Kluyveri yeast | In Medio Stat Virtus: strong golden ale with 45% Chardonnay | Recioto Denveris: dessert oenobeer with 35% of Petit Verdot | Verba Volant: Belgian Double with 49% Malbec | Oximonstrum: port oenobeer with 35% of Nebbiolo and Barbera |
| Little Machine | That's My Yam Sweet Potato Stout | Yafi IPA | | | | |
| LowDown Brewery + Kitchen | | | | | | |
| Mockery Brewing | Chai Please | Hibiscus and Black Tea Pale Ale | Sweet Cherry Brown Ale | | | |
| New Belgium Brewing | Spruce Tip Porter | Dry Hopped Kettle Sour | | | | |
| Oasis Brewery | Snoasis | Zoser Oatmeal Stout | Beyond Pale Ale | | | |
| Odell Brewing Co. RiNo Brewhouse | Stratosphere IPA | Fierce 45 Super-Fruit Tart | | | | |
| Our Mutual Friend Brewing | Chéne Péche | Chéne Cerise | Weirding Way | Neon Nail | | |
| Platt Park Brewing Co. | | | | | | |
| Prost Brewing | Doppelbock | Dunkel | | | | |
| Ratio Beerworks | 2018 Genius Wizard Bourbon Barrel-Aged Stout | Holiday Spiced Hold Steady | Antidote IPA | | | |
| Renegade Brewing Company | Pancakes Maple Porter | Hammer Imperial Stout | | | | |
| River North Brewery | Colorado IPA | Mr. Sandman | | | | |
| Rock Bottom Brewery Downtown | Abe | Mary Ellen | Bottoms Up Kolsch | | | |
| Seedstock Brewery | Old Prague | Bohemian Dunkel | | | | |
| Spangalang Brewery | On Blitizen! Brut Holiday IPA | Vanguard 3000 | | | | |
| Station 26 Brewing Company | 303 Lager | Cranberry Sour | Brut IPA | | | |
| Stem Ciders | Chile Guava | Le Chéme | | | | |
| Strange Craft Beer Company & Wit's End Brewing | | | | | | |
| The Grateful Gnome | Imperial Gingerbread Stout | Mosaic Single Hop Rye IPA | | | | |
| The Intrepid Sojourner Beer Project | Pear Saison | Basil IPA | | | | |
| The Vine Street Pub & Brewery | Illusion Dweller IPA | Chocolate Thunder Imperial Chocolate Milk Stout | | | | |
| Thirsty Monk | Abby Blonde | Monk's Cottage Belgian Dark Strong | Screaming Monk IPA | | | |
| Tivoli Brewing Company | Tivoli Helles Lager | HI-EN-BRAU Dunkel | | | | |
| TRVE Brewing | Seven Doors | Ancient Bole | Burning Arrow | World's Blood | Invisible Thread | On the Mountain at Dawn |
| Woods Boss Brewing Company | Magical Narwhal Candy Cane Unicorn (Welcome beer) | Strangers Stopping Strangers | Fruity Flash | Over the River and Through the Woods | Don't Mess with the Trail God | |
| Wynkoop Brewing Company | Cucumber Gose | Artillery Imperial Brown Ale | S.M.a.S.H. #4 IPA | | | |
| Zuni Street Brewing Co. | Gingergrass Ale | Portly Porter | | | | |
---