No Comments
The Brewtography Project | Oskar Blues Brewery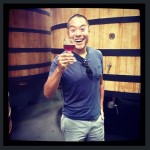 This week's installment of The Brewtography features Dustin Hall's original photos from a recent shoot at Oskar Blues Brewery. Dustin's Brewtography Project aims to capture the essence of the craft beer industry by visual storytelling, which is why we are so drawn to his work. Each week we'll take you through some of his pieces but for more of what Dustin is working on visit The Brewtography Project.
Oskar Blues Brewery in Lyons, CO became a household name with Dale's Pale Ale, but what most don't realize is that one of craft brewing's biggest proponents for quality canned beers, has been brewing tremendous beers like Chaka, Death by Coconut and The Deuce for on-premise sale only during the past few years.
OBB has been on a high upward trajectory for some time now, but at it's core it's still the same un-corporate raw brewery and Dustin perfectly captures that in this week's gallery.