No Comments
Reuben's Brews | American Brown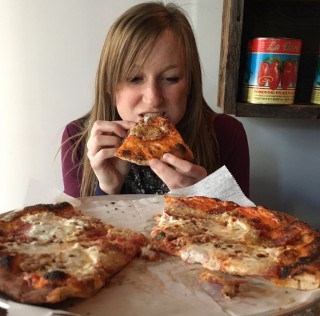 ABV: 5.9%
IBU: 36
Reuben's Brews was one of the first breweries I covered when I began writing about craft beer and has always been one of my favorite taprooms to visit, so I have happily monitored their rapid growth into a well-recognized force within the Seattle craft beer scene and beyond. Reuben's opened in August 2012 but, thanks to a delicious and award-winning rotating beer list, they reached brewing capacity within six months. This lead the team at Reuben's to begin looking for a location in which to expand their operations two years ago, and they opened the doors to their new, spacious brewery and taproom on May 9 of this year. I stopped by the brewery to pay homage to my roots as a craft beer writer – and to sample one of their rotating brews, the American Brown.
The American Brown was the perfect beer to drink as I soaked up the new location's tasteful, understated décor. Like the subtle R-shaped bar tables, the American Brown is a refined but unique take on a classic staple. The beer pours a deep brown with red undertones and a thin, tan head. The nose is graced by light, citrus hops and caramel notes and is followed by a crisp, medium body. Flavors of cocoa, caramel, and a sweet breadiness blend with mild, fruity hops to give the beer a polished and savory taste. Spicy chocolate flavors complement the dry and crisp finish.
Overall, the American Brown's unique and balanced flavor profile has solidified it as the most memorable brown ale I've ever tasted. It's this potent combination of exceptional beer and a comfortable, classic atmosphere that makes the Reuben's Brews taproom so compelling – and one of my new favorite watering holes.