No Comments
Elevation Beer Company | Elevation Pilsner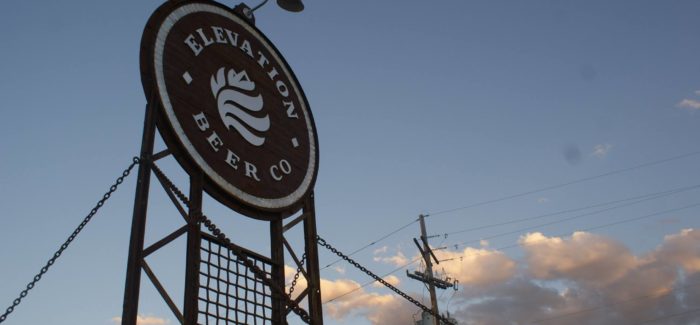 Created for celebration—that's the genesis of Elevation Pilsner. And it shows. It may not seem like the reason for creating a beer would make a difference in the taste, but somehow it does. It's a light gold, thirst-quenching beer with surprising bursts of fruity (is that honeysuckle?) and earthy flavors. With an IBU level of 40, it's more of a happy beer than a hoppy one. And that's alright with me.
Elevation Beer Company opened their doors in Poncha Springs ("Crossroads of the Rockies") in Chaffee County, Colorado in 2012. When it found itself doing very well indeed four years later, the brewers said, "Hey, let's celebrate!" For brewers, the height of celebration is getting really creative by unleashing their considerable chemist and artist skills.
In anticipation of their big patio party, they brainstormed on what made the perfect Pilsner. Like many of us, they liked a lot of different Pilsner styles, so they cleverly concocted a recipe combing all their favorite traditional Pilsner ingredients from around the world.  The beer is brewed using a combo of three hops—German Magnum, Czech Saaz, and German Sephir—as well as a trio of malts: Barke Pilsner, Vienna and Carafoam.
The elements from both Bohemian and German Pilsners make this an easy drinking, slightly floral, slightly bitter, dry finishing beer. Yum.
https://www.instagram.com/p/BYBgNkpFpIl/?taken-by=elevationbeerco
Party Pilsner

ABV: 5.0% | IBU: 40
Those who attended that epic anniversary party were the first to taste Elevation Pilsner. And the crowd went wild. After the event, it was served on draft in the tasting room until it ran out, which was quickly.
Elevation Pilsner was originally brewed as a limited-edition beer, a one-off from their usual rotation. Elevation is located very near Monarch Ski Resort so they categorize their beers like ski resorts rate their trails—Green, Blue, and Black. Greens and Blues are lighter and easy-drinking, while Black Diamond categories are more advanced due to barrel-aging and adjunct ingredients. The limited-editions, however, have total freedom to go off-trail. They break the rules. They're different. They're goooood.
So when the 5th Anniversary rolled around this year, they decided to bring back Elevation Pilsner and guarantee the celebration continues by canning it. I missed its original debut, so I am grateful to the many who cheerfully demanded its return.
Yes, We Can
The can's overall look is a bit of a departure from their usual mountain color scheme. It's got a patriotic theme, emblazoned with, "In Beer We Trust."
In addition to their motto of "Go higher, make positive impact," the can says, "It is fermented cold, in America, near mountains, using difficult procedures and you know it is ready to drink when it is in your hand." Well said, aluminum can. Couldn't have said it better myself.
Pair With This

They tell me Elevation Pilsner goes well with pretzels and mustard, cheeseburgers and peel-n-eat shrimp. Personally I believe it goes well with listening to live bluegrass music, rafting on the Arkansas River, and trying to remember all the words to "Rocky Mountain High" while sitting by the campfire.
Elevation Pilsner is now available in 6-packs and on draft statewide. The Elevation Beer Co. taproom is a true "brew with a view" destination at 115 Pahlone Pkwy, Poncha Springs, Colorado. Enjoy!
Feature Image courtesy of Elevation Beer Co.
---