One Comment
Event Recap | FIBArk Whitewater Festival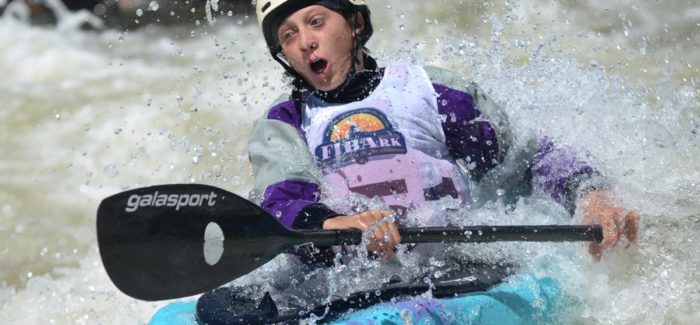 Feature image credit: FIBArk Facebook page.
Pretty much Anywhere USA can host a music fest. Even a beer fest can find home in plenty of locales. But for a funky festival like FIBArk, it takes a river. In this case, it's the Arkansas River rushing through Salida in Chaffee County, Colorado. Famous for whitewater rafting, this wild stretch of water is a natural playground for kayaks, canoes, stand up paddleboards, tubes and fly fishing. So FIBArk (First in Boating on the Arkansas) celebrates the transformation that happens when the snowmelt turns the river into a thrilling, rapid-filled adventureland.
FIBArk started in 1949 when some rafters challenged each other to a daring 26-mile downriver race from Salida to Cotopaxi. It has since evolved into the country's "oldest and boldest" whitewater festival featuring Olympic-caliber kayak competition surrounded by a street party, a runner's bucket list, a world class music fest (13 bands!) and local beer. The eclectically charming mountain town of Salida goes into full-on FIBArk-mode, an athletic, adventurous, free-spirited vibe. The minute you arrive, you surrender to all this. So easily. So happily.
Beer
It all officially begins when Eddyline Brewing CEO Brian England pours the first beer. Eddyline has been FIBArk's title sponsor for the past five years because they feel it's the best local outdoor event in Chaffee County and "really aligns well with our beer and what we stand for."
They're well aware the local community is the foundation for their success, so this is their chance to give back. Eddyline Brewing opened on the banks of the Buena Vista River Park (just north of Salida) in 2009. It started as a three-barrel brewery serving super tasty wood-fired pizzas and has since exploded in growth. It now has two locations in Chaffee County and another in New Zealand. The brewery is named for a river term; an eddy line is the line separating the fast-flowing current from the eddy where the water slows allowing kayakers to stop, rest, and crack open a beer, perhaps.
Outdoor adventures pair well with all of Eddyline's beers: The River Runners Pale Ale with whitewater rafting; the Raspberry Wheat to cool off; Kickin' Back Amber for feet-up-on-the-patio moments; Epic Day for all of it. At the fest, they also served Crank Yanker IPA, Jolly Roger Black Lager and Grapefruit Crank Yanker. They used to haul kegs to the fest, but now they've switched to exclusively using 16 oz. cans – 10 pallets worth. It makes service faster and is more environmentally friendly. No cups, no fuss.
"The best part is seeing people drink local craft beer, at a local event, in one of the most beautiful counties in America," said England. "After all of our hard work growing our brand and building our business it is a great feeling to see so many people celebrating alongside us."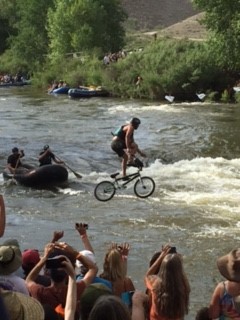 Hooligans
The crowd favorite is the Hooligan race, a make-your-own-raft competition. The only rule in a race with no rules is the entry has to be home-made and not a boat of any kind. So they're pieced together (often duct-taped) using barrels and kegs, Styrofoam blocks, balloons and pretty much anything that floats. This year's winner was a group from Monarch Ski Resort who created an ingenious floating slope groomer. Rowdy spectators camp out on the rocks rimming the river, sipping beer and cheering for both those that make it through the huge hooligan-eating rapid intact and those that break apart spectacularly. Other entries included a not too politically correct Donald Trump look-alike, another had a pseudo Kiss-type band and another had a massive shark with jaws open so wide it almost took a bite out of the F Street Bridge.
Between heats, SubCulture Cyclery in Salida talked some young daredevils on bicycles into rolling down the boat launch onto a steep bike ramp that shot them airborne into the river. They did double flips, twists and dangerously entertaining stunts before hitting the water and then trying to retrieve their bikes downstream.
Kayaks and SUPS
The serious kayak competitions are the heart and soul of this fest. Experts and pros come from around the world to compete in FIBArk's Numbers Boater Cross kayak race near BV. The other levels and styles of contests range from freestyle experts to juniors to slalom races. Kayakers as young as six to as old as you can still handle the oars compete. Paddlers are judged on their snappy, gnarly tricks (like the McNasty) and maneuvers completed in a play hole.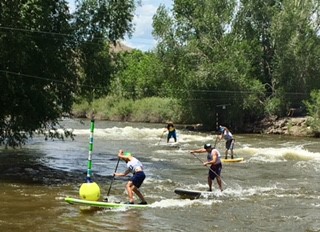 The SUP Cross competition challenged stand up paddlers to go around slalom gates, and often upriver. We also saw nine people on an "Extreme SUP," a board big enough for a whole baseball team to enjoy paddling together.  For the record, seven were tossed overboard in the first big rapid.
Music
Ranging from funk to soul to bluegrass to rock, the free live music at the Salida Rotary Amphitheater in Riverside Park played on continuously for three days. Bands like The Aquaducks from Nashville, The New Orleans Soul Suspects, the Soul Rebels with guest DJ Logic, Whitewater Ramble, Colorado Floyd (a Pink Floyd Tribute Band) all kept the crowds moving in that loosey-goosey style that festivals in general, and this one in particular, seem to inspire. Downtown local bars like Wood's High Mountain Distillery, Benson's Tavern & Beer Garden, Victoria Tavern, Boathouse Cantina, Moonlight Pizza and Vino Salida all offered awesome live music, too.  There was even a pop-up concert in a tiny alley space off First Street.
Rafts
The 26-mile downriver raft race is the genesis of this whole fest. It's a great launch but tough to watch as a spectator. But the raft rodeo, judged by the Ark Valley High Rollers (local roller derby team) is a great show. Local river guides are released from giving safety lectures to tourists and just get to have some freestyle fun. Points are given for style and creativity in both rafting prowess and costumes. Tutus? Yes. Bikinis made of flotation devices? Of course. Flower crowns – why not?
Parade
Shriners in crazy little cars, firemen throwing candy from their big red trucks, mini baton twirlers, clowns scaring babies, Hooligan floats, a local politician or two… Aw, I love a parade! The beer garden opened just in time and this year they added an early morning Zoom Flume Breakfast Booze Bar, too. Small-town Americana at its best.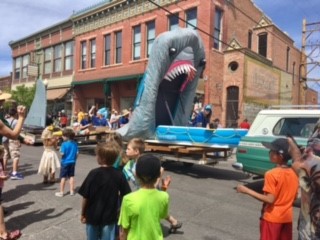 Land Races

The FIBArk Hill Climb is something to see. Yes, I prefer to watch because someone has to cheer them on. With no mapped out route, participants just scramble to the top of Tenderfoot 'S' Mountain (about 500 feet climb) and back down again anyway they can. Fast. A new record of 10 minutes and 10 seconds was set this year. More traditional road and trail races were held for runners, mountain bikers and bicyclists too.
If you missed FIBArk this year, that's a bummer. But put it on your list for Father's Day weekend next year for the 70th annual. In the meantime, head up to Buena Vista and check out Eddyline Brewing.  Cheers!
---