No Comments
Surly Brewing Announces 2019 Beer Release Calendar & Boxed Six-Packs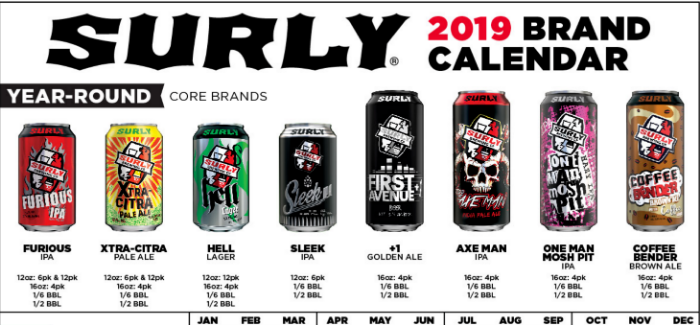 Surly Brewing has announced its plans for 2019, which include (among other items) the return of its Brooklyn Center Small Batch series and Seasonal Variety Packs.
The popular Minnesota brewery also announced several new items for 2019 such as boxed six-packs (12 oz. cans) and a new, year-round hazy IPA in 16 oz. cans.
One-Man Mosh Pit: The Hazy IPA in 16 oz. Cans
One-Man Mosh Pit joins the year-round lineup in February.
Surly notes: "We've been piloting variations on the style in the brewery since last summer, and OMMP was a smash right out of the gate, making it a no-brainer for us to bring it to the world-at-large. An absurd dose of Amarillo, Citra, and Mosaic dry-hopping hoists this juicy IPA well above the fray. Seize the haze."
Sleek IPA: 12 oz. Cans, New to the Year-Round Lineup
Sleek IPA, comprised of 100% Simcoe, first appeared as part of the Surly 2018 Hop Pack. The overwhelmingly positive response led Surly to make it part of the full-time lineup.
Surly notes: "Sleek is precision-engineered to deliver dynamic hop flavor, with extensive Simcoe dry-hopping, providing sublime grapefruit and melon notes with zero drag."
Surly Six-Packs: 12 oz. Cans
Including: Sleek IPA, Furious IPA, Xtra-Citra Pale Ale and seasonal beers (see calendar)
Surly comments (mildly edited): "We started making 12-packs not too long ago. It was weird at first, we'll admit. The 12-oz. cans were so tiny. And then the entire Surly-drinking world asked, "What took you so long?" and snapped them right up. It is with that spirit of fearless experimentation and finally putting our beer in boxes that we're rolling out Surly six-packs in 2019."
Additional Note: "Traditionalists–you can still get Furious and Xtra-Citra in tallboy 4-packs."
Limited Releases: It Starts with ROSÉ 
Surly included the small-batch ROSÉ as part of its summer releases last year. In 2019, Surly will make ROSÉ its "least-limited" Linted Release; it will be available from March through August, when Oktoberfest takes over. Four other releases arriving in the fall and winter include WET, Abrasive, Damien and Thirteen.
Variety Packs & Seasonal Beers: Brut IPA, Heat-Slayer Kölsch-Style and More
As the calendar shows, Surly will rollout a seasonal six-pack every quarter, and the brewery's variety 12-packs, which will include at least two beers exclusive to the pack, will return in 2019.
Surly notes: "The first one on deck is the Thaw Pack, which welcomes back our delicious 60 Below rye IPA, and introduces Layer Up, which stacks a classic Surly dry-hop bill atop a hazy, German-style ale."
Seasonal six-pack information: "DAF IPA rings in the new year along with the Thaw Pack. It's a Brut-style IPA that delivers dynamic, fruit-forward hop flavor with a spectacularly dry finish, which also gives you a hint as to what DAF stands for."
Brooklyn Center (BC) Small Batch Series: 12 Surprises
Named for the brewery's original Brooklyn Center location, the BC Small Batch Series returns in  2019, However, Surly is keeping the actual releases a surprise.
Surly explains, "We're keeping this one a little more under wraps to better allow for innovation/inspiration/collaboration…We can tell you that some of the names include Funeral Bar, Staycation and Sound Into Color." Surly added, "These will continue to be distributed over a smaller footprint and sold in four-packs of 16-oz. cans."
The Calendar
As always, brewing calendars are subject to change.
(Click calendar for bigger image, which will open in a new tab)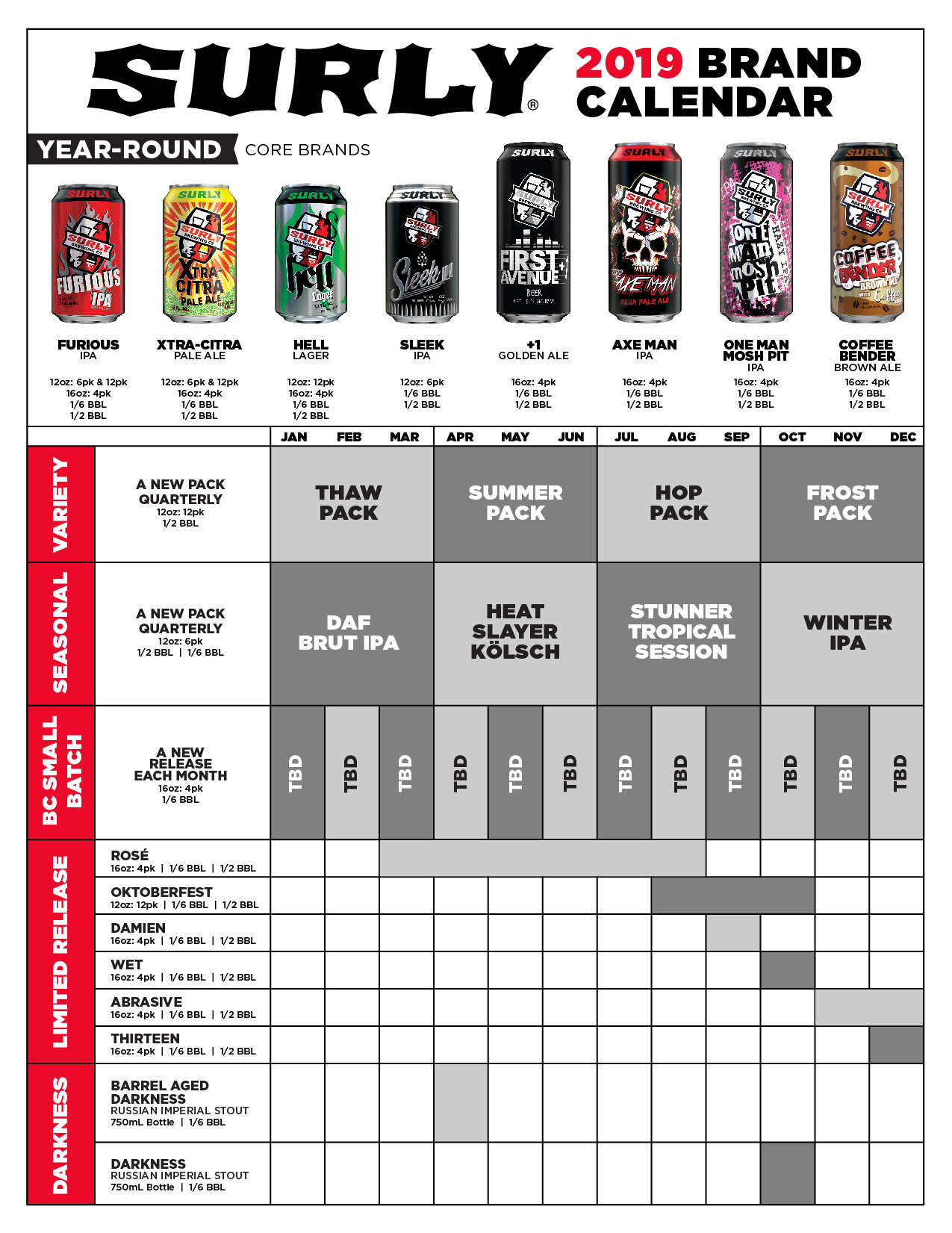 *Feature Image (and all other images) located at Surlybrewing.com. The vast majority of information provided here was included in a written announcement from Surly Brewing. 
---