4 Comments
Will Travel For Beer | One Man's Quest to Visit 100 Breweries Every Year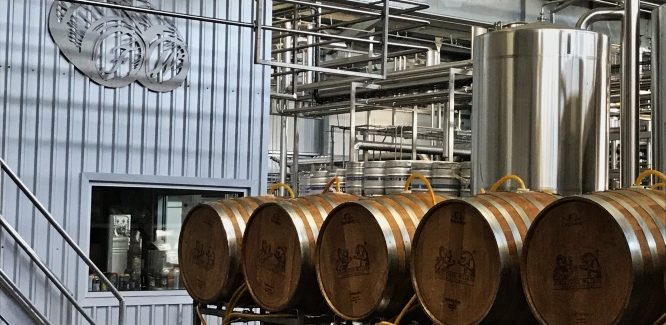 Do you plan your travel around beer? I do. In fact, I visited 100 breweries last year, and I plan on doing that every year.
In the past, when possible, I've always tried to include at least a few local brewery stops while on vacation. Four years ago I made a list of all the breweries I visited that year. Without knowing or even planning, I visited 99 different spots. The following years, I started to track more diligently, with the arbitrary goal of hitting 100 each year–that's a lot of local beer. To be a little more precise, that's 8.33 different spots each month, which may sound very do-able until you have a few hectic months and you hit zero new breweries.
While some brewery visits are merely for grabbing a beer, others are well-researched and planned
Local – About a year and a half ago, I relocated from SoCal (my entire life) to NorCal, Sacramento to be specific. I consider both areas to be home-ish, and there are a lot of local breweries to drink at.
Travel – Travel is just that. Not every vacation involves breweries, but when I have a chance to stop in one, who am I to say no. When planning a vacation that involves beer stops, I will spend some time researching breweries. Unfortunately, there are times when a brewery gets missed because their hours just doesn't work with the plans. Do your research.
Bucket List – Bucket list breweries are few and far between. Looking back at the past year, only a few breweries really fell into that category. After you've done a bunch of tours, there is not much new. Unless the brewery is offering something special, a bucket list stop is really just to try the beers at the source.
The Rules (Self-Imposed)
1. The location needs to be the brewery or official tasting room.
2. If a brewery has multiple brewing locations, I can only count it as two or more if I drink a beer brewed at each location.
3. Must drink beer (easy).
4. No duplicates in a single year (duh).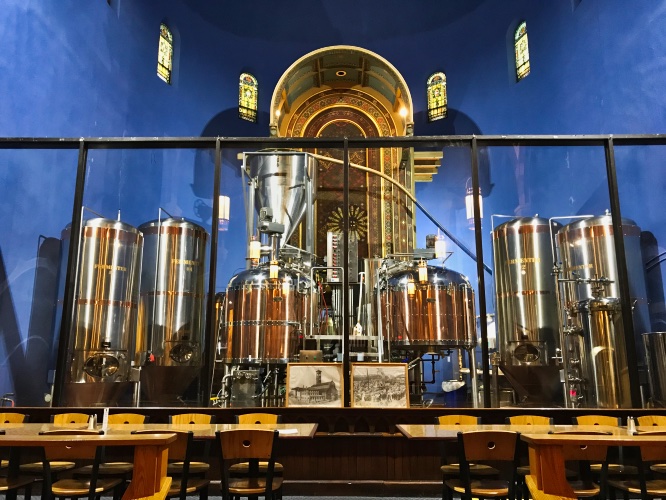 You can do it too! 10 keys to a successful beercation
1. Plan ahead – Know where you want to go. Trying to make your plans while on the road can get frustrating. Plan ahead.
2. Check the hours each brewery is open – This might sound obvious, but if you're traveling mid-week, you will find breweries that are either not open or have limited hours.
3. Drink, or at least try the beers they are known for – Don't get caught up on always drinking your favorite style. Find out what they brew and what they are proud about, and try it.
4. Bring cash – Tips. When you get to a new brewery and are asking a ton of newbie questions, make sure you take care of your guide, I mean server. Cash is king.
5. Ask questions/talk to locals – Don't be afraid to talk to locals. You just might find out some key information be killer beer and food spots. You might even get some insider info.
6. Prioritize – If you have your mind set on hitting a specific brewery, make it a priority. Don't make your last stop the one you really wanted to try.
7. Know your limits. Sounds obvious, but your drinking and judgment might not quite be the same after a few stops.
8. Keep a journal. It doesn't need to be a formal journal, but at least take a few notes. After a few breweries, your memory is not going to be bulletproof.
9. Don't stress. You're on vacation, or at least drinking beer, so enjoy the beer.
10. Keep options open. With all the planning, you can still get off track so it's good to have options.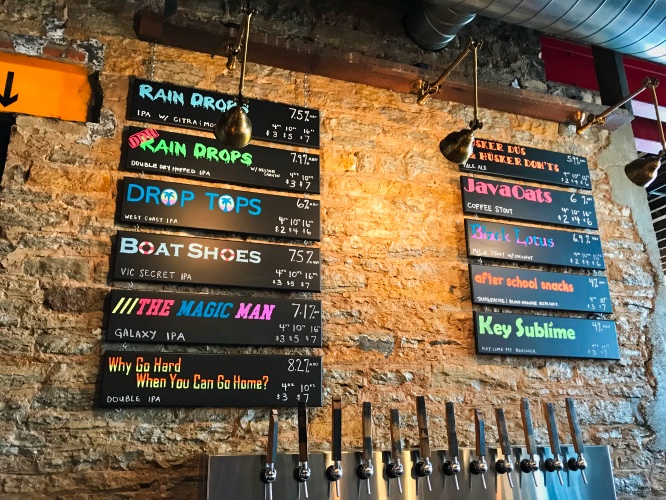 You should game plan your visit if you're going to one of your bucket list brewing destinations. The bigger the brewery the more chance for disappointment if you don't plan ahead. Whenever possible, plan your tours early, weeks if not months in advance if possible. You might be surprised how quickly brewery tours can book up and you don't want to miss out.
My 2018 Facts & Stats: 108 breweries, 9 States
First stop: 1/6/18, Monk Cellar Brewery, Roseville California
Last stop: 12/29/18, Blue Note Brewing, Woodland California
My Top 10
Occasionally, breweries blow you away from the beer. Other times it could be the atmosphere. And it's best if they both come together to make a great experience.
1. Russian River Brewing Company – Windsor, California
2. Moonraker Brewing – Auburn, California
3. Sierra Nevada Brewing Company – Chico, California
4. Metropolitan Brewing Company – Chicago, Illinois
5. Barrel Theory Brewing – St Paul, Minnesota
6. Junk Yard Brewing – West Fargo, Minnesota
7. Brewery Vivant – Grand Rapids, Michigan
8. Old Nation Brewing – Portland, Michigan
9. Chapman Crafted – Orange, California
10. Alvarado Street Brewing – Salinas, California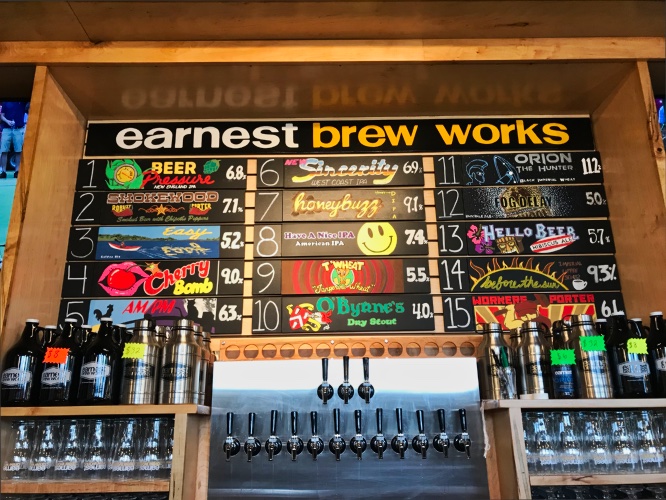 The List: Every Brewery I Visited
January (4)
Monk Cellar Brewery and Public House, California
New Glory Brewing, California
Track 7 Brewing, California
Fieldwork Brewing (Sacramento), California
February (11)
Out of Bounds Brewing, California
Goat House Brewing, California
Hillenbrand Brewing, California
Tenaya Creek Brewing, Nevada
Hop Nuts Brewing, Nevada
Boulder Dam Brewing, Nevada
Crafthaus Brewing, Nevada
Bad Beat Brewing, Nevada
Barrelhouse Brewing, California
Firestone Walker Brewing, California
Lodi Beer Company, California
March (8)
Fountainhead Brewing, California
Silva Brewing, California
Alvarado Street Brewing, California
Claimstake Brewing. California
Thin Line Brewing, California
Old Hangtown Brewing, California
Red Bus Brewing, California
Tilted Mash Brewing, California
April (6)
Taps Brewing (Brea), California
Chapman Crafted Brewing, California
The Blendery, California
Bootlegger's Brewing, California
Moksa Brewing, California
Oak Park Brewing, California
May (38)
Hop Creek Brewing, California
Earnest Brew Works, Ohio
Church Brew Works, Pennsylvania
Mountain State Brewing, West Virginia
Morgantown Brewing, West Virginia
Southern Tier Brewing, Pennsylvania
Parker's Hilltop Brewery, Michigan
Old Nation Brewing, Michigan
Brewery Vivant, Michigan
New Holland Brewing, Michigan
Perrin Brewing, Michigan
Greyline Brewing, Michigan
Founders Brewing, Michigan
Stormcloud Brewing, Michigan
Jolly Pumpkin Brewing, Michigan
Right Brain Brewing, Michigan
Shorts Brewing, Michigan
Brewery Terra Firma, Michigan
Earthen Ale, Michigan
The Filling Station, Michigan
Rare Bird Brewing, Michigan
Ore Dock Brewing, Michigan
Blackrocks Brewing, Michigan
Junkyard Brewing, Minnesota
Drekker Brewing, North Dakota
Urban Lodge Brewing, Minnesota
Clockwerks Brewing, Minnesota
Modest Brewing, Minnesota
Fulton Brewing, Minnesota
Inbound Brewing, Minnesota
Waldman Brewing, Minnesota
Barrel Theory, Minnesota
Surly Brewing, Minnesota
Metropolitan Brewing, Illinois
Alarmist Brewing, Illinois
More Brewing Compay, Illinois
Lagunitas, Illinois
Urban Roots Brewing, California
June (5)
Drakes Brewing (dealership), California
Henhouse Brewing, California
Porchlight Brewing, California
Bikedog Brewing, California
Ol' Republic Brewing, California
July (4)
927 Beer Company, California
Burning Barrel Brewing, California
Sierra Nevada Brewing, California
Alaro Brewing, California
August (3)
Solid Ground Brewing, California
Flatlands Brewing, California
Waterman Brewing, California
September (15)
Bottle Logic Brewing, California
Green Cheek Brewing, California
Stereo Brewing, California
Taps Brewing (Tustin), California
Asylum Brewing, California
The Brewery Terreux, California
Phantom Ales, California
Smog City Brewing, California
Knee Deep Brewing, California
Moonraker Brewing, California
Tap & Vine, California
Dreaming Dog Brewing, California
New Helvetia Brewing, California
Barrelworks, California
Figeroa Mountain Brewing, California
October (7)
Fort Rock Brewing, California
Secret Trail Brewing, California
Sierra Buttes Brewing, California
Russian River Brewing, California
Fog Belt Brewing, California
Bear Republic Brewing, California
101 North Brewing, California
November (6)
Dead Oak Brewing, California
Alameda Island Brewing, California
Truckee Brewing, California
Alibi Brewing, California
Fifty Fifty Brewing, California
Device Brewing, California
December (1)
Blue Note Brewing, California
---