No Comments
2 Days 2 Nights | Bucharest, Romania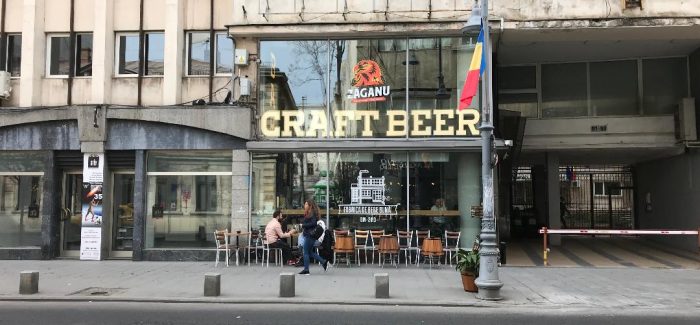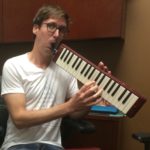 When life gives you a handful of Boeing Max 8-shaped lemons, you make lemonade. Or when your flight for a quick weekend getaway is canceled, you jump on Skyscanner, put "everywhere" into the destination, and see what comes up for cheap. For me, this destination ended up being the Romanian capital of Bucharest, a city with a population of roughly three million that had its heyday in the '20s and '30s when it was hailed as the "Little Paris of the East."
Now art deco buildings share the boulevards with communist-style block housing from the post-WWII era, and beautiful expansive parks give the eye a break from the blanket of graffiti tags covering most of the city. It's an odd juxtaposition of eras and architecture, and while the city lacks the major tourist attractions of a Paris or London, it makes up for it with a cost-friendly, hip restaurant and bar scene that parties harder and later than most.
People here love to go out. While the 5 a.m. nightclub is a favorite pastime, locals also love to eat and drink on cobbled streets and trendy patios, often taking up residence in coffee shops that the Williamsburg elite would be hard-pressed to not Instagram about. As the love of coffee shops and wine bars rise, craft beer is usually not far behind, and true to nature Bucharest is proud of its growing craft beer scene. While $1 lagers abound here, there are a number of bars focused on fueling a night out with something better than Ursus or Ciuc. These establishments either brew their own or happily promote some of the local brands at prices much lower than the craft connoisseur would be used to paying in Europe or the U.S.
Here's a quick guide to some of the best places in Bucharest for those who love their beer. Having a fun night out here is not a hard thing to do.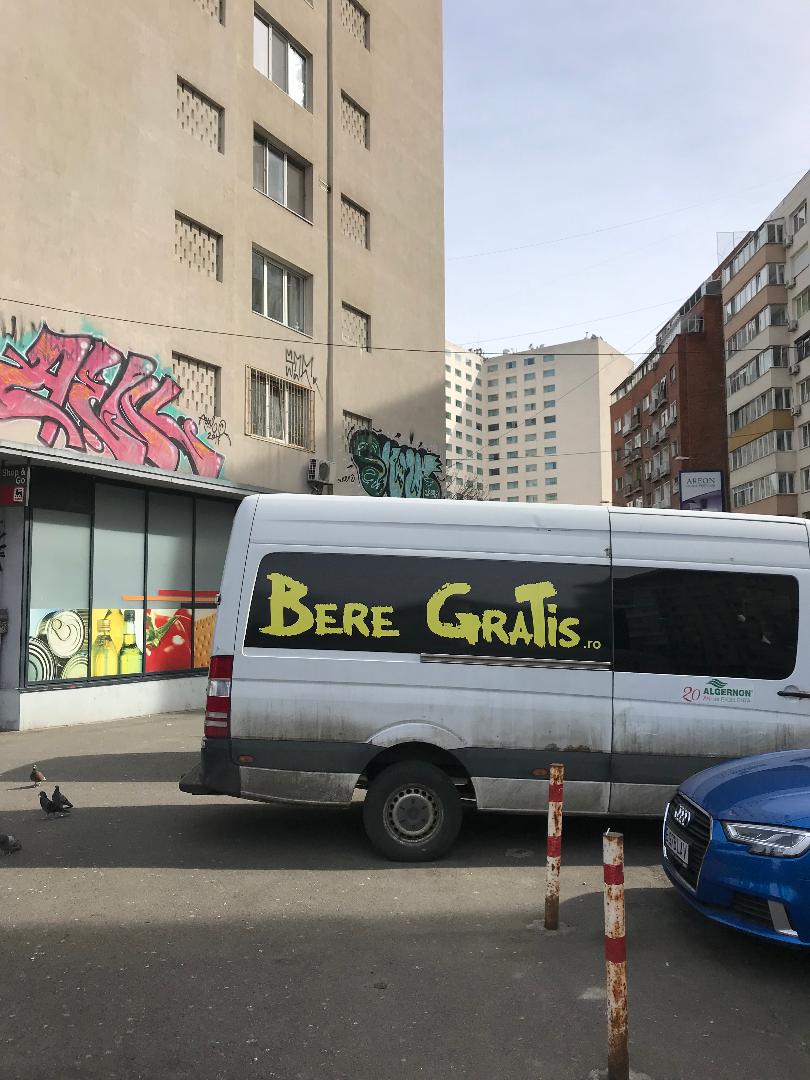 A Few Quick Notes
Arriving in Bucharest: The main airport serving Bucharest (OTP) is roughly 20 minutes outside of the city. The best way to get into town, and around while you are there, is using apps such as Uber or Taxify for very affordable rides. While I wouldn't fear for safety in hailing a cab off the street, word is that taxi scams occur more regularly here than other parts of Europe. The apps will ensure you are paying a correct fare, especially since you may be on the wrong end of sober when you need these rides.
Money: Romania is part of the EU, but is not on the Euro. Feel free to pull some Leis out of an ATM for some late night shaorma or street snacks, but everywhere I went accepted major credit cards.
Language: English is widely spoken here, especially among the younger generations, so you should have no trouble communicating or finding your way around. Most restaurants will have menus in English, but they may not be immediately brought to you like many places in Europe. Just ask 🙂
Transportation: The city also has a metro system that can be useful for covering a lot of ground cheaply. Some of the stops on this list are conveniently very close to the stations, and a day-pass costs roughly $1.60, with a return-journey ticket being even cheaper.
Parks: One of the highlights of the city are the excellent parks and green spaces. While I hear it's nice at Christmas, visiting in the spring and fall looks to be the prime times to be here, as summers and winters are prone to a little more extreme temperatures.
Nor Beer: While I know this site/my life is predominant orientated towards beer, there are some great places for Romanian wine in the city. Pâine și Vin, a bread and wine bar on the edge of Old Town, is a fantastic stop for a pre-night-out snack or dinner and a few glasses of the fruit of the vine.
Beer Day 1 | Old Town
Old Town Bucharest is a rowdy time, for sure. Innumerable bars, clubs, and restaurants invite crowds to enjoy the company of friends and strangers into the wee hours of the morning like few places I've been. In the midst of all the Irish pubs and bass-heavy discos are two excellent craft bars.
First, La 100 de Beri has a great selection of draft beers, mostly Romanian. And you don't get to have a name like "100 beers" without delivering on that promise, so if nothing on draft tickles your fancy pants then find a can or bottle that does. This may be your first taste of beers from Bereta, Ground Zero, or Hop Hooligans, my favorite Romanian breweries, all with catalogs worth exploring in-depth. Crowd Control from Hop Hooligans, a nice full-bodied but easy drinking NE IPA, was probably my favorite beer of the trip.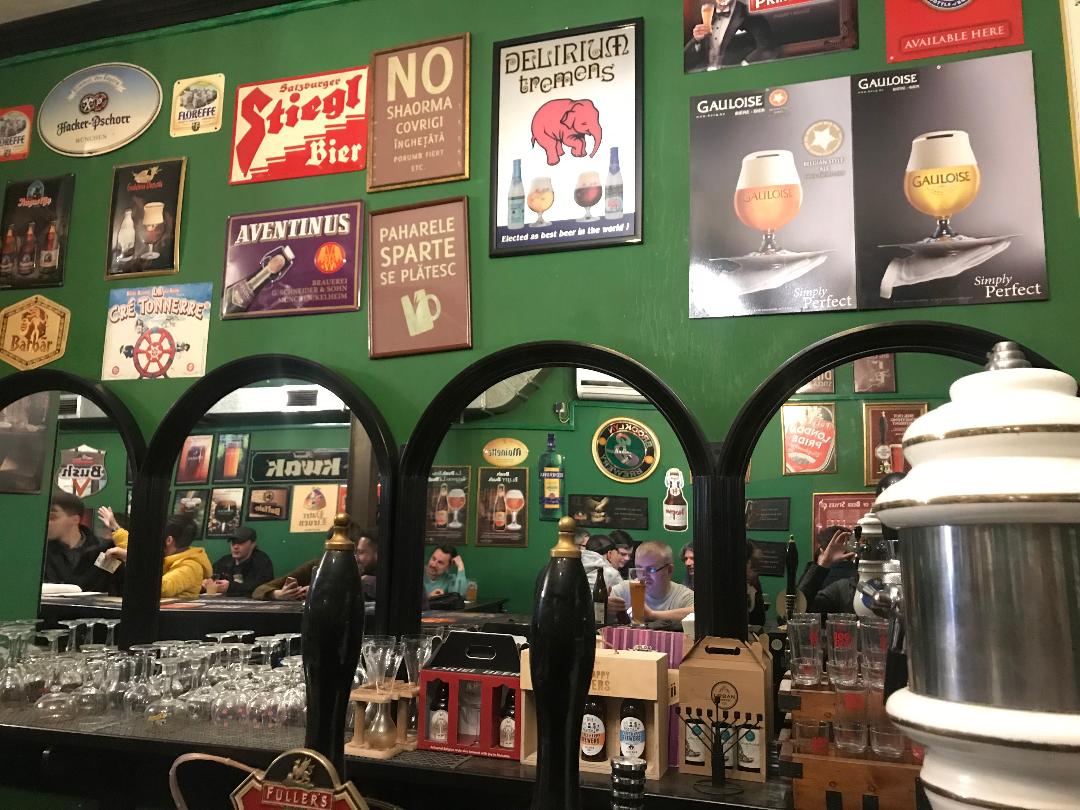 After you mount your formidable attack against the 100 beers, head over to Beer O'Clock, just a few stumbly blocks away. Not just a phrase you expect to see on someone's XXXL shirt at at Jimmy Buffet's Margartiaville, Beer O'Clock offers a few more beers on tap for you to consider, and a number of fridges stocked with local and international bottles and cans.
The fridge was like a European summit, with delegates from Denmark, Russia, Belgium, the UK, and many more all in attendance. It can get a little bit stuffy in these bars, though, so I highly recommend taking your pints out on the street, enjoying the fresh air and some incredible people watching. High heels, a dash of booze, and a pinch of cobblestone always goes well for everyone involved.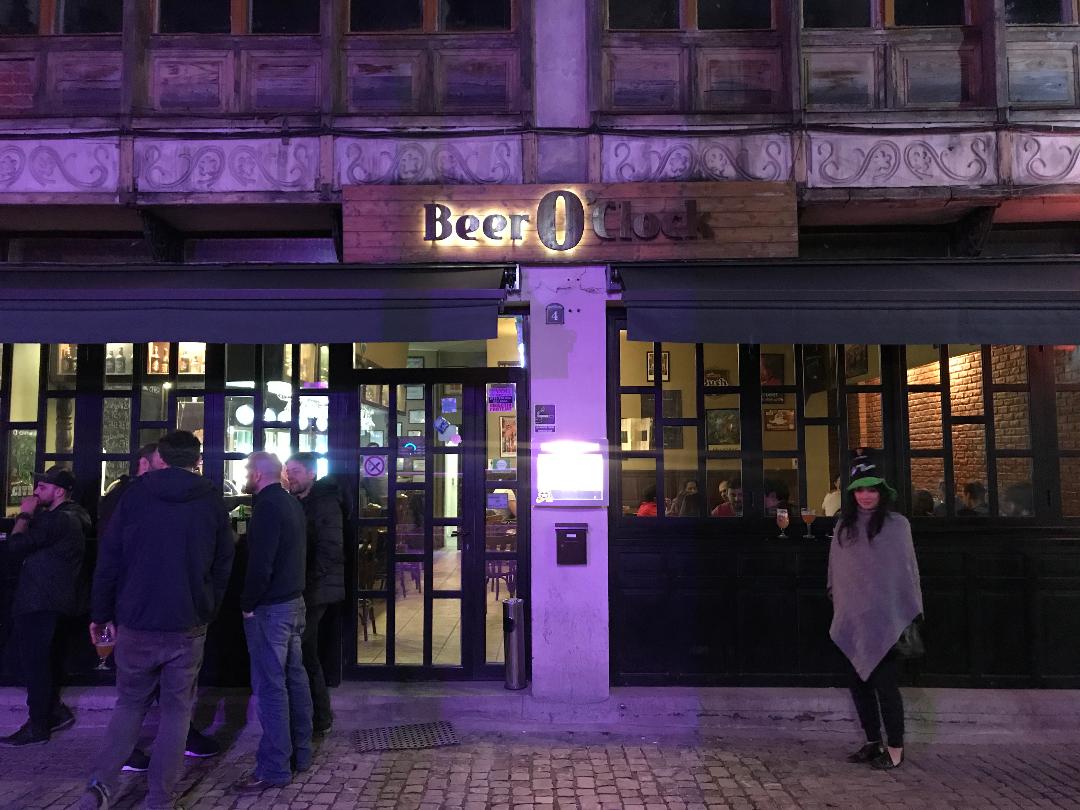 After a few/dozen beers, you may be a bit hungry. If you can avoid the shaorma (for now, save that for the witching hours) head over to Caru' cu bere, which translates to "the beer wagon". This is as established of a place as you'll find in the city, and while it may have many of the hallmarks of a tourist trap, I can assure you that your stomachs will be full and your spirits raised.
It will be busy, so try and make a reservation ahead of time if you want to enjoy your meal with with 130 years of history in the beer hall, or you can meander up at any time and wait for a table on the patio. While the beer list here is not going to appease the budding cicerone in you, the house beer and a good selection of German ales goes perfectly with the gigantic pork knuckle that you're about to defile yourself with.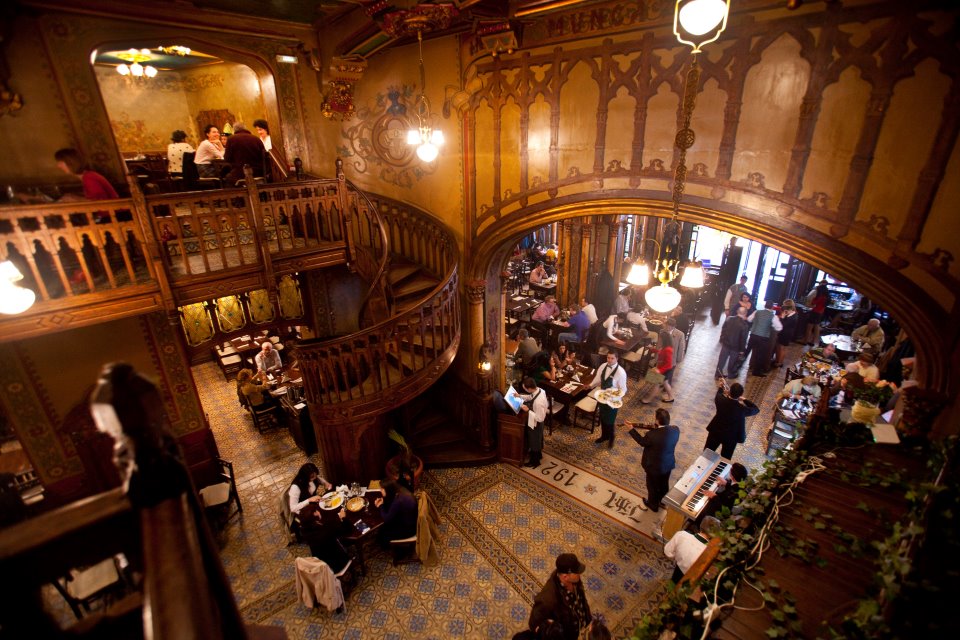 After dinner, if the night is still calling, you have your choice of establishments. If you still need to fill up the tank of liquid confidence and want to get the freshest version of the local lager, stop by Beert for some unpasteurized Ursus at about $1.60 a half liter. If anything is going to make you the lord of the dance at 3am in the club, it's going to be cheaply priced bear beer.
Also, if you need to start your drinking earlier, or need a caffeine remedy the next morning, The Urbanist in Old Town has some great coffee, some local beers, and a few snacks and sandwiches. Best of all, it has that hipster feeling that will help you believe that you are better than your hangover.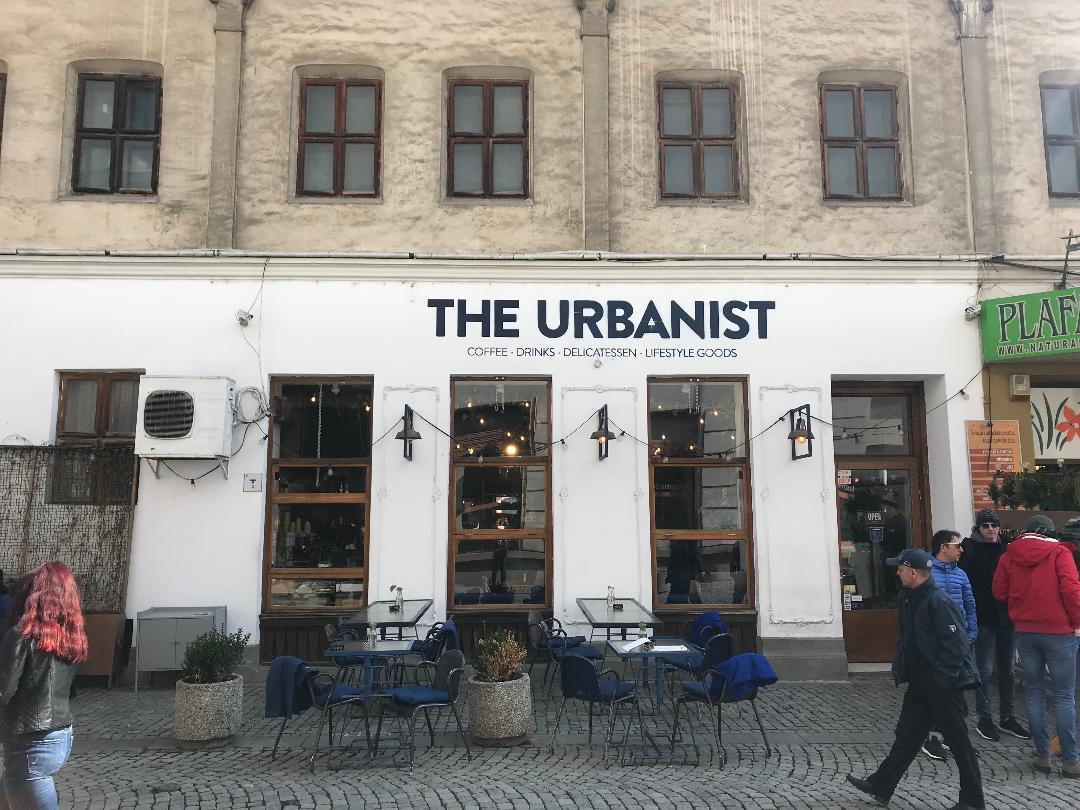 Day 2 | The Great Urban Outdoors
When you wake up (late) after your night out, go explore the grand outdoors of Bucharest! There are parks everywhere to help you walk it off, and I suggest taking a nice leisurely stroll through Cismigiu Park if your morning has you near Old Town. Eventually you'll want to make your way up to King Mihai I Park, as a few beer destinations are close by.
If you're curious, pay the low cost of admission to visit one of the most peculiar tourist attractions I've ever seen: The National Village Museum. Literally a gathering of various types of houses from around the countryside over the ages, it's like Disneyland, a school field trip, and a TLC property show fused together with the excitement knob turned all the way down, but provides a nice sobering walk and some fresh air.
At the end of the village rainbow exists the largest beer hall in Europe, according to billboards I saw on the way to the airport. Beraria H is not an unwanted diagnosis from your physician, but rather a traditional Munich-esque gathering of tables, taps, and stages. They seem to have all sorts crowd-pleasing evening entertainment on here, but I don't know how rowdy things get here because I just visited for an afternoon bite.
They brew their own drinkable lagers and ales, and a stein and a Romanian sausage may be just want you need to get you back on your feet after a late night. Actually, if you wanted to try and turn that village museum excitement knob from 0 to 2, maybe go here first…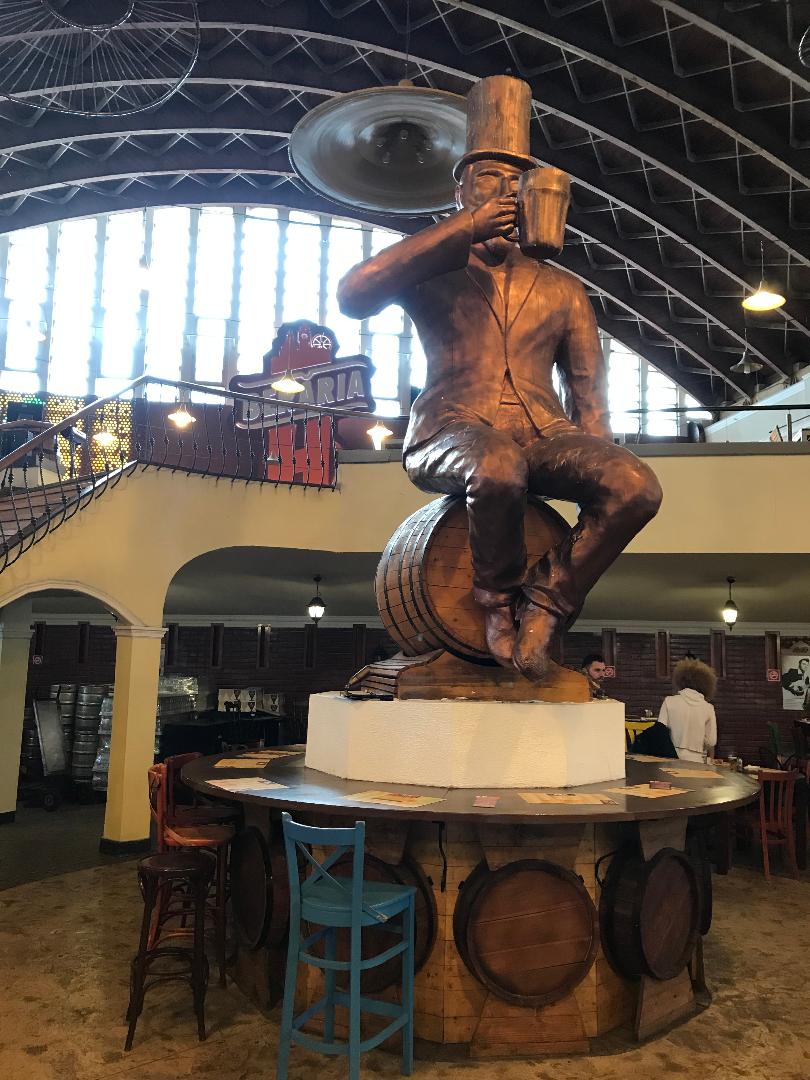 Walk back through the park towards the Aviatorilor metro station and you'll make your way to Mikkeller Bar Bucharest. While you may have your own opinions on Mikkeller and their beers, and this will definitely be your most expensive set of beers in Bucharest, I find their establishments to be reliable craft providers, especially outside of the US. My visit presented me with 20 mostly Mikkeller taps, with 4 dedicated to local brewers and a few more to honored guests.
It may have been special for the week, but there was smattering of Warpigs beers on tap, a pleasant surprise for my hops cravings. Everything is available in 200ml tasters, which is great for someone like me who thinks beer variety is the spice of life, and there's a lovely, peaceful patio to help you imbibe.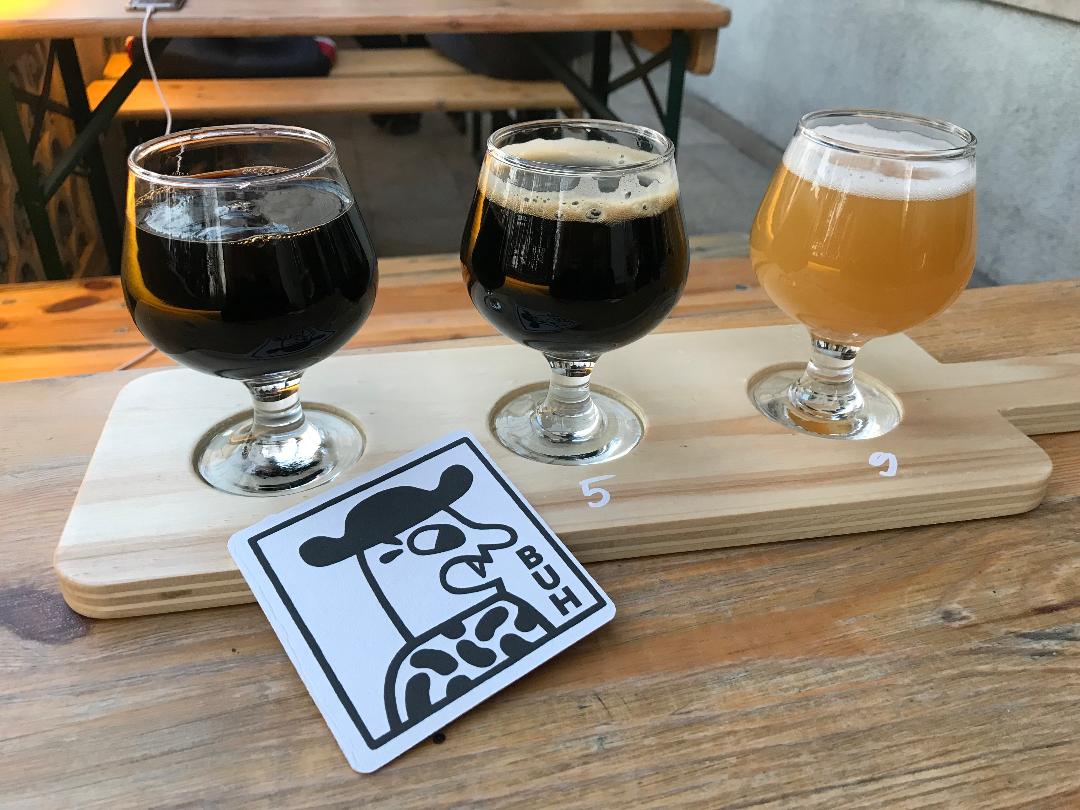 After Mikkeller, jump on the metro or take a ride down two stops and make your way to Fabrica de Bere Buna, one of the pioneers in the Romanian craft scene as well as one of the easiest bars to identify because of the giant lighted sign that declares "Craft Beer". This place was hopping in the early evening, and they proudly serve the salivating masses flights and pints of their own brews, Zaganu.
The beers list attacks you with standard blondes, pales, and west coast IPAs, combining with the guest taps to offer up enough options to please all palates. You could easily do a quick flight here, or stay a while and soak in the lively atmosphere while crushing some affordable pints.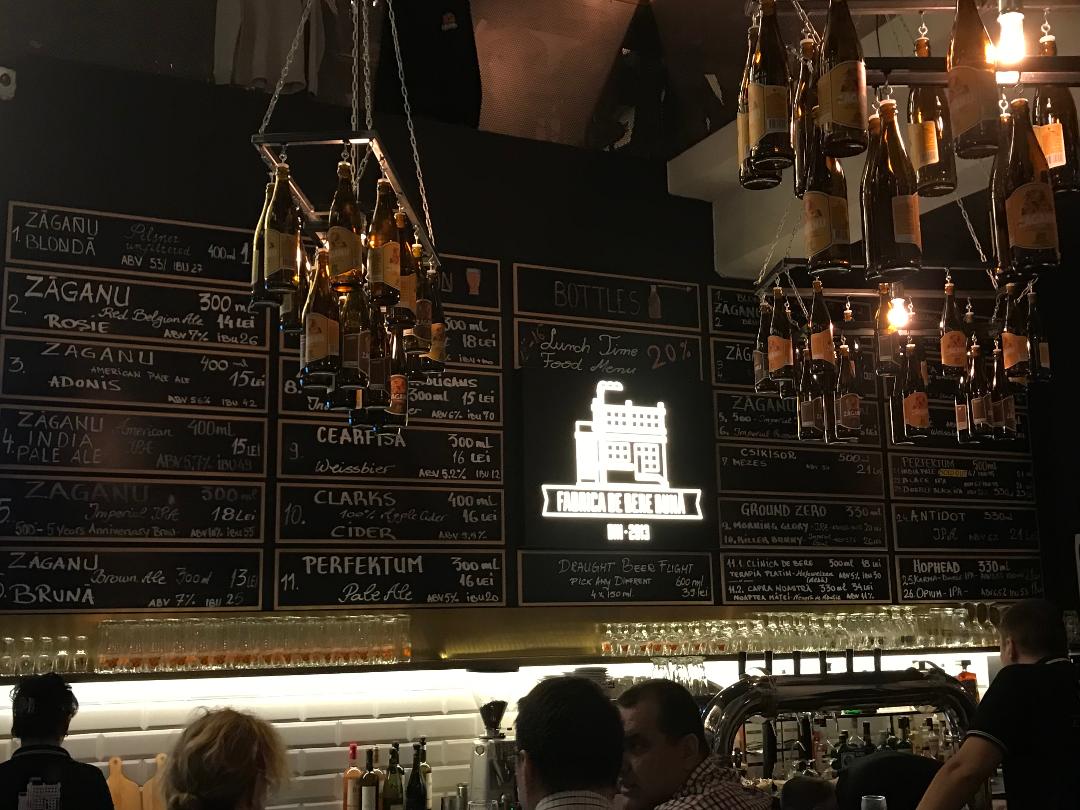 Afterwards the world is your oyster, and you can either take a jaunt back to Old Town to revisit some of the places from the night before, or if the weather is nice head over to Gradina Eden just a short walk away. While not a craft beer bar, you'll find some cocktails, food stalls, and various forms of fun with a decent selection of beers in this garden of earthly delights that even Bosch would be jealous of.
Follow this, and you should have a few nice nights out in the "Little Paris of the East." I will place the caveat that most of the nicer beer bars tend to close around 2 a.m. I take no responsibility for what happens between that time and when the sun greets you at the close of your night out in Bucharest.
---