No Comments
Empourium Brewing Joins Denver's Bustling Tennyson St. Neighborhood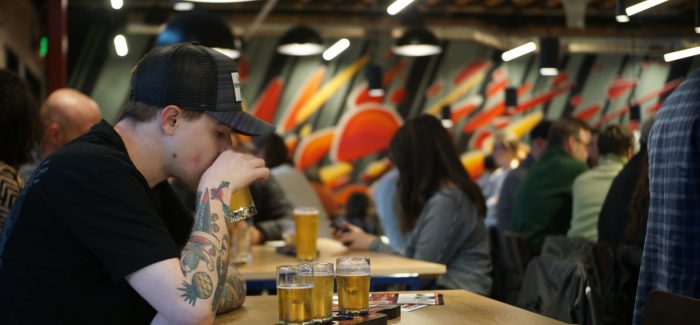 The idea was years in the making. The lease was signed 14 months ago. But now, finally, Greg and Sara Fetzer's dream is here.
Empourium Brewing Company, the newest brewery in Denver's Berkeley neighborhood, celebrated its soft opening on Friday, March 29, and locals lined the bar not even an hour after the doors officially opened.
"We were just waiting and waiting and waiting," said Sara Fetzer, a Colorado native who met her husband and business partner, a fellow Colorado native, at Colorado State University in Fort Collins. "What are we waiting for? Let's just do it."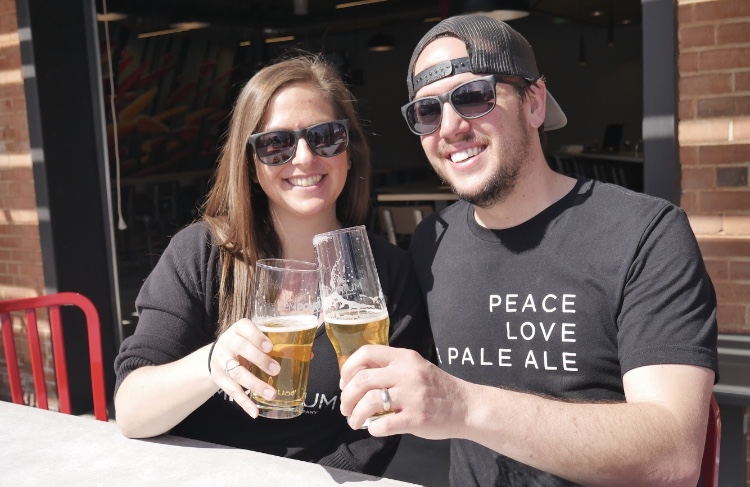 Empourium has been a long time coming, a dream ever since Greg Fetzer, an event coordinator at the Budweiser Events Center in Loveland in 2012, was faced with a life-changing decision. Move up within the company and move to the East Coast, or follow his passion of brewing beer and move to the West Coast?
Spoiler alert: They chose beer.
Greg Fetzer, a homebrewer since 2008, was hired to work an entry-level job in the packaging department of Rogue Ales in Newport, Ore. In a year and a half, he moved his way up, eventually managing the entire department as well as working in the cellar. But a desire to be closer to family —"and to see the sun again," Sara Fetzer said—brought them back to Colorado. Greg Fetzer was hired at Rockyard Brewing in Castle Rock, where he worked for five years and as head brewer for the last two years.
Now, they have opened their own brewery, which features a 10-barrel system, 12 taps, and a colorful mural in the spacious taproom. The Fetzers searched all over Denver for the right spot, even coming close to signing a lease in the RiNo neighborhood before fate swooped in. Their broker advised them to take a quick look at their current 4210 Tennyson St. location, and they instantly fell in love. Sara Fetzer calls Berkeley "incredibly contagious."
"Everything in Oregon is so mom and pop. That's what we love about Tennyson," Greg Fetzer said. "Everything is independently owned and local."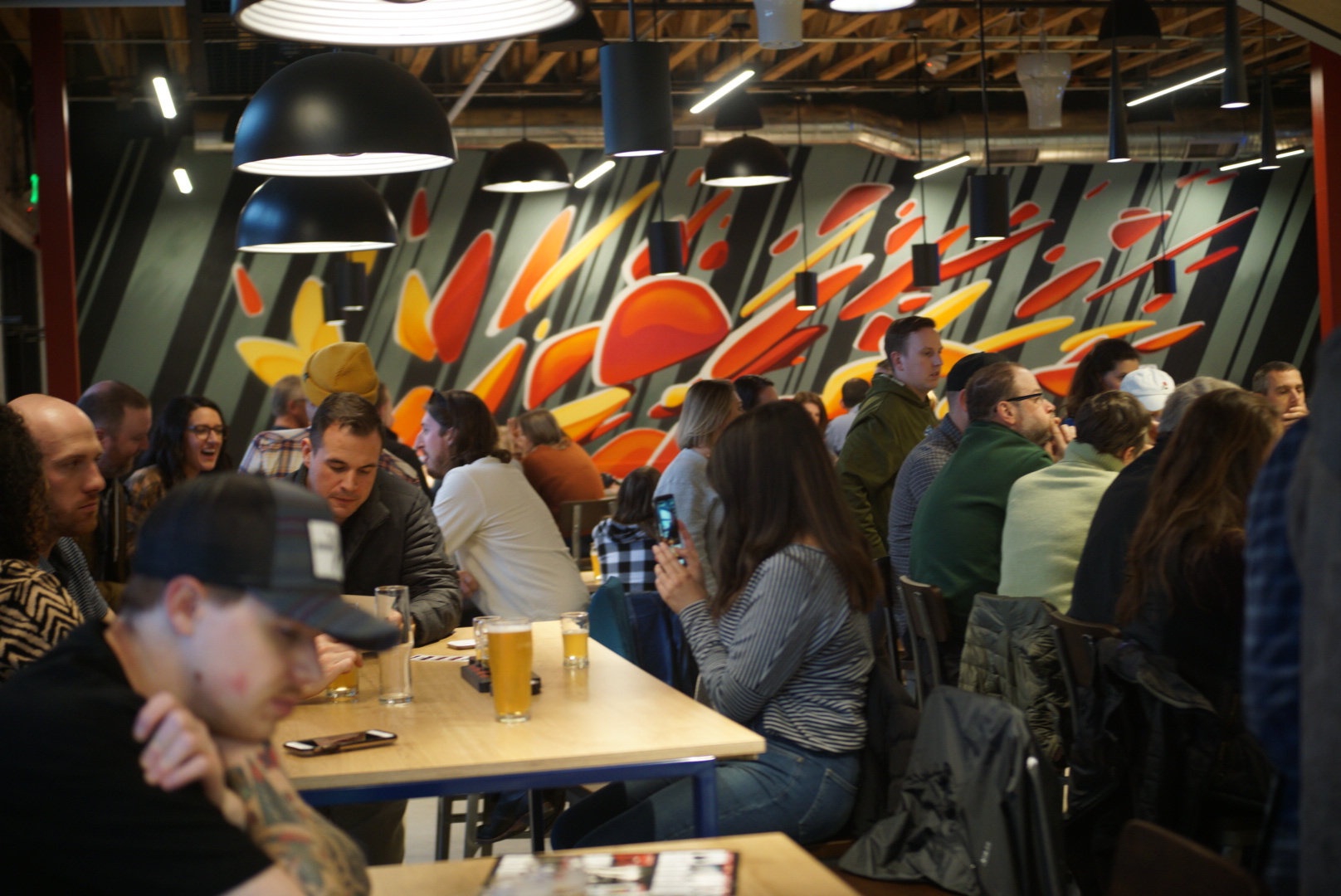 The Fetzers want Empourium to be "a neighborhood brewery," and part of that means investing in their community. They've worked closely with the Tennyson Berkeley Neighborhood Association, and they're sponsoring the neighborhood Easter egg hunt and an upcoming yoga festival.
But another aspect is also keeping all the beer where it's brewed. They aim to brew 500 barrels this year, but they have no plans to grow beyond that or sell their beer anywhere but their taproom. Greg Fetzer lamented that the recent addition of craft beer sales in convenience and grocery stores have hurt "the mom-and-pop liquor stores that support" local, craft breweries.
"We want to stay with this neighborhood business model," Greg Fetzer said.
But the vibrant business community of the neighborhood—which they graciously support by having a list of restaurants, shops, and bars on the back of their menus for patrons to browse—already includes five other nearby breweries including Call to Arms, The Grateful Gnome Sandwich Shoppe and Brewery, De Steeg / Blind Faith Brewing, Goldspot, and the recently opened FlyteCo Beer.
Sara Fetzer said Empourium focuses on "the sessionability" of their beers. The tap list currently includes a Coffee Blonde, a Chocolate Stout, a Robust Porter, an American IPA, among others, that are all under 6 percent ABV.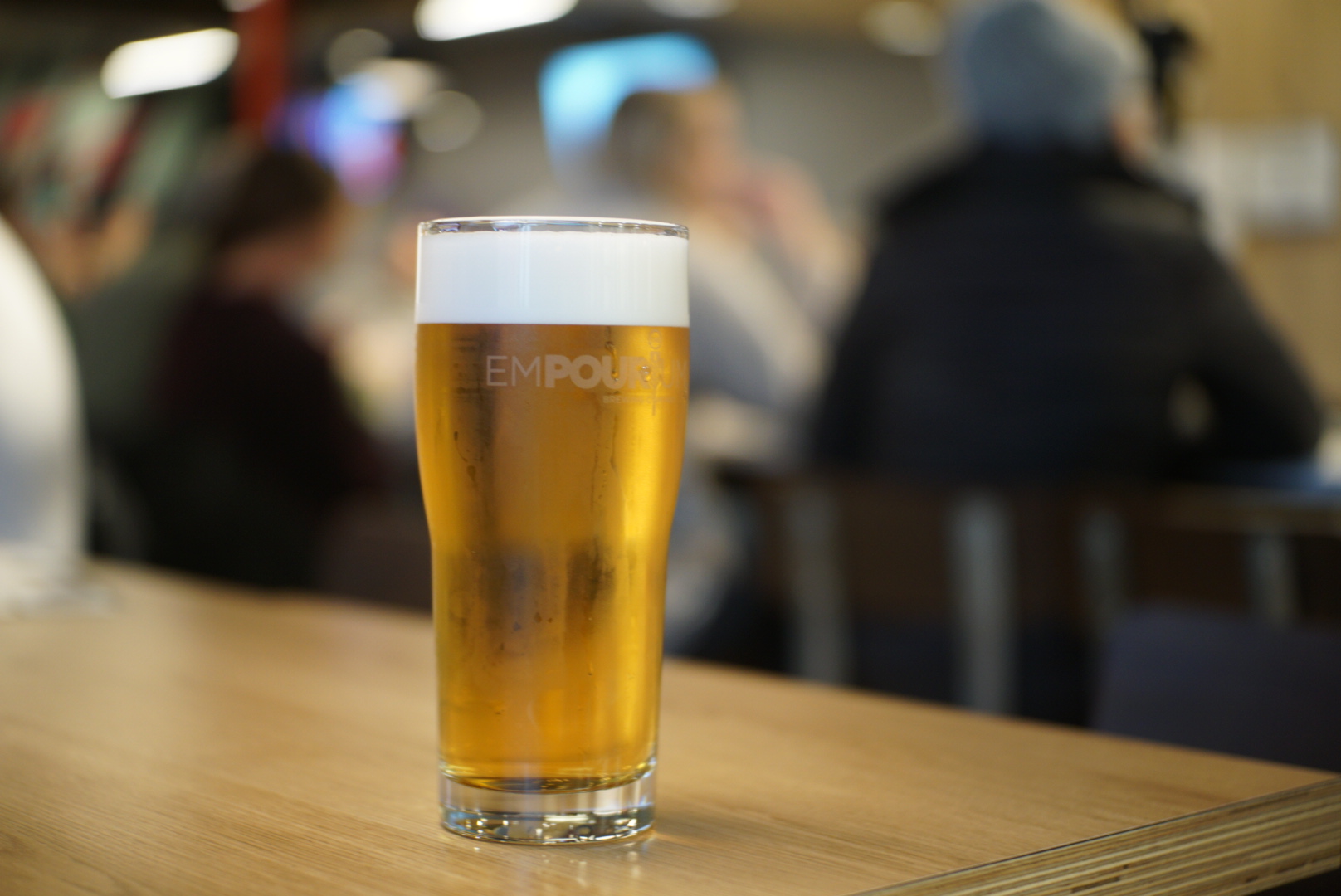 "A lot of breweries have 6.5 percent and above. You're going to have a hard time finding any of those here," Greg Fetzer said. "We are quality and sanitation-focused. Any ingredients we add will just compliment the base. Beer first, then everything else is a compliment of that style."
The tap list will always evolve, although the Fetzers think certain beers—like their Peace, Love, & Pale Ale, a name they love so much they have it printed on their merchandise—will become customer favorites and regular mainstays.
"The name Empourium implies a little bit of everything," Greg Fetzer said. "That's what we'll do. They'll be clean and crisp, but each beer will be different from each other. Style guidelines are great, but they're just that. They're guidelines."
But more than just unique beer, the Fetzers want to offer their new neighborhood an experience.
"To provide cheer, beer, and atmosphere," Greg Fetzer said. "That's the space we're trying to provide. Beer for us is the easy part. All the other pieces we have in place, that's what's going to make people stay here."
---