No Comments
Atlanta's 16 Best Places to Drink Craft Beer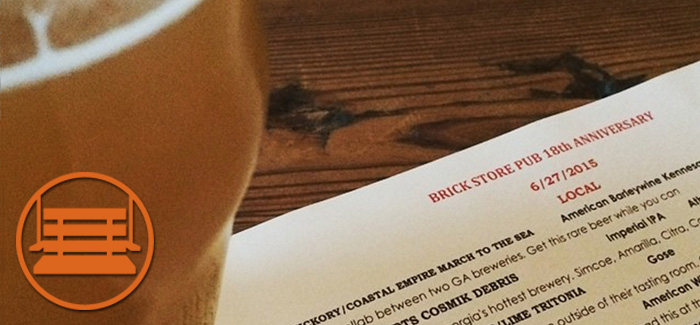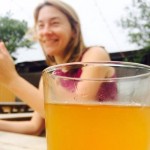 Georgia's beer laws are undoubtedly among the worst in the U.S., but that doesn't mean the beer scene is dead. Far from it.
While breweries continue to fight to legalize selling straight to consumers, local governments in Savannah and Alpharetta have now granted brewpubs the go-ahead on direct growler sales — a major victory that Georgia brewers have fought hard to earn.
While Atlanta is no stranger to some of America's top-ranked beer bars, including the Porter Beer Bar and Brick Store Pub, more and more of the city's bars and restaurants are recognizing the demand for locally-made beer, and they've made it a point to widen their selection to keep good beer front and center. Here are 16 of our favorite, broken down by neighborhood.
Avondale Estates
Want to buy a comic book, talk about that damn twist in the Force Awakens, or play aptly-named Nerd Trivia, all while drinking local beer surrounded by posters and figurines of everything sci-fi, science fiction and more? My Parents' Basement is your place, and these are your people, my friend. The best seats in the house are at the bar, talking to bartender Ray, mesmerized by the canvas where Luke, Leia and their fellow Star Wars characters replace the Biblical ones in a parody of the Last Supper (and then buying one for yourself on Amazon when you get home … because that happens after beer you guys).
https://www.instagram.com/p/BAANLJ2Jhy0/?taken-by=myparentsbasement
Brookhaven
Buckhead has ridiculous traffic, too many malls, and lots of other obnoxious things — so avoid it, and head to There instead if you're in the area and want a good beer. There is a gastropub inside Town Brookhaven, a multi-use live, work, play development. Not only will you find at least half a dozen Georgia beers front and center on the tap list, but an award-winning menu featuring the There Burger. Go on Sundays for the best bloody mary in town, as well as some of the friendliest company you'll find in proprietor Bill Brown who is usually running around behind the bar.
https://www.instagram.com/p/1qkf_Sgkle/?taken-by=craftcurious
Cumming
Let me wish you good luck. When you walk in the door and sit down at Cherry Street brewpub, you're going to have way too many choices on the beer menu — and trust me, it'll be the best problem you'll have all day. This northern Atlanta suburban brewpub nails styles from Porters to Belgians to IPAs. Get a flight or two to help you decide. The bartenders are beyond friendly and willing to guide you through your journey.
https://www.instagram.com/p/BDKGpZBgkki/?taken-by=craftcurious
Decatur
The Brick Store Pub no doubt earns its year after year ranking in the list of Top 10 U.S. beer bars. BSP offers a sometimes impossible-to-choose from variety of beers, from local and American downstairs to a Belgian bar upstairs (you can get beers from either bar no matter where you sit). The tittle pop, meatloaf sandwich and chicken pot pie fill the holes in your stomach between the beers. If you're feeling ballsy, and using MARTA or Uber, then don't forget to ask for the cellar bible — and then buckle your seatbelt.
https://www.instagram.com/p/BDD3Z28Ns9H/?taken-by=brickstorepub
As much as Brick Store can be a beer lover's heaven, sometimes you just want to watch football, eat sweet potato tots and drink beer. Walk across the square to Square Pub, where local craft drafts and bottles are always available, along with good pub grub and a few tvs for whatever games your heart desires.
https://www.instagram.com/p/2R96AIEfdJ/?taken-at=194174
East Atlanta
Midway Pub
552 Flat Shoals Ave SE
If you're trying to avoid loud sports bars but want to drink good beer and watch the game, Midway Pub is waiting for you. Besides the Direct TV — and obviously a vast craft beer list — the food rocks, and there's a patio (which is much harder to find in Atlanta than you'd think). If the game is over and you've had enough outdoors time, walk over to Argosy two blocks away and continue your Georgia beer adventure.
https://www.instagram.com/p/4xnkolQ6mO/?taken-by=midwaypub
East Cobb
Common Quarter
1205 Johnson Ferry Rd. Suite 101 (Marietta)
Common Quarter is part of the same restaurant group as Eleanor's in Smyrna (a little further down on this list) and probably best-known as a foodie haven. But beyond the mouth-watering menu, the beer list has a heavy focus on Georgia breweries, and the bartenders are among some of the flippin' coolest guys you want to hang out with. (Hint: Don't leave without trying the peanut butter pie.)
https://www.instagram.com/p/8RoNMcJgBY/?taken-by=ezerk
Emory
Slice & Pint took over the spot when Everybody's, an Emory hangout, went out of business. Despite its proximity to a university, the mood and crowd at Slice & Pint is far from rambunctious co-ed. Instead, you'll find people looking for well-crafted beers and smartly-made pizzas because, let's face it, meals of pizza and beer are the real American dream. Slice & Pint brewpub does both of those things very, very well.
https://www.instagram.com/p/1vuin8kj7S/?taken-by=sliceandpint
Grant Park
Just east of downtown, Augustine's pub can be a sight for sore eyes. This neighborhood spot offers a big blackboard full of craft drafts and a large food menu highlighted by great burgers and sandwiches — that is if you don't get distracted by the sides: duck fries, sweet potato fries, tots and sweet plantains.
https://www.instagram.com/p/BDwutW9GIKZ/?taken-by=mstewart0616
Midtown
Our first visit to Cypress Street Pint & Plate was one of those you love so much, you can't wait to go back — the next day. Part of it was we were lucky enough to have one of the coolest servers in town (we love you, Tim!), but the focus on local and regional beers — and a great patio— made it even better. We should mention, for those of you who don't mind drinking on school nights, check out Beer Geek Tuesdays for a celebration of craft beer, from beer education to food pairings. (Now, if we could just get those pizza rolls back on the menu …)
https://www.instagram.com/p/BDQ46wCr6AN/?taken-by=cypressstreet&hl=en
Marietta
Nestled in the corner of a shopping center, you might miss the Wing Cafe & Tap House if you're not looking closely enough. But this large wing (and more) spot in Cobb County north of Atlanta features a huge list of local beer and special releases. When it's nice outdoors, take a seat at the tiki hut in the back, and be sure to check out their events roster for upcoming beer dinners, often hosted by brewers themselves.
https://www.instagram.com/p/qVytEHmeka/?tagged=wingcafe
Little 5 Points
Porter Beer Bar joins Decatur's Brick Store Pub on those annual lists of Top 10 U.S. Beer Bars, and rightfully so. The long, narrow bar up front gives you facetime with some of the city's most-knowledgeable craft beer bartenders, and you're likely also rubbing elbows with the city's most-knowledgeable beer geeks, too. Even if the Porter didn't feature a killer local draft list along with a mind-blowing beer cellar, the addicting salt & vinegar popcorn, hush puppies and brunch 'til 4 p.m. on weekends is reason enough to visit.
https://www.instagram.com/p/BDwBYCDG1Pz/?taken-by=porchdrinkingco
Tucked inside the historic Marianna in Little 5 Points, which is a very short walk from the Porter, Wrecking Bar Brewpub will impress both beer lovers and foodies. Grab a seat at the bar inside or outdoors in the biergarten, order some appetizers to share, and then shortie pours of the beer so you can try more. You won't regret it. Sunday brunch at Wrecking Bar is also the real deal.
https://www.instagram.com/p/BC_qopXxT4L/?taken-at=1881276
Smyrna
Eleanor's
1675 Cumberland Pkwy SE, #309
Inside Muss & Turner's restaurant, where local ingredients and good food is king in Smyrna, there is a cooler door. Inside that cooler door, you'll find Eleanor's, a speakeasy featuring local beer and inventive craft cocktails. Eleanor's can be a Godsend for a choosey beer drinker who doesn't want to drive into the perimeter just to drink local. And don't pass up the Charcuterie.
https://www.instagram.com/p/ZFZwE2pQqx/?taken-by=mussandturners
Quietly sitting across U.S. 41 from a Kroger, and next to a Subway, your first impression of Laseter's from the outside will be, "This is the townie dive bar." Okay, that's exactly what is it, but if you like dive bars, and don't want to drive into the heart of Atlanta, then Laseter's is your gift from heaven. A laundry list of dozens of local and craft draft and bottles greet you when you walk in the door, along with some of the best wings in the OTP. Direct TV means you can watch those games your regular cable doesn't carry — just be careful you aren't walking in when the West Virginia Mountaineers are playing.
https://www.instagram.com/p/-E-f8Ns-jW/?taken-at=385033
West Midtown
Whether you're in the mood for an easy, low ABV Golden Ale, or ready to play with the big kids by ordering the killer aged Belgians in bombers, 5 Seasons Westside is one of our faves. The best seats in the house are either outside on the rooftop patio that overlooks the skyline, or downstairs at the main bar where you're sure to get attentive, knowledgeable bartenders. And don't be scared off by the $25 price for aged bombers: sure, they're tough — scratch that: they're downright dangerous — on your own, but they're the perfect pairing for a group of three or more.
https://www.instagram.com/p/foPlQgAkq7/?taken-by=craftcurious
---