No Comments
Urban Roots Brewing | A Momentary Lapse of Judgement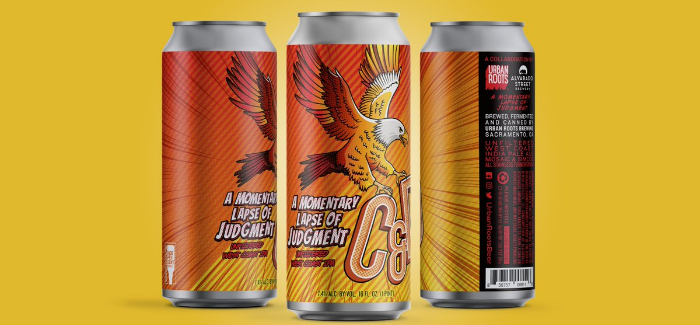 How much do you love collaboration beers? This collaboration was brewed and packaged at Urban Roots Brewing, with the Alvarado Street crew coming to Sacramento for the brew day. The name pokes fun at some of the beer names and labels that appear to "borrow" trademarked artwork. While the name of the beer is A Momentary Lapse of Judgement, the label includes a large eagle carrying the C & D letters.
Trademark infringement is no joke to those who have been impacted but cease and desist letters and the threat surrounding them have become a badge of honor for some breweries. Some fans really love the can art that goes along with these beers. Others feel is it's a bit a lazy way to market. Whether you love it or not, there have been some classics. One of the more recent and interesting ones was between Seven Stills Brewing and In N Out Burgers. Check out the article from The Thrillist.
It's All About The Beer
A Momentary Lapse in Judgement is far from that. This is a great beer, which is an unfiltered West Coast IPA that comes in at 7.4% ABV. Hazy pale yellow in color. While the beer states unfiltered, the beer pours clean, down to the last drop. No residual chunks that you sometimes find at the bottom of the can.
https://www.instagram.com/p/Buzp_MBhZCv/
Featuring both Mosaic and Citra Hops, this beer is dank. The aroma is seriously ripe tropical fruit with some very subtle hints of earthy spice. The aroma is full and thick, but the body is light and perfectly matches the style. There are an impressive amount of hops in this beer, but you don't get that early 2000's palate abusing West Coast IPA. What you do get is a resinous mouthfeel that lets you know you are drinking a well crafted IPA.
Two Great Breweries
Alvarado Street Brewing is a highly respected California brewery that knows IPAs. In fact, they picked up a well deserved gold medal at the 2018 Great American Beer Festival for their Mai Tai P.A. pale ale. Urban Roots Brewing, being relatively new to the California beer scene, is headed up by one of the most respected brewers, Peter Hoey. All the beers produced by Urban Roots are spot on. In addition to brewing, Urban Roots is also a smokehouse. That makes it a great spot to hang out, grab a beer, some food and enjoy the day.
Feature image courtesy of Urban Roots Brewing.
---