No Comments
Rockyard Brewing Company | Buoyant American Blonde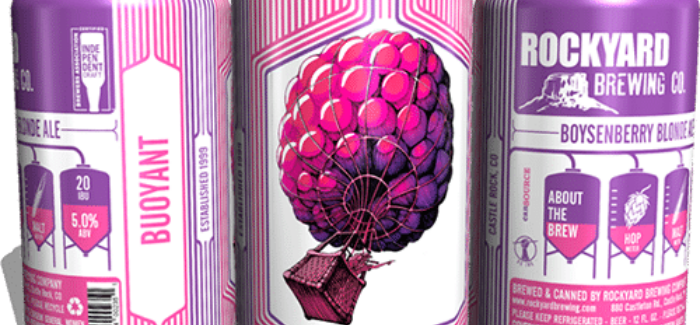 A customer walks into a liquor store, searching for a crushable, refreshing beer to beat the summer heat. The customer has an idea. Maybe a Pilsner, or what about this Helles? Something light, something crisp, something that settles smoothly in the belly as the sun relentlessly shines above.
But then, you see it. A fresh, cleanly designed purple and white can. Hm, what's this?
A boysenberry Blonde Ale from Rockyard Brewing Company. Not quite the flavor, or the body, you were considering, but… into the shopping cart the 6-pack goes.
This is, of course, a true story about the power of marketing and branding. But more than that, it's a testament to their power, especially if they are reinforced with strong flavor inside the neatly packaged can. Which, in the case of the Castle Rock, a Colorado-based brewery, features diagrams of fermentators explaining the hop and malt profiles of the beer.
Buoyant American Blonde is slightly sweet, tart and smooth. This beer clocks in at 5% ABV and 20 IBU. The first taste of each sip provides each of the flavors advertised, but despite the heavy mouthfeel, the only aftertaste it leaves is the urge to finish the rest in two more gulps.
It's often the can that entices the customer. But it's only the beer that can keep them coming back for more. Or, in this case, more and more and more.
---