No Comments
Brewery Bracket Challenge | Which College Has the Best Brewery Scene?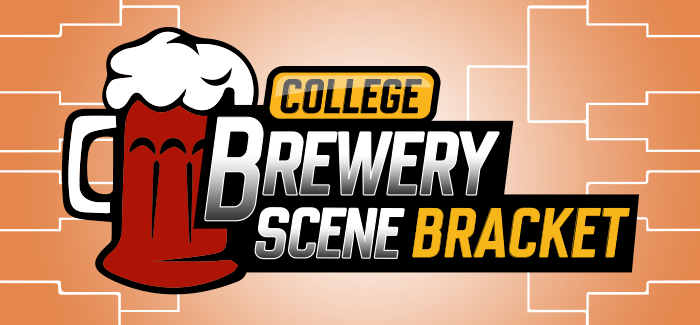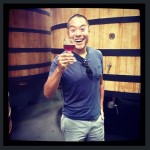 Well, it certainly wasn't the March Madness we've all come to anticipate. And while the Coronavirus may have put a damper on the actual tournament itself, the PorchDrinking team still decided to do our part in giving a school their One Shining Moment.
In honor of what would have been tonight's National Championship matchup, we decided to break down this year's bracket to crown a champion if the tournament were based solely on each college's brewery scene.
We went round by round comparing brewery scenes of each respective school in head-to-head matchups. And because this year's bracket wasn't actually released, we turned to Joey Brackets, ESPN's Chief Bracketologist, Joe Lunardi and his final bracket projection as our guide.
It's important to keep in mind, we differed first to breweries located in the same city as the school, then as a backup considered breweries in close proximity. In certain situations, we had multiple schools located within the same city. In those instances, we divided up breweries based on proximity. In the case of play-in games, teams were judged based only on the top three strongest breweries within their cities as often times play-in teams don't have the depth of those that actually make the tournament.
So which university's beer scene would have their one shining moment in this year's bracket? Our team, which included contributions from Chris and Sylvia Hollands, Kevin Kain, David Nilsen, Drew Davis, Karl Kalinkewicz, Danielle Engel, and Tristan Chan all weighed in to crown our tournament champion. And special thanks to Josh Ritenour on the graphics.
---
East Region
Dayton – Dayton, OH
Breweries: Branch & Bone, Warped Wing, Eudora, Carillon, Fifth Street
Boston University (Boston, MA) / Robert Morris (Moon Township, PA)
Breweries: Trillium, Night Shift, Lord Hobo vs Cobblehaus Brewing
The Matchup: Based on our parameters we're only accounting for the top three entries from our play-in game schools. While Dayton's beer scene is vastly underrated, and would typically upset most other first-round matchups, the city of Boston has heavy hitters like Trillium and Night Shift
---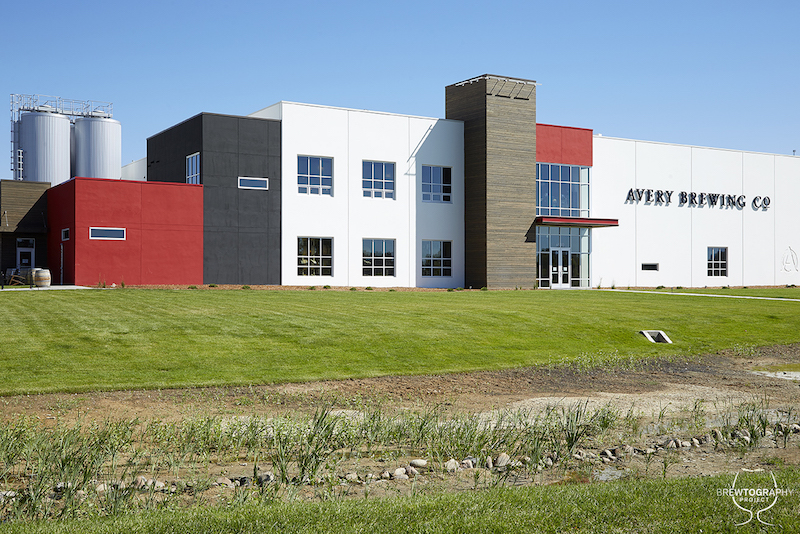 Colorado – Boulder, CO
Breweries: Avery, Upslope, Mountain Sun Pubs, Sanitas, Finkel & Garf, Ska Street Brewstillery
Florida – Gainsville, FL
Breweries: Blackadder, Swamp Head, First Magnitude, Cypress & Grove, BallyHoo Grill
The Matchup: This first-round matchup should be a 1 seed versus 16. While the state of Florida as a whole has some gems, Gainsville doesn't stand a chance versus Boulder's titans like Avery & Upslope
---
Butler – Indianapolis, IN
Breweries: Sun King, Upland, Central State, Indiana City, Fountain Square, Bier Brewery, Metazoa
Texas (Austin, TX) / Richmond (Richmond, VA)
Breweries: Jester King, Live Oak, AGBG vs. The Veil, The Answer, Triple Crossing
The Matchup: If the bracket were seeded based on beer scene, these two teams would likely earn 1 or two seeds. Instead, this play-in game features two heavy hitters that both have all-star top three lineups elite in their own style categories. In the end, Texas' top three get the slight edge, and they also go on to up-end Butler in their first-round matchup.
---
Maryland- College Park, MD
Breweries: Denizens Brewing, Streetcar 82, DC Brau
Akron – Akron, OH
Breweries: Hoppin' Frog Brewery, Thirsty Dog, Missing Mountain
The Matchup: Akron boasts a surprisingly strong top two in the backcourt with Hoppin' Frog and Thirsty Dog, and if Maryland's beer scene were extended to DC, they'd get the edge, in what's likely an up and down seven versus eight matchup, Akron gets the nod.
---
Penn State – State College, PA
Breweries: Happy Valley Brewing, Voodoo Brewery State College,
NC State (Raleigh, NC) / UCLA (Los Angeles, CA)
Trophy Brewing, Brewery Bhavana, Ancillary* Fermentation vs Three Chiefs Beer, Cellador Ales, Three Weavers
The Matchup: This play-in game is a bit more difficult to sort through. Because we've got multiple schools in LA, we've had to field the best breweries to each respective school within LA. With that in-mind, UCLA is relatively close to diaper dandies Three Chiefs Beer and Cellador Ales, as well as the more established Three Weavers, which gets the edge over Raleigh's also strong lineup. And while NC State would have beaten Penn State handily and likely made some waves the rest of the tournament, UCLA moves on to the round of 32.
---
Villanova – Philadelphia, PA
Breweries – Tired Hands, Crime and Punishment, Fermentery Form and Blendery, 2nd District, Evil Genius, Dock Street
Hofstra – Long Island, NY
Breweries – Barrier Brewing, Root + Branch, Sand City, Greenport Brewing, North Fork Brewing, Destination Unknown Beer Company,
The Matchup: While Long Island itself has some sleeper contenders, Philly's brewery scene has some strong contenders at the top of the rotation. If this were a contest that included beer bars, it'd be a landslide. Villanova moves on.
---
West Virginia – Morgantown, WV
Breweries – Chestnut Brew Works, Morgantown Brewing, Mountain State Brewing
Utah State – Logan, UT
Breweries – Talisman Brewing, Roosters Brewing, Epic Brewing, Squatters, Wasatch, Uinta
The Matchup: Neither beer scenes have too much to boast in their immediate cities but Logan's proximity to Salt Lake City's beer scene gives them the slight edge in this bottom feeder matchup. Utah State advances.
---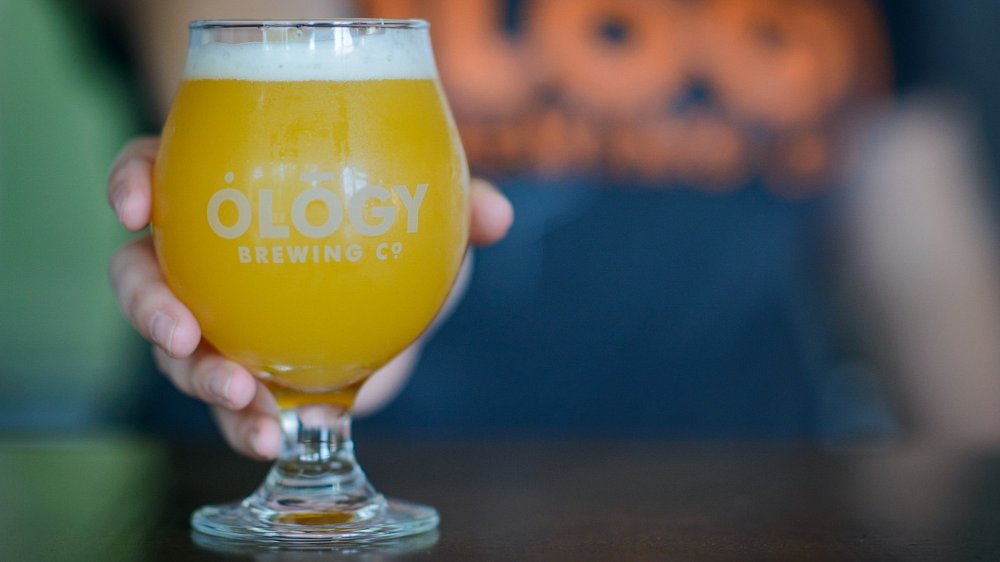 Florida State – Tallahassee, FL
Breweries: Ology, GrassLands, Lake Tribe, Proof, Fool's Fire
Northern Kentucky – Highland Heights, KY
Breweries: Braxton, Wooden Cask, Darkness Brewing, BIRCUS, Mash Cult
The Matchup: One of the more underrated first-round matchups, Florida State is bolstered by an elite level brewery in Ology, but as we learned last year has some diaper dandies that aren't far behind. FSU moves on after improved play from the previous year.
---
Second Round
Boston University vs Colorado
While Trillium, Night Shift and Lord Hobo pose a formative trio, because they're just a play-in team they lose out on depth to a deeper Boulder brewery scene.
Texas vs Akron
While the other play-in team failed to advance, Texas' top three are enough to overwhelm the likes of a veteran Akron lineup. Texas moves on to the next weekend.
UCLA vs Villanova
Similarly, even with a short-handed team due to their split with USC, UCLA is able to overcome Villanova. If beer bars were involved, it might be a different story, and with Fermentary Form rising so quickly, in a few years this might be a different story, but we're going solely on breweries here.
Utah State vs Florida State
This is one of those matchups that benefitted from the draw. While Utah State showed heart, Florida State continues its Cinderella run.
---
Sweet Sixteen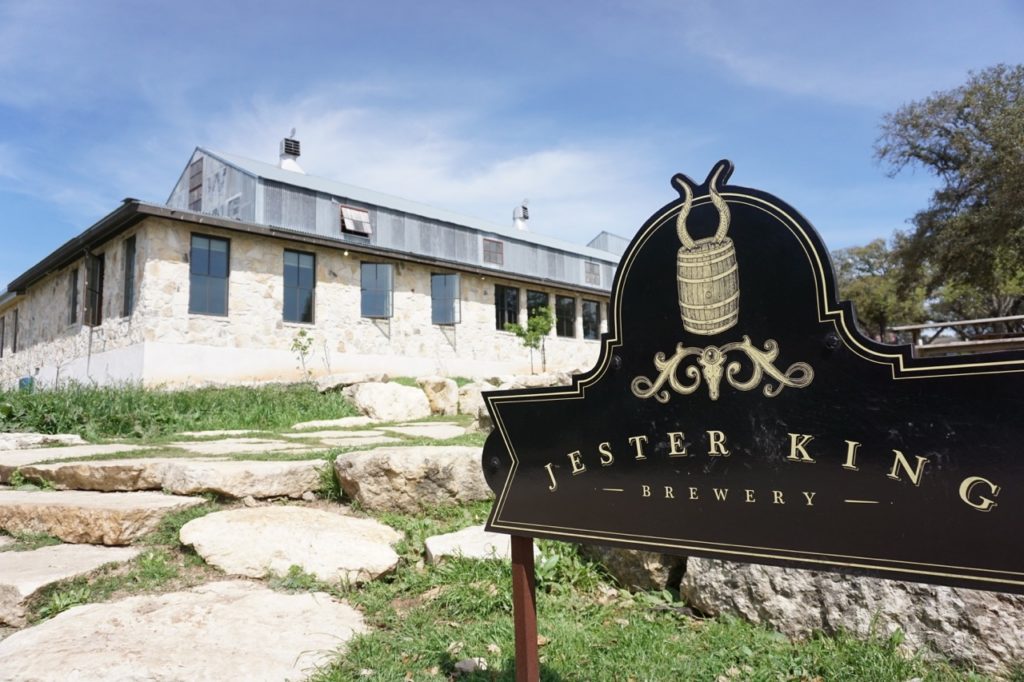 Colorado vs Texas
Despite being led by only three anchor breweries (again, due to them being a play-in team), Texas' all-star trio amount to a Curry, Durant, Thomas lineup. The Boulder beer scene took a hit this year losing Boulder Beer, Wild Woods, and seeing a transfer from Cellar West to Longmont, but with Ska Street Brewstillery, 4 Noses' new spinoff coming on board and Outworld opening recently, they've got young talent rising up through the ranks and will be back in just a few years.
UCLA vs Florida State
Los Angeles' beer scene has seen tremendous development over the last few years and so despite splitting the field with USC, UCLA is still able to overcome the Cinderella run by FSU. Three Chiefs is is already making major waves among beer nerds nationally, and is primed to become force in the LA beer scene. UCLA advances.
---
Elite Eight
Texas vs UCLA
Texas' three-headed monster continues to give teams fits as UCLA's Hollywood story finally comes to a close. With two of the best Lager producers in the country and one of the best in Wild/Sour Ales, just down the road, Austin is just too much to handle.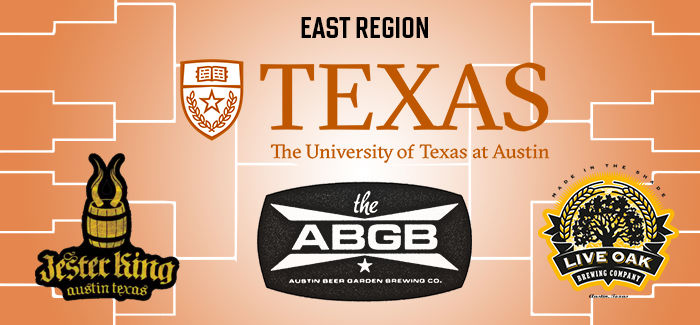 ---
West
Gonzaga – Spokane, WA
Breweries: Whistle Punk, NoLi, Iron Goat, Perry Street, Black Label, Community Pint, Humble Abode Brewing
Prairie View A&M (Prairie View, TX) / North Carolina Central (Durham, NC)
Breweries: Huff Brewing, Lone Pint Brewing vs Barrel Culture, Ponysaurus Brewing, Hi-Wire Brewing
The Matchup: Like UCLA, North Carolina Central shares a beer city with another school in Duke University. So we've split the city as best as possible due to proximity and in this scenario, North Carolina Central Advances past both Prairie View and buoyed by Barrel Culture also upsets Gonzaga.
---
LSU – Baton Rouge, LA
Breweries: Tin Roof Brewing Company, Southern Craft, Rally Cap Brewing, Parish Brewing Co, Urban South Brewing
Oklahoma – Norman, OK
Breweries – Lazy Circles, (405) Brewing, Black Mesa, Brewhouse Brewery, Beer Is Good
The Matchup: Neither school has world beaters in their immediate proximity but if you look farther out, LSU has the slight nod if you were to look down the road to NOLA with Parish and Urban South.
---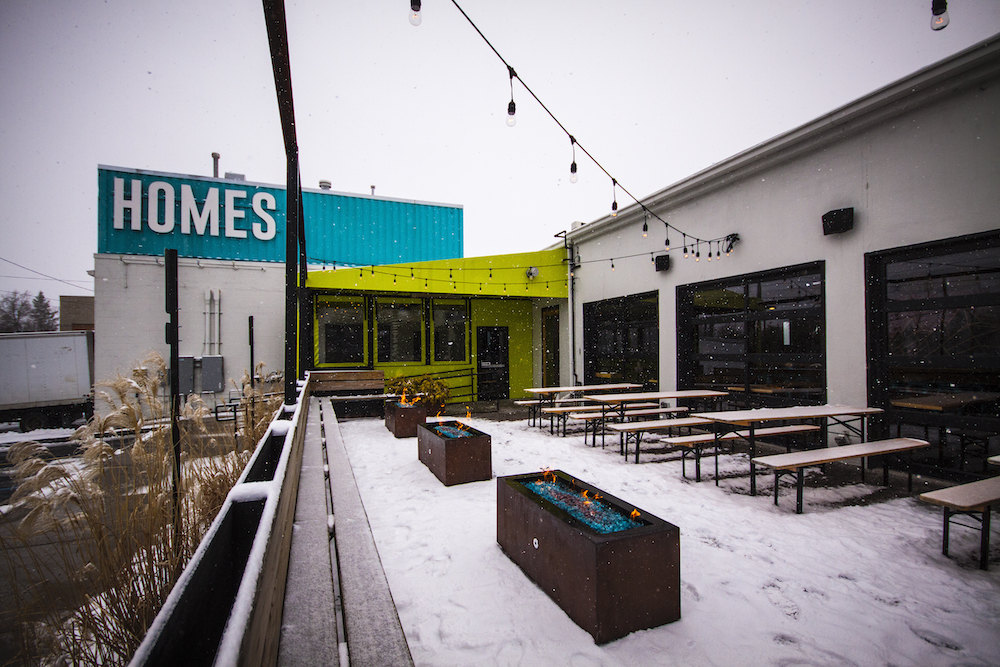 Michigan – Ann Arbor, MI
Breweries: HOMES, Jolly Pumpkin, Wolverine State, Hop Cat, Schramms
Yale – New Haven. CT
Breweries: New England Brewing Company, East Rock Brewing, No Worries Brewing, Fox Farms, Two Roads Brewing Company, OEC Brewing
The Matchup: If this tournament were about extended beer scenes, Yale might stand a chance with contenders like Two Roads, Fox Farms and OEC within hour drives away, but Michigan wins this one with Homes and Jolly Pumpkin right within their backyard.
---
Oregon – Eugene, OR
Breweries – Alesong, Oakshire, Ninkasi Brewing, ColdFire Brewing, Falling Sky Brewing
New Mexico State – Las Cruces, NM
Breweries: Bosque, Spotted Dog, Icebox, High Desert, Picacho Peak Brewing
The Matchup: While Bosque Brewing is extremely strong and has won numerous GABF medals, Oregon's beer scene in Eugene is far and away the winner in this matchup.
---
BYU – Provo, UT
Breweries: Strap Tank Brewing
Indiana – Bloomington, IN
Breweries: Upland Brewing, Function Brewing, Switchyard Brewing, Bloomington Brewing
The Matchup: Strap Tank brings senior leadership as Utah's first brewery. And Indiana is also led by an advanced upperclassman in Upland Brewing, who's home base is located in Bloomington. In a true veteran battle, Upland prevails easily to move on.
---
Seton Hall – South Orange, NJ
Breweries: Gaslight Brewery, Magnify, Twin Elephant Brewing, Bolero Snort Brewing, Four City Brewing, Brix City Brewing
Eastern Washington – Cheney, WA
Breweries: Whistle Punk, NoLi, Iron Goat, Perry Street, Black Label, Community Pint, Humble Abode Brewing
The Matchup:
While neither school's most local beer scene offers much to be desired, they both have some talent nearby. Unfortunately for Eastern Washington, their closest options were already claimed by Gonzaga in Spokane so this one goes to Seton Hall.
---
Arizona – Tuscon, AZ
Breweries: Pueblo Vida, Tap N Bottle, Iron John's, Wren House (Phoenix)
Texas Tech – Lubbock, TX
Breweries: Yellow House Canyon, LBK Brewing, Triple J Chophouse and Brew Co, The Plains
The Matchup: Pueblo Vida makes Tuscon the obvious choice here, but also with Phoenix nearby, it's a no contest, Arizona moves on.
---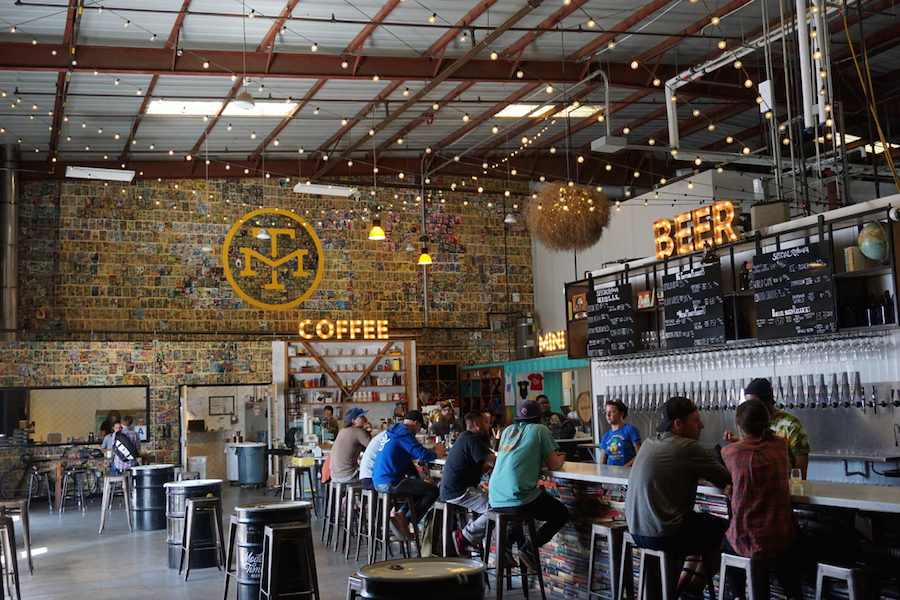 San Diego State – San Diego, CA
Breweries: Modern Times, Pure Project, Societe, Abnormal Brewing, Fall Brewing, Stone Brewing, Ballast Point
UC Irvine – Irvine, CA
Breweries: Gunwhale Ales, Tustin Brewing, TAPS Fish House, Good Beer Company, Bruery Terreux
The Matchup: San Diego State is the number one seed in this region, but they face a surprisingly difficult first-round matchup in UC Irvine who has a strong lineup in Gunwhale Ales, TAPS, Tustin and The Bruery down the road. Still, it's nearly impossible to see a 12 upend a 1 seed, so San Diego State survives the first-round scare.
---
Second Round
North Carolina Central vs LSU
2020 has proven to be the year of the play-in teams. North Carolina Central continues to coast despite a limited bench. Barrel Culture Ponysaurus and Hi-Wire prove too much for an LSU team restricted by what Baton Rouge has to offer in its city limits.
Michigan vs Oregon
While Michigan has had a formidable run, Oregon has a complete lineup up and down the roster. Alesong has emerged from its status as a riser to become a proven talent and now leads this PNW power, the Ducks keep dancing.
Indiana vs Seton Hall
With Magnify Brewing so close by and some diaper dandies developing as well, Seton Hall put up a strong fight this year, but they're not quite there yet. And while Indiana continues to hang its hat on their anchor in Upland Brewing, the draw continues to benefit them. Over the years, Upland has continued to evolve their sour/wild game and now is able to back that up with one helluva Pilsner in Champagne Velvet, proving this veteran brewery is able to keep adding more tricks to its arsenal. The Hoosiers head to the round of 16.
Arizona vs San Diego State
You can only rely on your supporting cast for so long, and in the case of Arizona, leaning on nearby Phoenix to carry the weight isn't enough to take on a powerhouse like San Diego State. The Aztecs cruise.
---
Sweet Sixteen
North Carolina Central vs Oregon
While Durham's beer scene continues to impress, NC Central's magical run is halted by the front three of the Oregon Ducks.
Indiana vs San Diego State
While Upland was able to put the team on its back for so long, they ran into a brick wall against San Diego State's roster that could field four or five teams of equally impressive breweries.
Elite Eight
Oregon vs San Diego State
We've got ourselves a real treat in this Elite Eight matchup of established brewery scenes. Oregon brings three primetime players in Alesong, Ninkasi and Oakshire, but it's not enough to take on the overwhelming wealth of power behind San Diego State.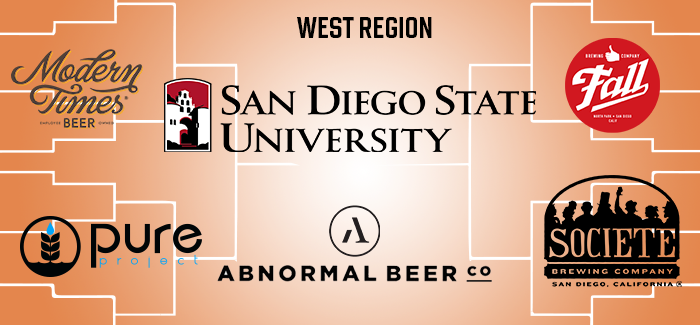 ---
Midwest
Kansas – Lawrence, KS
Breweries: Free State Brewing, 23rd Street, Lawrence Beer Co., Yankee Tank, Black Stag
Siena College – Loudonville, NY
Breweries: Fidens Brewing, Rare Form Brewing, Brown's Brewing, Perfect World Brewing, SingleCut North
The Matchup: For a small college town Lawrence, KS boasts a surprisingly well-developed brewery scene. And if SingleCut North's location were closer to Loudonville, this could be an interesting matchup, but Kansas easily takes this one.
---
Houston – Houston, TX
Breweries: Saint Arnold, Brash, Spindletap, 8th Wonder, Copperhead, 11 Below, Ingenious Brewing
Marquette – Milwaukee, WI
Breweries – Eagle Park Brewing, Lakefront Brewery, Third Space Brewing, Raised Grain Brewing, 1840 Brewing, Black Husky, PABST/MILLER
The Matchup: While Houston is starting to build a formative scene, it simply is no match for the original beer capital of the world. Where Blatz, Pabst, Schlitz, and Miller laid the groundwork years ago, Lakefront and risers like Eagle Park have continued carrying the tradition. Marquette moves on.
---
Auburn – Auburn, AL
Breweries – Wild Leap, Chattabrewchee Southern Brewhouse, Red Clay
Liberty – Lynchburg, VA
Breweries: Apocalypse Ale Works, Starr Hill on Main, Third Street Brewing, Loose Shoe Brewing Company, Beale's, Great Valley Farm Brewing
The Matchup: Wild Leap makes this an intriguing matchup but in the end, Starr Hill and Apocalypse make Liberty the decisive winner.
---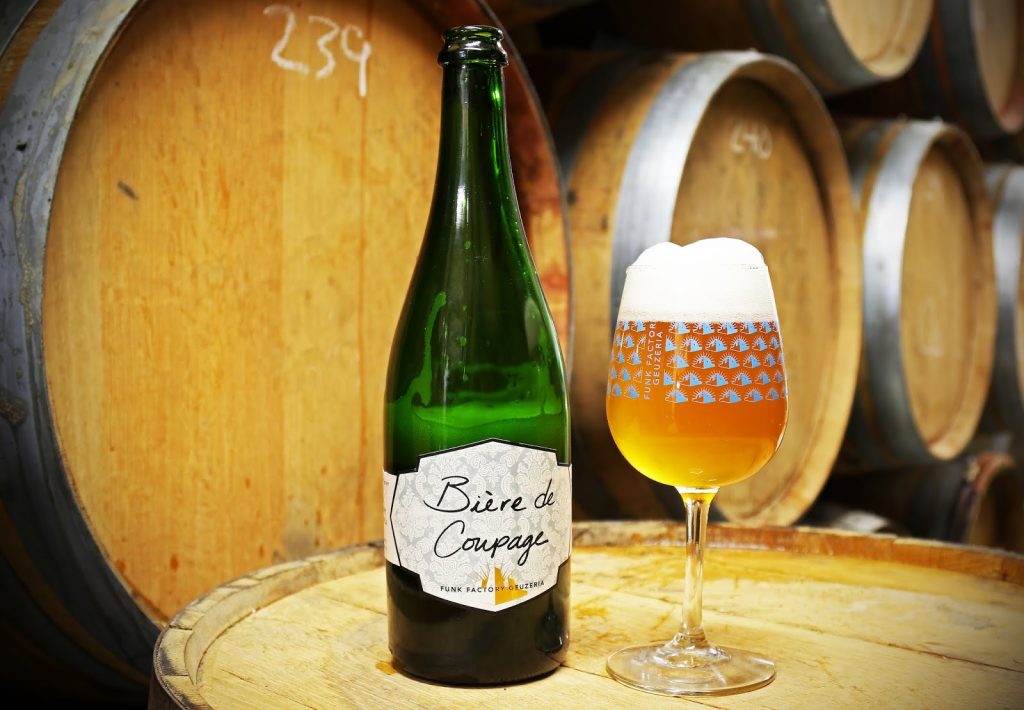 Wisconsin – Madison, WI
Breweries – Funk Factory Guezeria, Untitled Art, Ale Asylum, Karben4, Working Draft, One Barrel, Rockhound, Alt Brew, New Glarus (a little over a half-hour away)
North Texas – Denton, TX
Breweries: Armadillo Ale Works, Denton Co Brewing, Unlawful Assembly Brewing
The Matchup: While we all love Cinderella stories, this isn't one of them. Wisconsin benefits not only from a strong brewery scene within city limits, New Glarus one of the country's best is nearby as well. The Badgers move on in a landslide.
---
Iowa – Iowa City, IA
Breweries – Big Grove Brewery, Backpocket Brewing, Lion Bridge Brewing, Big Grove, ReUnion, Kalona, Iowa Brewing,
East Tennessee State – Johnson City, TN
Breweries: Johnson City Brewing, Little Animals Brewery, Great Oak Brewing Yee-Haw Brewing, JHR Brewing
The Matchup: This one's a bit of a coin flip between two smaller cities with still emerging beer scenes, but we'll give the nod to Iowa.
---
Duke – Durham, NC
Breweries: Fullsteam, Durty Bull Brewing, Bull Durham Brewing (inside the Bull Durham's Minor League stadium), Bull City,
Belmont – Nashville, TN
Breweries: Bearded Iris, Yazoo, Southern Grist, Smith and Lentz, Jackalope
The Matchup: If Duke had the full benefit of Barrel Culture and Ponysaurus to round out the brewery lineup this might be competitive but then again we're not shedding any tears over a round one Duke upset. Nashville has developed into a formidable Southern brewery scene meaning Belmont takes this one.
---
Providence – Providence, RI
Breweries: Long Live Beerworks, Proclamation Ale Company, Tilted Barn Brewery, Buttonwoods Brewery
Arizona State – Scottsdale, AZ
Breweries: SanTan, Fate, OHSO, and AZ Wilderness and Wren House short drives away
The Matchup: ASU benefits from a strong Phoenix beer scene and edges Providence in this first-rounder.
---
Kentucky – Lexington, KY
Breweries: West 6th Brewery, Country Boy Brewing, Ethereal, Kentucky Ale, Rockhouse
NDSU- Fargo, ND
Breweries: Fargo Brewing Company, Drekker Brewing Company, Flatland Brewery, Kilstone Brewing, Prairie Brothers Brewing Company
The Matchup: while Louisville may get a little more national buzz from ATG, Lexington has two emerging regional powers in Country Boy Brewing and West 6th. The smaller breweries aren't much of a drop off either. The Wildcats move despite a first-round scare from North Dakota St.
Second Round
Kansas vs Marquette
Unlike their men's basketball team, Kansas' brewery scene isn't being investigated by the Feds, even still Lawrence doesn't survive a matchup against the more seasoned Milwaukee lineup.
Liberty vs Wisconsin
Liberty has benefitted from a more than forgiving draw, but the luck runs out against the brewery juggernaut that is the Wisconsin Badgers.
Iowa vs Belmont
Similarly, Iowa really has no business being in this Elite Eight matchup. And while Belmont's scene in Nashville is relatively young save for Yazoo, who's been leading innovation and distribution for years, this is a no-contest.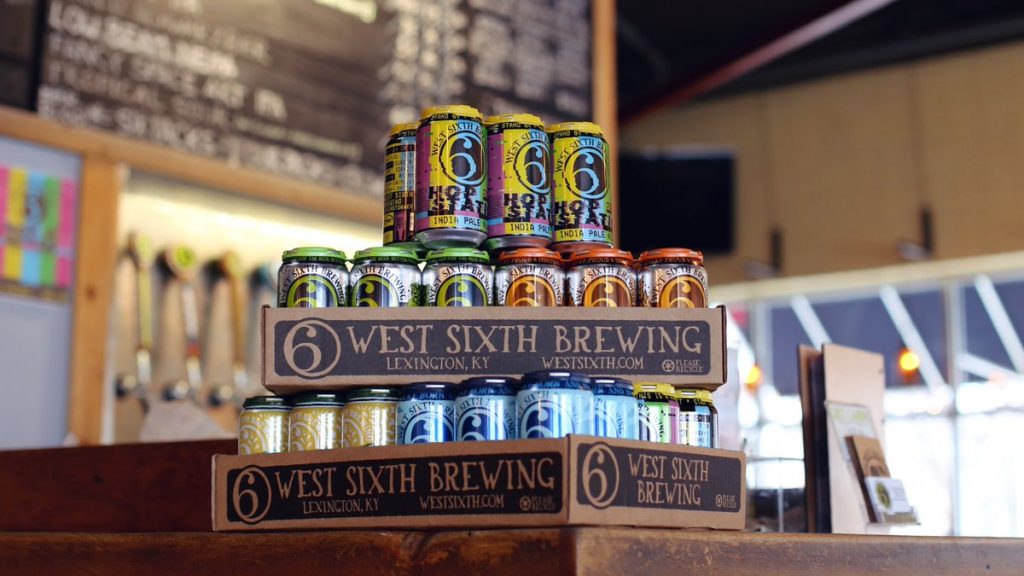 Arizona State vs Kentucky
While Big Blue Nation is never overlooked on the basketball court, it's likely Lexington's brewery scene doesn't turn heads initially. That said, it's quietly becoming a true regional power. With that in mind, they pull the major upset and move on to the Sweet 16.
---
Sweet Sixteen
Marquette vs Wisconsin
In what could have been a Final Four showdown had the draw worked out differently fans are treated to a barn burner in this Sweet Sixteen matchup. While Milwaukee has a bit more pedigree behind them, Madison has more relevancy and moves on in this close one.
Belmont vs Kentucky
We've got another closely contested match out of the MidWest region. While Nashville and Lexington's brewery scenes are both evenly matched, they play to completely different styles. Nashville has several old school pioneers in Yazoo, Jackalope and Blackstone, they've also got some impressive risers in Bearded Iris, Southern Grist, and Little Harpeth. Meanwhile, Lexington has some young regional powers who have blossomed over just a short span in West Sixth and Country Boy Brewing, as well as some younger risers who show a ton of potential in Ethereal, Rock House, and Mirror Twin. And while we would have loved to see a Wisconsin vs Kentucky Elite Eight, Belmont narrowly wins this one.
---
Elite Eight
Wisconsin vs Belmont
While Belmont showed up in a big way versus Kentucky, they just don't have the firepower to matchup against a Wisconsin team that goes deep into the lineup. Wisconsin reaches its second Final Four in two years.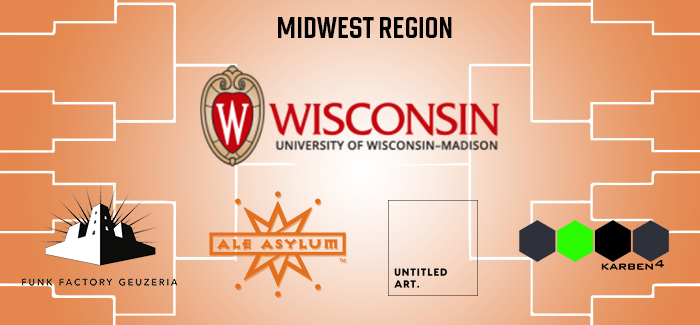 ---
South
Baylor – Waco, TX
Breweries: Waco Ale, Brotherwell, Bare Arms
Winthrop – Rock Hill, SC
Breweries: Rock Hill Brewing, Legal Remedy Brewing, Slow Play Brewing, Dust Off Brewing
The Matchup: Another mid-major match-up brewery-wise, Waco doesn't exactly have much to write home about brewery-wise, and while Rock Hill itself is relatively unknown due to its proximity to Charlotte's scene we'll give them the slight nod here.
---
Saint Mary's – Moraga, CA
Breweries – Canyon Club Brewery, The Rare Barrel, Temescal, Fieldwork, Faction, Drake's, Cleophus Quealey
Rutgers – New Brunswick, NJ
Breweries: Cypress Brewing, South 40, Carton Brewing
The Matchup: We've got ourselves a true 4/5 matchup in that neither Moraga or New Brunswick features strong threats within city limits, but with the Oakland scene near Moraga and Carton close by both areas can be considered sleepers. In the end, the depth of Saint Mary's nearby scene advances.
---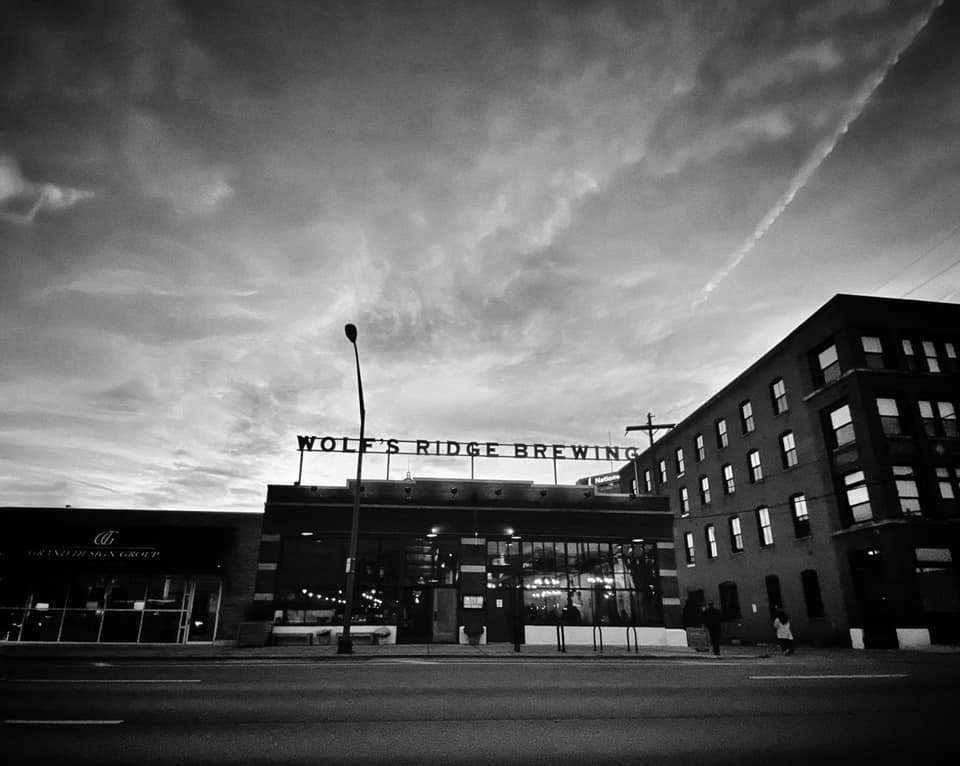 Ohio State – Columbus, OH
Breweries: Seventh Son, Wolf's Ridge, Hoof Hearted, Pretentious Barrelhouse, Columbus Brewing, Land Grant, North High Brewing, Rock Mill Brewing
Stephen F. Austin – Nacogdoches, TX
Breweries: Fredonia Brewery
The Matchup:
While the state of Texas as a whole has some talent Stephen F. Austin doesn't really benefit from anything remotely closeby. OSU moves on to the second round in a snoozer.
---
Louisville – Louisville, KY
Breweries: Against the Grain, Monnik, Akasha, Gravely, Mile Wide, Great Flood, Gravely Brewing
Vermont – Burlington, VT
Breweries: Foam Brewers/House of Fermentology, Fiddlehead, Burlington Beer, Zero Gravity, Four Quarters, Magic Hat, plus Alchemist/Prohibition Pig/Lawson's 30min away
The Matchup:
Now we've got a true primetime matchup in the South region. While Vermont is the initial odds on favorite, Louisville's beer scene is on the upswing and serves as a formidable first-round matchup. But in the end, Burlington edges out Louisville… for now.
---
Virginia – Charlottesville, VA
Breweries: The Blue Ridge Beer Trail (Blue Mountain Brewery and Barrel House, Devils Backbone, Starr Hill, Wild Wolf), South Street, Champion, Random Row, Reason
Cincinnati – Cincinnati, OH 
Breweries: Rhinegeist, MadTree, Taft's Alehouse, Three Points, Urban Artifact, Moerlein, Listermann, Brink Brewing, 50 West
The Matchup: Over the past five years, Cincinnati has blossomed into one of the most up and coming beer scenes in the country. Not only do regional risers like Rhinegeist and MadTree anchor the top, but Cincinnati's historical roots in brewing have fueled young but prolific breweries like Taft's Alehouse and even Brink Brewing which has won back-to-back small brewery of the year honors at GABF. Cincinnati moves on.
---
Michigan State- East Lansing, MI
Breweries: Ellison Brewery and Spirits, Lansing Brewing, Bell's Brewing, Dark Horse Brewing Company, New Holland
Bradley- Peoria, IL
Breweries: Rhodell, Bearded Owl, Obed and Isaac's, Industry Brewing,
The Matchup: The state of Michigan boasts some of the best brewing talents in the country. And while Lansing may not possess the name recognition of Grand Rapids, Kalamazoo, and Holland, it does have enough talent as well as proximity to overcome Bradley and Peoria, IL.
---
Illinois – Champaign, IL
Breweries: Destihl, Triptych, Blind Pig Brewpub, 25 O'Clock Brewing
USC – Los Angeles, CA
Breweries: Highland Park Brewery, Mumford Brewing, Boomtown Brewery, Monkish, Smog City, Brouwerij West.
The Matchup:
Even with UCLA taking part of LA's brewing talent in their lineup, USC is able to handily overcome Illinois despite having a formidable lead in Destihl.
---
Creighton – Omaha, NE
Breweries: Nebraska Brewing, Zipline Brewing, Kros Strain Brewing, Farnam House Brewing
Little Rock- Little Rock, AR
Breweries: Lost 40, Rebel Kettle, Flyway, Core Brewery, Diamond Bear
The Matchup: While Nebraska may not be an obvious location for a deep brewery scene, Omaha is certainly the exception, with Nebraska Brewing serving as a pioneer in the area and risers like Kros Strain, Zipline, and Farnam House there's not a ton of drop off in this lineup. Creighton advances.
Second Round
Winthrop vs Saint Mary's
While Saint Mary's once again relies on nearby Oakland to carry their team, this is an easy no-contest win over Winthrop.
Ohio State vs Vermont
This second round head to head reads more like an Elite Eight bout. Unfortunately for Ohio State, Vermont's storied brewery program is just too much to handle. That said, Columbus' beer scene is on the rise and with a few more years could become a Final Four contender.
Cincinnati vs Michigan St.
While Michigan State benefitted from the likes of Bell's and New Holland in previous matchups, they won't be able to rely on those surrounding cities here. Cincinnati has a wealth of brewing talent within city limits and knocks off East Lansing.
USC vs Creighton
While Omaha proved to be one of the Cinderella brewery scenes in this year's bracket, going up against Los Angeles is where the story ends.
Sweet Sixteen
Saint Mary's vs. Vermont
Like our previous Cincinnati v Michigan St. matchup, when Saint Mary's has to take on Vermont they can no longer benefit from having Oakland down the road. With Vermont having such a wealth of talent in their own backyard, they move on to the next round.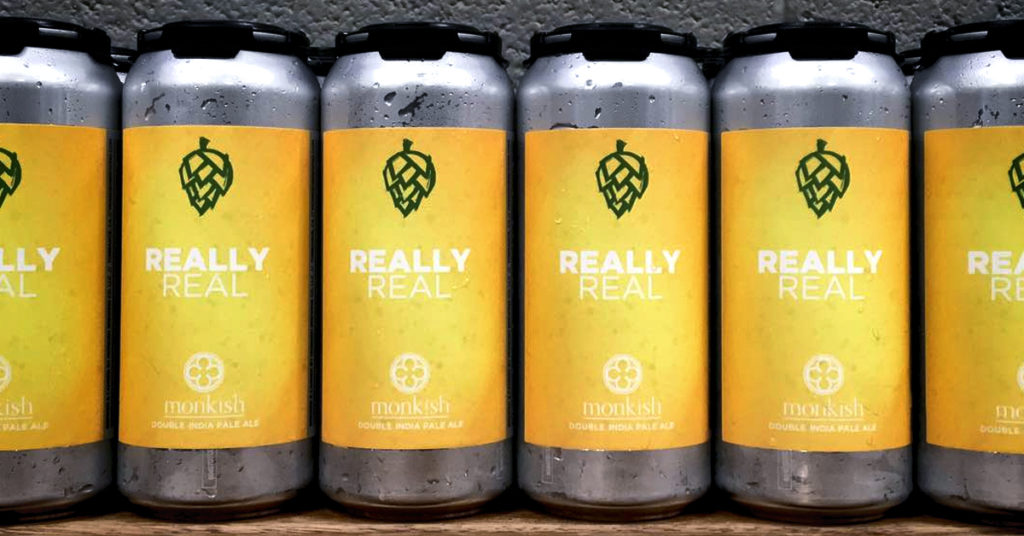 Cincinnati vs USC
USC has survived this long behind some majorly buzz-worthy breweries. If the city of LA weren't split with UCLA, USC would punch their ticket straight to the Championship game. And while this decision might be a bit biased, and likely receive some disagreements, Cincinnati pulls the upset. Sure, Monkish, Smog City and Highland Park are some of the best in the country right now, but in this year's showdown we've placed extra emphasis on proximity to the school and Cincinnati has such a wealth of talent within a 10-mile radius of campus. Call it the upset of the tournament, but Cincinnati moves on.
---
Elite Eight
Vermont vs. Cincinnati
Vermont looked poised to make their second Final Four in PorchDrinking's second annual Brewery Bracket Challenge, but Cincinnati just has too much momentum. Fueled by a solid base of goetta and Skyline Chili, Cincinnati's brewery goers have supported a deep pool of talent and while Vermont, much like LA is anchored by some trendy heavy hitters at the top, we're giving Cincy a second upset win to move on to their first Final Four.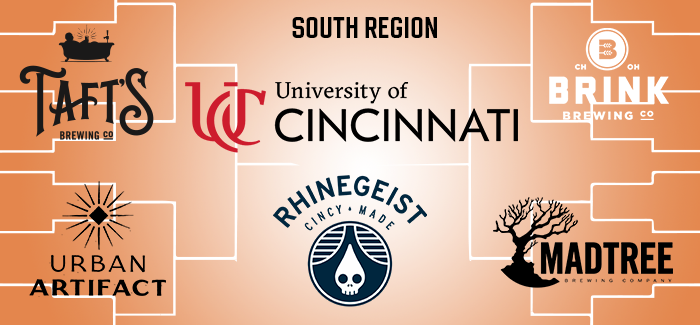 ---
Final Four
Texas vs San Diego State
We've said this before, but if Texas had made the regular field of 64 and had the benefit from their full brewery scene, they'd be contenders to make the finals. The Austin brewery scene has gotten DEEP with risers like Celis, Southern Heights, Blue Owl, Austin Beerworks, Hops and Grain and more, they truly have become forces from the South. That said when Jester King is still 20 miles out from campus, and they're hampered by being a play-in game entry, San Diego State just has too much firepower.
Wisconsin vs Cincinnati
Cincinnati has had a storybook run in 2020. With a robust lineup of regional brewers in Rhinegeist and MadTree, strong sour producers in Urban Artifact, trendy but also stylistically prolific young talent from Brink Brewing, as well as innovative diaper dandies in Taft's and Three Points Urban Brewery. Then throw in the fact that they have historic breweries like Moerlein and Listermann as well as Boston Beer's main production facility. Cincinnati has finally arrived. But it's not enough to go up against Wisconsin. Already anchored by Funk Factory, Ale Asylum, and Kareben4, Madison has also benefitted from one of the fastest-growing contract breweries in the country in Octopi, which also houses Untitled Art. The Badgers also have several young risers in One Barrel and Working Draft and you can't discount the fact that New Glarus is only 24 miles away.
---
The National Championship
San Diego State vs Wisconsin
In the end, it was clear from the beginning that San Diego State would just have too much depth to overcome in this year's field. If schools like Washington, Georgia Tech, or the University of Denver would have made the field it'd be pretty interesting, however, this year's tourney goes to the West Coast beer capital of San Diego. The beer is tipped, and there you are… congrats to the 2020 National Champions, the San Diego State Aztecs.